SEO stands for Search Engine Optimisation and is the practice of increasing the quantity and more importantly, the quality of traffic to your website through organic search engine results. For example, with quality SEO in place, when someone is searching for a product or service you offer, your website will be one of the first pages suggested to them in the search engine results page (often abbreviated as SERP).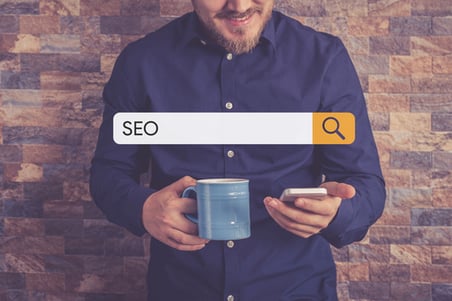 The ultimate goal of SEO is for your business to rank higher than your competitors on search engine results. If your page ranks higher than those in the same industry, you will get more traffic to your website than they will, you will receive more leads/conversions, and you will build a tangible value to your business.
So, how do you rise up the ranks in the search engine results? Before we dive in, let's unpack the basic elements of search engines and how they rank their search results.
Search Engine Basics
Search engines such as Google, scour through billions of pieces of content and evaluate thousands of different technical elements to determine which content is going to answer the user's query correctly. Search engines do this by discovering all available online content by a process known as "Crawling" or "Indexing". The search engine then ranks these pages by how well they match the query of the user.
So, how do you rank higher than your competitors?
SEO is one of the purest forms of digital marketing, but it is also a science. It takes a lot of work and time to implement and action a successful SEO strategy. To put it as simply as possible, you need to increase the technical quality of your website as well as the quality and volume of the content contained on your website in order to be placed at the top of the results.
Technical Quality of your Website
Technical SEO is the process of optimising your website for the purpose of successful SEO. The main goal of technical SEO is to optimise the infrastructure of your website, making it appealing to search engines. This is done by making sure your website is indexed correctly so that search engines can access it without any issues, providing search engine "crawlers" with the right signals to understand the structure of your website, and giving search engine algorithms a reason to trust your website.
At Nexa, we provide a 20 point checklist that has been designed to ensure that your website is tested for every important aspect that can impact its position on Google and other search engine results. We also offer a free SEO audit for your website, here.
Quality and Volume of Content
Google and other search engines are searching for pages that contain relevant, meaningful, helpful, and high quality information related to the searcher's query. These search engines want to make sure they are directing a user to a website that can help them and offer them exactly what they are looking for. Search Engines will determine the relevance of your website by "crawling" your website's content and evaluating whether or not the content is relevant to what the user is searching for. This is done through specific search engine algorithms.
As you begin creating content to help your website rise up the search engine ranks, make sure it is:
Informative and Helpful: Your website needs to contain your contact details and provide a clear outline of what you offer as a business.
More Useful and Valuable than Competitors Sites: If your content is made up of information related to your industry that can assist the viewer, then you will be viewed as a page that offers value. For example, if you are a digital marketing agency, providing tips for social media marketing on your blog would be viewed as helpful content, something the viewer will want to engage with. This kind of content is what will help your site rank higher than your competitors.
Unique and High-quality: The content on your website should always be unique, specific to your industry, and of the highest quality. Your content should not be copy and pasted from other sites and should be designed to give visitors a great user experience. You do not want to overload your content with keywords and information that does not help the viewer. Google will know that you are just doing this to overload your page with content in order to rise-up the search results, and you will quickly drop in rankings. You want to give your viewer the best possible experience when they visit your site because a good, helpful experience leads to trust, and this is how visitors become customers.
In Conclusion:
The average customer will always turn to a search engine such as Google whenever they have an immediate requirement for a product or service or are in the process of researching their next supplier. It's therefore important for your business to be visible at the very moment a potential customer is searching for a business such as yours. Now, ask yourself, do you want your website to be optimised for search engines? Or do you want to own the searches?
If you are looking to implement SEO for your business, and you are looking to own the search results, Nexa is here to help.
Contact us today for all your Search Engine Optimisation requirements and get ranking.