From 1 October 2021 to 31 March 2022, a world showcase of human achievement will take place in Dubai. Originally set to take off in October 2020, the Expo 2020 Dubai has been rescheduled for 2021, but will still go by its original name for marketing purposes.
With 6 months of international knowledge sharing, collaboration and innovation set to take the world's stage, Dubai will be buzzing with thought-leaders, knowledge seekers and pioneers of industry.
The Expo is part of the World Expo that first took place in 1851 to showcase innovations born out of the Industrial Revolution, and has since gone on to be one of the most anticipated events in the world and takes place every 5 years. Since its inception 169 years ago, the expo has taken place throughout the world, from New York to Paris and Shanghai. This years Expo is historical, marking the first expo to be held in the Middle East, Africa, and South Asia regions - making it the largest event to ever be staged in the Arab world.
The world Expo 2020 (2021) theme is "Connecting Minds, Creating the Future," with its sub-themes being: Opportunity, Mobility and Sustainability. With such relevant and important themes at the helm of the event, the expo is set to bring in 10s of millions of visitors from all over the world, and there will be 192 nations participating in the event.
Each country will be allocated its very own pavilion (in the form of buildings) that will be designed to reflect a sub-theme of the event, along with ideas or cultural themes presented by each participating country. Each of these Expo 2020 Pavilions will provide: immersive cultural, geographic and historical experiences; the presentation of innovative achievements and technology; as well as portrayals of core country values and history - and more. So, with 192 countries participating in the event - how do you promote your country pavilion and get feet through the door?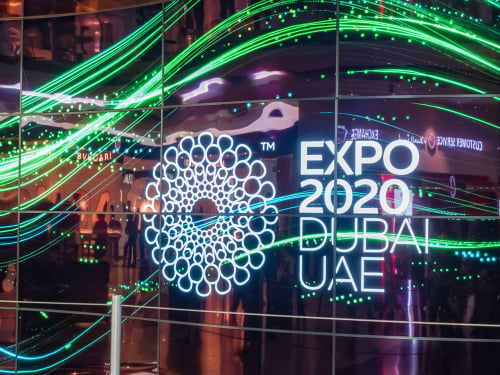 Promoting your Country Pavilion for the Expo 2020 Dubai
Anyone who is presenting as an exhibitor at the Expo is doing so to gain networking opportunities, knowledge, business growth, investment, and of course, brand attention. So much work goes into an exhibition stand and in this case, a country pavilion for the World Expo, from presentations, printing, design, PR, content creation, digital marketing, lead generation and much more. All of this involves a lot of time (months, if not years), investments, and money in order for businesses, brands and countries to be prepared for their participation in the event.
The biggest fear exhibitors will have when going into the expo is that visitors will not come to their pavilion, their presentations or events. If this happens, they will not reap the rewards of their hard work and lose everything they worked so hard to achieve. So, how do you keep up marketing momentum for your pavilion and how do you gain feet through the door at the event?
As a digital marketing agency based in Dubai, Nexa has helped thousands of businesses flourish and achieve their potential through digital marketing, lead generation and business growth tactics. Below, we outline the most effective tools you can use to promote your country pavilion at Expo 2020 Dubai.
Tips for Country Pavilion Promotion at Expo 2020 Dubai:
Create your own Pavilion Website
The Expo will have its own website as well as a list of all stands, pavilions, and speakers, but it is important that you create your very own website for your pavilion. Your website will be one of the first touch points visitors will make when investigating more about what you will offer at the event and this means that your website should provide greater detail into what you will offer at your Pavilion, and this is done through quality website content, video content, blogs, and more.
Not only is your website the ideal place to provide users with all the information they require about your presence at the expo, it also offers a place for lead generation, data collection through lead forms, lead nurturing, and of course, search engine optimisation.
Search Engine Optimisation
Search Engine Optimisation (SEO), needs to be a priority on your pavilion and expo website as this digital marketing tactic ensures your page can be found on the search engine results pages. For example, with quality SEO in place, when someone is searching for the expo in general or your pavilion, your website will be one of the first pages suggested to them in the search engine results page (often abbreviated as SERP).
Essentially, SEO is the process of improving the quality and quantity of your website traffic via the search engines and this is done through a variety of tactics, including technical SEO and content marketing.
Technical SEO: This is the process of optimising your website for the purpose of successful SEO. The main goal of technical SEO is to optimise the infrastructure of your website, making it appealing to search engines. This is done by making sure your website is indexed correctly so that search engines can access it without any issues, providing search engine "crawlers" with the right signals to understand the structure of your website, and giving search engine algorithms a reason to trust your website.
Content Marketing for SEO: Google and other search engines are searching for pages that contain relevant, meaningful, helpful, and high quality information related to the searcher's query. These search engines want to make sure they are directing a user to a website that can help them and offer them exactly what they are looking for and this is why it is important that your expo website is made up of high quality and informative content.
SEO is not a simple process but it is important that it plays a role in your marketing efforts. Learn more about the importance of SEO and how it worlds, here.
SEO is a long-term process and does take time and patience to implement, and if you want to reach your audience as quickly as possible, paid advertisements are a great way to do just that.
Paid Ads and Retargeting Campaign
Paid advertising such as Pay-Per-Click (PPC) advertising and Google AdWords, online advertising tactics where advertisers bid to display brief ad campaigns at the top of the search engine results for searches related to what it is you are offering at the expo. Paid ads also refer to paid and highly targeted advertisements on social media platforms such as LinkedIn, Facebook, Twitter and Instagram.
Retargeting ads primarily use paid ads to target audiences who have previously visited your website, landing page or social media profiles. Remarketing usually makes use of personalised email marketing campaigns for further lead nurturing.
Paid ads and retargeting campaigns are one of the most effective ways for you to market your pavilion and brand message online. By ensuring your ads are highly targeted and designed to reach your precise target audience, you are sure to get your message across to the relevant key accounts and individuals who will be attending the event or are interested in attending the event.
Once you have received leads or visitors through your paid advertising campaigns, you can use retargeting tactics as a way to continue passing on your brand message about your presence at the event. Retargeting collates data based on who has visited your website or social media platforms and will target specific email campaigns to those who have shown interest in your appearance at the Expo. Customer Relationship Management platforms such as HubSpot can help your paid advertising and remarketing campaigns run effectively through data collection, audience segmentation, and personalised and automated email marketing campaigns.
This kind of highly targeted marketing and lead nurturing tactic drives your message further and creates greater buzz - which in turn, directs even greater foot traffic to your pavilion. Another great way to create buzz and get your target audience talking? Social media, of course.
Social Media Marketing
Social media is one of the simplest and most effective ways to reach a highly targeted and large audience. When it comes to the World Expo, LinkedIn is one of the most important social media platforms and is where you should focus a lot of your marketing efforts.
Through LinkedIn you are able to target key accounts, that is: you can direct your campaigns to individuals and businesses who will be attending the event. This is known as Accounts-Based-Marketing and is a great way to develop relationships with these key accounts and create conversation about your country pavilion and what it is you will be showcasing at the event throughout the months.
Also create social media pages on a variety of social platforms that are dedicated to your pavilion. Develop social media content for these pages that inform your audience about what they can expect from your pavilion and engage with your community about what exciting experiences await them at your pavilion.
Make sure that all the content you create for your pages is engaging and informative - and shareable. Create a Hashtag that is unique and relevant to your pavilion at the event as this allows you to track your shares and create even more buzz around your appearance at the expo. It is also vital that you engage with the main events social media pages as your event - creating even greater engagement and communication between your pavilion and attendees. The most important part of marketing for your pavilion is consistent communication with your audience - and this is where email marketing comes into play.
Email Marketing
As stated previously, email marketing is an important aspect of expo promotion. Mailing campaigns and newsletters should be used to promote your presence at the event and can be used to reach existing contacts as well as new contacts collected through a variety of campaigns - from paid advertising to social media advertising. Email marketing should be used to continue the conversation about your presence at the event and nurture relationships with your leads.
As stated previously, this process is made simpler and more effective through the use of a powerful Customer Relationship Management (CRM) software such as HubSpot, that is able to track all of your website visitors, social media interactions, and collect lead data through lead generation forms and more. What is great about CRM's is that they are able to segment your leads or contacts into different audiences and tailor each email campaign to those specific audiences - ensuring they receive a message that is relevant to their specific needs. This makes for a more personalised experience and will nurture greater trust and create more excitement about your presence and speakers at the expo.
The Lead Capture Process
Once you have all your marketing goals in place, it is important that you put together a strong lead capture process for the event itself. That is: how you will be capturing prospective clients, investors or partner details at the event.
Will you have a Customer Relationship Management system in place, will you be collecting business cards or will you be adding details to your system manually?
A CRM system is the ideal way to help you organise and segment your leads, ensuring you have them stored in a single place and are able to segment each lead into specific categories - ensuring all the communication they receive from your pavilion suits their specific needs, interests and requirements. The key is to be able to action your leads as soon as possible, while the event continues and after the event ends - this ensures you solidify relationships and continue the conversation well after the event itself.
In Summary
Digital marketing is vital for maintaining your business status at the Expo and is a way to create hype about your brand and what you can offer the public. There are a variety of marketing tactics you should use to promote your country pavilion at Dubai's Expo 2020 and some of the most important marketing tactics for this endeavor include:
Website Design and Creation
Search Engine Optimisation
Content Marketing
Paid Ads
Retargeting Campaigns
Social Media Marketing
Email Marketing
Lead Capture Process: Customer Relationship Management Software.
What we can do for you
Founded in 2005, Nexa has helped hundreds of organisations from small startups to large multinational businesses providing high-quality digital marketing services. As a digital marketing company based in Dubai, and with years of experience in the marketing industry, we can help you market your business and your message during the Expo 2020 Dubai.
Our mission is to help drive growth for forward thinking companies and we will combine innovative marketing, sales and service technology and strategies to maximise your business opportunities.
Contact the nexa team today and marketing your business for the Expo Dubai 2020