The eve of 2016 brought in the usual sights of celebrations and firework displays, but something very unusual happened in Downtown Dubai, a hub for New Year celebrations. The iconic Address Downtown next to Burj Khalifa and Dubai Mall caught fire a few hours before midnight.
I was first alerted of the blaze by my mother who was 3000+ miles away in England. She had seen posts on her Facebook wall from mutual friends and various news channels. I was at a party and completely oblivious as to what was happening down the road.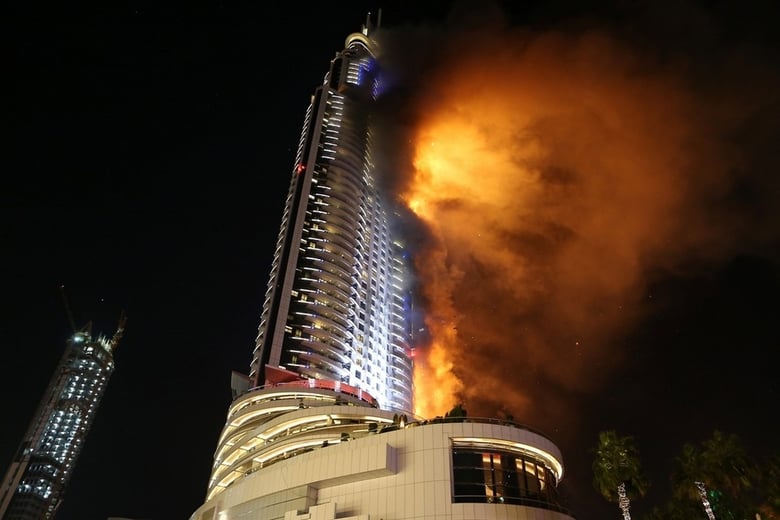 As masses gathered downtown to witness the firework celebrations. They stood there in shock and they did what many of us would do. They got their phones out and uploaded thousands of images and videos on social media, checked in on friends, and searched for updates. Despite the story going viral almost immediately, information was scattered and a number of rumours spread -- Would the fireworks be cancelled? Was terrorism involved? Was anyone hurt? Thanks to the professionalism of the management team at The Address' and Dubai's Civil Defence, a major crisis was averted.
It is important for brands -- especially hotels, malls, restaurants or businesses that tend to have considerable traffic -- to be prepared for such eventualities. Most big companies have a finely tuned PR agency to help them with disaster management, but this can take days, or weeks to plan and execute. Indeed, "in the absence of good communication, rumours fill the vacuum," so businesses need to update and connect with those immediately affected, their kin to manage expectations, fears and the brand.
Smart phones and the demand for immediate access to information means that social media will be the "go-to" source for unfolding events. It gives us real-time, unique street-level view of what is going on at the scene -- from the business, government, customers, spectators, etc.
Accidents happen regardless of how hard you try to avoid them, so businesses should have an approach in place for worst-case scenarios. Here are some pointers to consider on how handle your social platforms in case of emergency:
Do not go silent. You will be overwhelmed with everything in play, but no information can make things worse. Use your social media feeds to keep your followers updated on events as they are unfolding. Twitter is the best platform for live minute-by-minute updating, but make sure your Facebook feed is updated hourly.
Safety is the absolute priority. Advise people where to seek medical attention, meeting points and emergency services numbers. If you have the capability to set up an emergency helpline, do so ahead of time and share it. Put this information on your Facebook, Twitter and Instagram accounts and encourage people to share it.
Know your audience. Make sure you are posting in relevant languages for people who may be seeking information. In Dubai's case, this is primarily English and Arabic and one shouldn't rely on the auto-translate options that some platforms offer.
Don't spread panic! Keep in mind that people like my mum could see your posts. Family members overseas might not have been able to contact loved ones visiting or living near the area of the incident. Social media is a melting pot of rumours and speculation, don't become part of the problem! Use direct, but soothing wording to avoid causing alarm. Also avoid sharing personal views. Keep updates professional, useful and within your company communication guidelines.
Be relevant and helpful. Share reliable information from emergency services or government ministries. Dubai's Civil Defence arrived on the scene very quickly and were active on social media throughout the event. That said, avoid posting from unreliable sources and amend information as needed.
Interact with people. Comments and questions on your social channels are inevitable. Give them the best advice based on the information you have to hand. If in doubt, direct them either to the emergency services or relevant embassy.
Launch social listening. Filter and watch for mentions of your brand during the event to help you answer questions and guide people to the relevant information sources where needed. After everything has calmed down, look through the historic information to see where you can improve and gain insights.
Many companies have contingency plans in case of such emergencies, however I would wager that very few of these plans include distribution of information via social media. Although each event may unfold differently, it is better to be prepared to deal with the massive influx of good and/or bad information and comments that could pop up on your social platforms. Businesses can expect to see more engagement on their accounts as people turn to digital forms to collect and update information.
With credit to Dubai, the world was watching. The Address contained the problem, informed the public and the celebrations went ahead as planned. Have you seen any companies handle emergencies well -- or poorly? Let us know in the comment section what does and doesn't work well.