Marketers the world over know that social media is one of the most powerful tools for sales lead generation. We all know about the importance of Facebook and Instagram, but if you are not focusing some of your lead generation efforts on LinkedIn, you may be missing out on a massive opportunity for business growth.
LinkedIn's Marketers Guide states that as of 2020, 94% of B2B marketers are using the platform for content distribution, compared to Facebook and YouTube which currently lies at 77%, while Twitter sits at 89%. Content distribution is one of the most important aspects for lead generation, therefore LinkedIn should not be ignored when it comes to your lead generation strategy.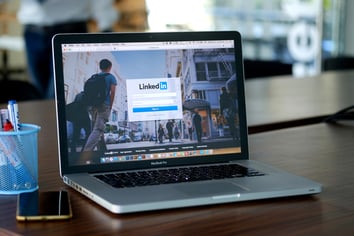 The average LinkedIn user is on the platform specifically for professional content. They are on the site to seek out important and helpful information to help them in their business endeavors, and if you can provide them with the content they require, they become easier to convert into leads and ultimately, paying customers.
However, without a clear strategy in place, Lead Generation on LinkedIn can become challenging. Here, we offer insight into generating leads and building a brand identity via the social media platform.
Create a Strong LinkedIn Presence for your Executives
When diving into the world of LinkedIn, many marketers may struggle to find where they should dedicate their first lead generation efforts. Do you begin by creating a LinkedIn business page and begin posting content straight to your business page feed?
This is a good idea, however, consider posting your job openings before overloading your page with content, as this will attract new talent to your profile. But before you do this, your strategy should begin with the individual profiles of company employees, particularly the company executives.
Executives can quickly establish themselves as thought leaders in their particular industry by contributing to industry related LinkedIn groups and post helpful and informative content to their personal LinkedIn feeds. They will ultimately build a strong following through these practices, which in turn, directs this following to their business page.
An executive can leverage the platform by promoting their own content, liking and sharing relevant content from other pages, and engaging with thought leaders through their pages. Essentially, executives should use LinkedIn to build a personal brand, helping followers find industry related content, which in turn, drives these followers to their business page.
Create a Professional and Strategic LinkedIn Business Page
With your executives having created a powerful LinkedIn presence, you need to cultivate a powerful business page to go alongside their thought leadership presence. Make sure your business page is active and offers helpful, meaningful, and informative content. And always be contributing to trending conversations that are taking place on LinkedIn in regards to your particular industry.
LinkedIn Pages is a tool that is incredibly powerful in establishing businesses on the platform. It is a free product, and offers a place for you to promote your content.
To ensure a strong LinkedIn business page, make sure you have filled in all your company information, always post your thought leadership articles, and engage with your audience. Powerful LinkedIn pages also offer video content, executive commentary and information that has been curated from other sources or business pages. To find out what content is working for your page, make use of LinkedIn analytics to discover what content is successfully reaching your audience, and amend your strategy accordingly.
Another important way to build your LinkedIn business profile, is to join communities and engage in conversations with other professionals in your industry, if you don't engage with followers, you will lose out on making connections, and building trust, which in turn creates leads who can ultimately be converted into clients.
Make use of Paid Promotions
If you have a small marketing budget and are not sure of which social platform to invest it into, LinkedIn cannot be sidelined. As of 2020, 94% of B2B marketers use the platform and 80% of B2B leads are generated from LinkedIn. Making use of LinkedIn's paid products will help your content appear in your prospects feeds. This is a valuable tool for lead generation.
LinkedIn offers a series of paid products that can get your content into LinkedIn feeds. As you have built up your followers as per the above tactics, you can target your ads to LinkedIn members who resemble your followers, and you can also make sure that your current followers view your content in their profiles - thus, keeping your business front of mind.
LinkedIn is also designed to help you convert prospects quickly. For example: You may design your promoted adverts in a way that prompts viewers to fill out a form immediately. They are then able to provide you with their contact details which adds to your communications database and provides your sales team and marketing team with invaluable information that they can use for sales and campaign purposes.
LinkedIn Advertising
LinkedIn continues to evolve, adding many options for advertisers. LinkedIn afs allow you to create specific ads based on what you want to achieve. The most commonly used objective in LinkedIn advertising is lead generation.
Based on the objective you choose, you will be offered different advertising options to suit your goal.
These options include:
Sponsored Content: Think of this as promoting a post or article from your business page to ensure it ends up on the LinkedIn feed of your target audience.
Text Ads: These are the small text based adverts you may see on the side of your LinkedIn feed.
Sponsored InMail: This is a great way to contact potential leads on LinkedIn. You will be able to direct message a potential client about your service offering, without it being viewed as spam. This tactic has the power to convert higher than any of the other LinkedIn ad options, making it perfect for lead generation.
In Conclusion
If you are not creating content or sharing content to your LinkedIn audience, you are missing out on a great sales lead generation opportunity.
If you are looking to grow your LinkedIn profile, we are here to help. Contact Nexa for all your Sales Lead Generation needs.