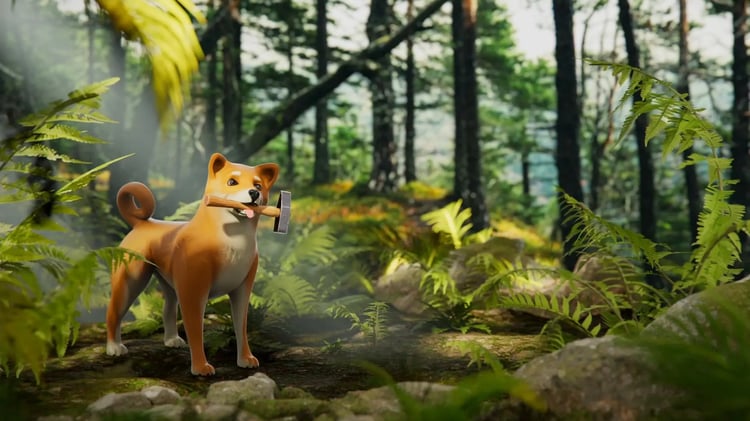 Shiba Inu's developers have recently announced the launch of SHIB: The Metaverse, which will steadily open by the end of 2023 as an ongoing project. As a Web3-oriented agency, we at NEXA believe the significance of events in this new digital arena should not be overlooked. The evolution of SHIB from "meme coin" to metaverse is a testament to the ongoing impact of Web3 in the tech world, so let's unpack the latest developments in SHIB's transition and take a look at what this means for the industry.
Shibu Inu coin explained
So what exactly is Shiba Inu (SHIB)? Originally developed as a cryptocurrency, SHIB is an Ethereum-based alternative to Dogecoin (DOGE), the popular "meme coin." This Ethereum-issued token can be bought, sent, and received on various different crypto exchanges and is compatible with the entire Ethereum "ecosystem." What's more, the driving concept behind SHIB is that it's completely community-managed. This has allowed the SHIB community to create cryptocurrency apps like ShibaSwap, which is SHIB's own decentralised exchange platform. There is no intermediate third party when it comes to the trade of Shiba Inu, but it is still completely compatible with Ethereum's ecosystem, as mentioned.
The Shibarium
But Shiba Inu's developers have not stopped there, creating the Shibarium blockchain network as well. SHIB developed this in response to scalability issues surfacing within the Ethereum ecosystem. Shibarium effectively adds a second layer onto the Ethereum system for the purposes of, among other things, speeding up crypto transactions, lowering fees, cementing Shiba Inu as a key player in the crypto game, and encouraging the adoption of the SHIB ecosystem by users.
SHIB: The Metaverse
Shiba Inu's metaverse is the next step in their overall project. A virtual world backed by the Shiba Inu token, the project features virtual real estate and allows participants to gain passive income, rewards, and other monetary benefits. According to the lead developer, Eric M. Mcafee, the metaverse will be a "decentralised, user-owned, and community-driven virtual world."

The metaverse will be divided into 100,595 plots of land, each of which will be represented by a non-fungible token (NFT). Landowners will be able to use their plots for a variety of purposes, including building businesses, hosting events, and creating games. They will also be able to earn passive income by renting out their land or by selling advertising space.

In addition to virtual real estate, the metaverse will also feature a variety of other features, including:

- A decentralized exchange (DEX)
- A gaming platform
- A marketplace for buying and selling digital goods
- A social media platform
Overall, this metaverse is in line with Shiba Inu's overall aim to further decentralisation and give users more control and agency over their online interactions, data, and assets. The SHIB metaverse is still in development, but it has the potential to be a major player in the metaverse space. It is backed by a large and passionate community, and it offers a variety of features that could make it a popular destination for users.
Ultimately, the Web3 and metaverse space continues to grow and evolve. SHIB is just the latest development in this arena, and certainly one to watch in future. At NEXA, we pride ourselves on staying ahead of the game with every Web3 development and trend. If you want to migrate your business activity into this exciting space, speak to us to find out more about how we can help you.