If your target audience is people in Abu Dhabi, this guide is for you. We're sharing all you need to know about social media usage and trends in the UAE's capital city, as well as the best ways of targeting these customers through this medium. As one of the most important channels of digital marketing, these factors are too important to be overlooked.
Social Media in Abu Dhabi
Let's dive into the facts relating to social media in the UAE. According to the Global Web Index:
99% of the population uses social media
86% of the users are actively participating in social media, with an average of 10 accounts per person
45% of people use social media for work-related purposes
The UAE's population has very high literacy rates, is made up mostly of men and is youthful
People spend just under three hours on social media per day
Most of the population has a smartphone which is used primarily for social media, messaging apps, entertainment and shopping
For brands, the following facts and figures are particularly beneficial:
31% of people discover brands through social media advertising, while 25% rely on comments or recommendations
Social media ad spend increases yearly, with the latest figures showing $467 million spent in the UAE
Advertising reach is as high as 95% on Facebook, 53% on LinkedIn, 44% on Instagram, 35% on Twitter and 28% on Snapchat
The most popular social media networks, rated in order are: YouTube, Facebook, Whatsapp, Instagram, Facebook Messenger, Twitter, LinkedIn and Snapchat, with TikTok growing rapidly
How to target Abu Dhabi residents on social media
When you're targeting the UAE, you're likely to want to begin in the capital city of Abu Dhabi. With the largest number of oil reserves in this Islamic state, it is also its wealthiest city. Abu Dhabi's population of just over one million people are in a less competitive environment than its counterpart Dubai, which could work in favour of businesses targeting the area.
Targeting in the UAE requires a sound knowledge of the region and develop strategies that are based on a long-term outlook. The broader GCC market is known to favor first-hand experiences, referrals and research when it comes to being customers, which once established, is a relationship of loyalty. With each area being specific, even within the UAE, where the regions within the country have a degree of their own governing power, niche targeting is necessary to reach the market.
This is what marketers refer to as localisation, which is oh-so-important, especially when it comes to Arab-speaking populations. The nuances and differing cultures play an important role here, and mass advertising is not recommended.
To target Abu Dhabi residents, marketers need to conduct research. Learning about the UAE and Abu Dhabi is necessary and needs to be done in-depth. If the company is based elsewhere, getting local connections or experts will be essential. This will provide you with a richer source of helpful information and a strong presence online.
The profile of Abu Dhabi customers is generally one of the big spenders who have an eye for luxury and appreciation for high-quality. With that comes a set of high expectations and the need for a brand to be well established in order to earn trust. Mid to high-end brands have been experiencing growth in the Middle Eastern markets, so positioning your brand in this space is ideal. These are, after all, customers who spend as much as 30% of salaries on luxury purchases.
Your target audience from Abu Dhabi may differ from the above. However, the key to note is that marketers need to develop buyer personas. These are based on research and will help you in determining the best ways to target these customers. In the above example, a brand may decide to appeal to status purchases and present solutions in a lifestyle context. It would require a specific brand voice and aesthetic, as well as personalised customer communication.
Niche personas should be well rounded and factor in all of the influencing factors. For instance, most of the UAE's population is male. However, a high level of purchasing decisions is made by females. This is a factor to consider when targeting your customers, and one which requires a highly attuned profile of your customers and potential customers.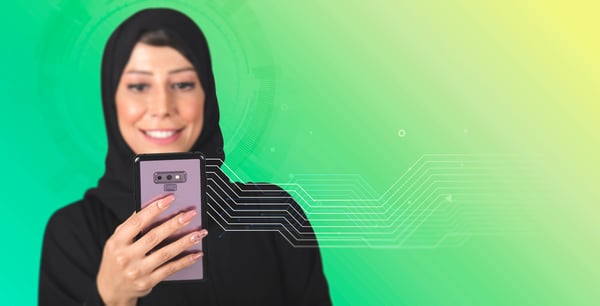 Finding your target audience online is one thing, appealing to them is another. Since these platforms are used for inspirational purposes, consider tapping into the sources used for that inspiration and become part of it, with easily shoppable options embedded in your content. Use the trends as indicators of how to market your brand - for instance, with nearly 3 hours spent online; you could extrapolate that customers who are engaged will not mind spending time with your brand and engaging with it, as well as catch their attention with Story content. With so many active users, you can encourage user reviews and content with relative ease.
With social shopping coming into the UAE soon, brands need to find ways to appeal to these audiences in a way that is strong enough to alter the current mall culture. Another tip for e-commerce in Abu Dhabi and the GCC at large is to consider being featured on the popular marketplace e-commerce destinations for added revenue opportunities and reach.
Marketers working on targeting these residents should follow these steps when developing their social media marketing strategy:
Define the objectives: Defining your marketing goals will inform your strategy. This includes the overall plan your business has once these customers have been reached. This may be awareness, lead generation or increasing sales in Abu Dhabi, for instance. There should be KPIs to measure the performance of your marketing activities in relation to your goals.
Develop the personas: As mentioned above, your consumer profiles are of the utmost importance. This includes all relevant details, including demographics, psychographics, attitudes and behaviours.
Select the platforms: The social media platforms you use each have different requirements, with content needing to be tailored to each. This selection should be based on your audience.
Create the content: This needs to satisfy your strategy and audience with a selection of high quality, diverse, attention-grabbing, engaging and valuable content.
Promote and advertise: Your marketing in Abu Dhabi should include a mix of organic and paid promotion. Optimisation and advertising are crucial when it comes to social media marketing. Ensure that there are CTAs to follow and that your offers appeal to your potential customers.
Since Abu Dhabi is a highly connected city with high social media usage rates, it is important to be ahead of the general trends to appeal to these customers. The top trends to implement when targeting this audience is:
Be responsive and adaptive

Include

video

content

Focus on developing a sense of community

Conduct social listening innately

Share Story content

Build trust with your audience

Ensure e-commerce options are an option

Work with influencers

Share user-generated content

Be present on newer platforms such as TikTok

Make use of direct messaging apps

Incorporate technological developments where possible
That concludes our guide on how to target Abu Dhabi residents online through social media. Getting your brand established in the area is possible, with an attractive customer base for businesses. However, in order to succeed, your marketing efforts will need to take into account the above and be carried out efficiently over time to see results.
Work with experts in the GCC
We have more than a decade worth of experience in social media marketing. With a firm grasp of all things Abu Dhabi, Nexa is ready to take your business to the next level. Book a session with us to get started, whether your social media needs to get going or get better.