Social media is an integral part of all our lives and daily routines. Some of us are more addicted to these platforms than others, but it's not an exaggeration to say that most people spend a large part of their day on social media.
These platforms have become so ingrained in the public consciousness that they have changed consumer behavior for the foreseeable future. The problem is that these spaces are overwhelmed with brand and marketing content and this makes the competition high for businesses wanting to leave a mark online. This is why it is vital that marketing teams put together a clear social media strategy and stay up-to-date with the latest trends.
With the above in mind, let's take a look at 5 important social media marketing trends you need to look out for in 2022.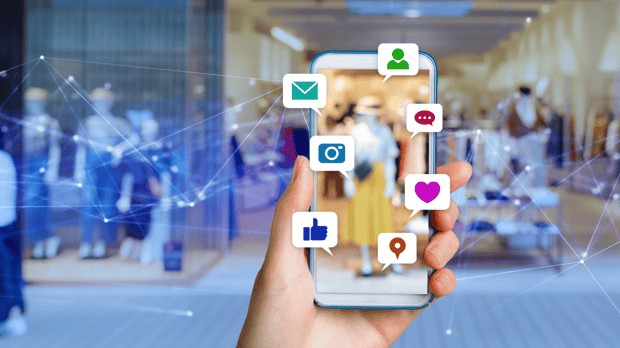 5 important social media marketing trends for 2022
1. TikTok continues to grow
TikTok is quickly moving up the ranks and fast becoming the most popular social media platform available today. The app allows for creative, short-form videos that are easy to produce and this makes it the ideal platform for the video-focused consumer of 2022.
Over the few years, the app has grown to suit the market and has launched a number of useful marketing tools including business profiles and ads. This shows that the platform is no longer just for creators and the public - it has become one of the most important platforms for brands to reach Gen X and Millennial consumers.
2. Alternative social media platforms will take center stage
"Smaller" or "alternative" social media platforms such as Snapchat and Pinterest are, like TikTok, quickly gaining greater popularity. In fact, according to statistics released by Pinterest Business, advertisements on their platform are generating twice the return on ad spend for retail brands compared to other popular and more mainstream platforms.
The Snapchat advertising stats also reflect growth and that the ad audience is increasing substantially.
So, why is this important? Well, in 2021 Apple announced that it was blocking the ability for Facebook to target a large segment of its users - and this is why brands have started looking for alternative platforms for ad opportunities.
3. Social Media commerce is set to flourish
Instagram, Pinterest, and Facebook have been used to sell products for brands for a while now. However, in 2022, the ability to purchase products directly through these platforms will become easier and more normalized. According to stats released by eMarketer, the social commerce industry should be worth an astonishing $80 billion by 2025.
We will be seeing more shoppable Instagram posts and social media digital storefronts popping up and these will continue to evolve to better the user experience as the consumer becomes more and more accustomed to purchasing through social media. This is why it is important that your brand consider adding social commerce to your social media strategy in 2022.
It is important to note that you need to focus on creating a streamlined purchasing experience through these platforms and you need to keep the buyer's journey as frictionless as possible if you want to succeed. The fewer clicks the buyer has to make, the better.
4. Virtual Reality and Augmented Reality will be all the rage
With the launch of Meta, it couldn't be more obvious that AR and VR are going to grow in 2022. These types of platforms are going to become the norm and provide consumers with more engaging online experiences than ever before.
VR in social media is still in the early stages however Augmented Reality has solidified its place across platforms. For example, filters are being used every day on TikTok, Instagram, and Snapchat - and this is in fact, a form of augmented reality.
This kind of augmented reality enhances our digital world by adding elements to us and changing the way the environment looks. And with this in mind, brands are now able to leverage this kind of technology to provide further branding opportunities. One standout example of this is that TikTok provides you the opportunity to create your very own branded TikTok filter.
5. Influencer marketing isn't going anywhere
Influencer marketing is no longer just a trend, it is an important part of the marketing landscape. However, this is not as expensive an undertaking as you would think. Thanks to platforms like TikTok, there has been an enormous rise of influencers and it's not difficult to find an influencer (even a micro-influencer) who will reach your niche market.
Investing in influencer marketing is actually more cost-effective than running a paid ad campaign and delivers great and measurable results. If you want to reach your niche audience, measure engagement, and generate leads - then influencer marketing is a cost-effective marketing strategy for 2022.
The Wrap Up
As per the above trends, it is clear to see that the future of social media lies in technology, video, and human connection.
If you are interested in creating a strong social media strategy for your business, contact the Nexa team today.