The influencer industry is worth billions of dollars. From the micro to mid and mega influencers, these social media platforms users have the potential to influence their audiences, which can be highly beneficial to businesses. This is especially true in the UAE, where most of the population are active on social media. Here's a round up of 15 of the best influencers in Dubai, ranging from self-made to creatives to royalty, who cover a range of topics from fashion to travel and luxury lifestyles.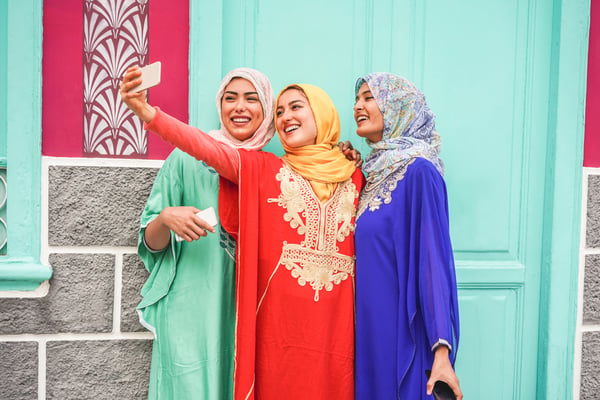 Dubai's best influencers
Fazza
@faz3 10.3 million followers
Sheikh Hamdan bin Mohammed bin Rashid Al Maktoum - the Crown Prince of Dubai, otherwise known as Fazza. He is a poet and shares snippets of his life on social media, from travel to animals.
Taim Al Falasi
@taimalfalasi 2.9 million followers
A food, travel, and lifestyle influencer in the n Emirati region. Taim is a restauranteur who gained notoriety by hosting an online radio program, the TaimShow. The vlogger and filmmaker is also the founder of TAN, a food and beverage digital marketing network.
Mohamed Beiraghdary
@movlogs 2.9 million followers
A UAE-based vlogger who shares content covering his luxurious lifestyle in Dubai. He is a member of the SuperCar Club Arabia and often posts about cars - and gaming.
Azza Zarour
@azzazarour 2.6 million followers
Azza is a Palestinian TV host who shares snippets of her life with her followers.
Rashed Belhasa
@rsbelhasa 1.7 million followers
An Emirati influencer and son of a Dubai-based billionaire. Follow him to see glimpses of his family farm, home to tigers and his Ferrari. Rashed has an exclusive and rare shoe collection reportedly worth over $1 million and is co-owner a men's streetwear line.
Na'el Abu Alteen
@nael_abu_alteen 1.1 million Followers
From engineering to professional traveller. Follow Na'el as he travels within the Middle East and beyond, inspiring worldwide expeditions of your own.
Mthayel Al Ali
@mthayel 744K followers
The founder of Takhayyal, a platform for creatives and social media marketing consultancy.
Max of Arabia
@maxofarabia 670.8k Followers
An expat who has lived in the UAE for over a decade. Max fell for the Middle East, learning Arabic and sharing the beauty and cultures found on his journey in the region. He also shares snippets of his humanitarian activities.
Wael Abualteen
@waelalteen 561.8k Followers
Another one of the top travel influencers to make it onto the list, sharing content from travels all over the world that are sure to inspire you.
Nadya Hassan
@thefierce_nay 213k followers
Nadya is a luxury lifestyle and fashion social media star. The Fierce Diaries is the name of her blog which is among the most influential in the UAE. Follow her for travel, beauty and style posts, with collaborations including the likes of Gucci.
Zahra Abdalla
@cookingwithzahra 186.4k Followers
A Sudanese-Iranian author, TV chef and influencer based in Dubai. Zahra is also the founder of Zahra's Kitchen and Wild Spatulacreative culinary productions. View her journey into the culinary world where she shares traditional and modern Middle Eastern cuisine, with a health conscious focus.
Mariam Yeya
@mrskeepa 185K followers
A retired media professional who has a passion for design. Mariam has evolved from a style blogger and has since fortified her career in fashion, launching Mrs. Keepa, atelier and pret-a-porter in 2016.
Sana Chikhalia
@sana 91.4k Followers
An award-winning food and travel blogger turned influencer. Sana is passionate about cuisines from around the world and invites followers to vicariously travel and eat with her.
Naomi D'Souza
@naomi_dsouza 90.5k Followers
An engineer turned digital strategist. Naomi is one of the UAE's most influential food bloggers who shares snippets of her travels, lifestyle and favourite recipes. Her credentials include TEDx talks and ranking as one of the #Hot100 most influential Asians in the UAE.
Louise Nichol
@louisenichol 39K followers
A former editor-in-chief of Harper's Bazaar Arabia. Louise now freelances and has built a career as a presenter, host, and consultant in the UAE. Last year she as part of BVLGARI's Middle East campaign featuring women of achievement in support of its partnership with Save the Children.
That wraps up the best influencers in Dubai. There is no questioning their ability to influence and the potential of their marketing power in the UAE. This form of marketing is highly effective and projected to grow in the coming years, making it a great way for your business to expand its reach in the UAE.
If you need help getting started with your influencer marketing, chat with us at Nexa.