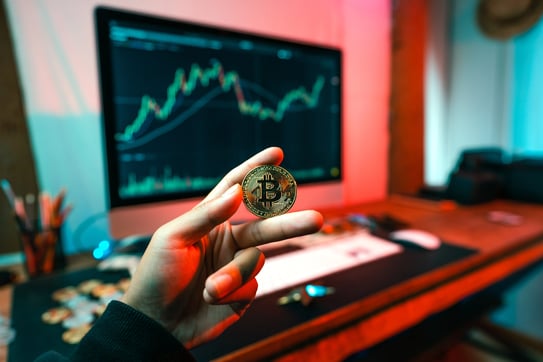 As we know, cryptocurrency won't be going anywhere anytime soon, with Bitcoin experiencing its best month in a decade this January. At the moment, cryptocurrency as a general payment option is still not widespread, but more and more businesses are beginning to accept this method for transactions. And, of course, as more companies get on board, the number of payment platforms increases, and there are now several options to choose from. With so much available, it can be overwhelming to try and select the best option for your business, so we've made it a little easier for you with our round-up of five of the best cryptocurrency payment gateways to use in 2023.
One of the most popular cryptocurrency organisations in the world, Coinbase is a U.S. payment gateway with several features including excellent security, multiple cryptocurrency types, and conversion of cryptocurrency into fiat without having to request a withdrawal. Coinbase is the largest bitcoin exchange platform in the U.S. and one of the largest global crypto exchanges. Additionally, as a U.S.-based company, Coinbase adheres to the country's laws on currency exchange. As cryptocurrency is still unregulated in many areas, these legal requirements make Coinbase a reliable, secure exchange where merchant funds can also be insured if Coinbase is enabled account management.
Coinbase's Coinbase Commerce is the merchant service feature via which small businesses can set up cryptocurrency as a payment method. Payments typically reflect in the merchant's bank account within two to three days. The first USD $1 million carries no service charges, after which there is a one percent transaction fee.
Businesses should note that Coinbase does not operate in some countries.

One of NOWPayments' most attractive features is that it accepts over 100 cryptocurrencies using an auto coin conversion function, meaning businesses can accept any cryptocurrency they like. The platform also features tools that allow cryptocurrency donations and mass crypto payouts. Another benefit to using this platform is its compatibility with major ecommerce platforms like Shopify, OpenCart, WooCommece, and PrestaShop.
Up to 0.5% is charged on transactions in NOWPayments, and an extra 0.5% if a conversion from one cryptocurrency to another is required.
BitPay is also a U.S.-based payment gateway with an open-source wallet for global cryptocurrency transactions. The platform is simple to use - straightforward as possible, making it user-friendly for less tech-minded users - and boasts excellent security.
The platform supports several cryptocurrencies, and transactions are free of charge up to USD $1,000 daily and $10,000 annually. Thereafter, a one percent transaction fee is levied. Businesses are also able to convert their cryptocurrencies into USD immediately for withdrawals. Additionally, BitPay features a system through which users can set transaction speeds to required timeframes. This is useful for businesses needing to withdraw at specific intervals.
Businesses should note that BitPay only supports direct bank deposits in 38 countries.
AlfaCoins possesses the unique feature of offering payments that can be split between fiat and cryptocurrency. This means that businesses can keep some crypto in the game without having to risk the entire amount of a transaction. The platform also allows businesses to withdraw in either USD or euros.
Several currencies are supported, including Bitcoin, Ethereum, Litecoin, and Ripple. The platform also offers a slightly lower fee of 0.99% per transaction, but this is levied from the get-go. However, subscription to AlfaCoin is free and there are no charges to install the payment system.
AlfaCoin is also an excellent option for registered NGOs, where users can accept donations with no transaction fee. Businesses can also accept donations with only 0.5% worth of transaction fees.
This platform is available in all countries except Iran and North Korea.
Coingate is one of the older cryptocurrency payment gateways. Supporting more than 40 cryptocurrencies including Bitcoin, Dash, Bitcoin Cash, Ripple, and Ethereum, Coingate has a user-friendly app and offers quick transactions which typically take an hour to reflect. The platform levies a one percent transaction fee and offers conversions from cryptocurrency into fiat as well as the conversion of one cryptocurrency into another.
The platform features the ability to create payment buttons on any type of website, with plugins from ecommerce platforms such as OpenCart, Magento, and PrestaShop.
There are several other options beyond these platforms, and while these are great options, it's best to do the research in order to find the perfect payment gateway for your business's needs. Speak to us about setting up your business for crypto-accessibility across the board!