Imagine you could log into an app that allowed space for open debate, knowledge sharing, podcast style conversations, networking opportunities and panel discussions? Imagine entering a digital space that replaced the "influencer" with a "moderator"? This kind of social media app sounds impossible and almost too good to be true in the era of viral TikTok dancers, influencer branding and instant celebrities, doesn't it?
However, a new social media app has been launched and is set to take the digital world by storm and flip it on its head.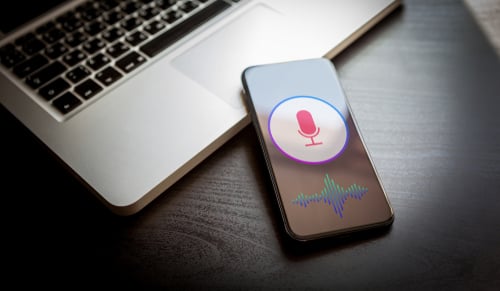 Introducing Clubhouse
Quietly launched in April 2020, Clubhouse is the most exclusive social media app on the marketing today. The company is in the process of its global rollout and since April 2020, has been valued at a whopping $100 million. But, what makes this app so exciting and so valuable?
Compared to social media apps such as LinkedIn, Facebook and Instagram, Clubhouse offers professionals and thought leaders the opportunities to actively connect and engage with professionals in all industries - even those outside of their niche. Typical social media apps have algorithms that create echo chambers that provide you with the same kind of content over and over again while Clubhouse offers spontaneous chat rooms that are made up of a variety of topics and take place in real-time.
But at its core, Clubhouse is finally using a communication tool that all social media apps have ignored - and that is audio. While other social platforms focus on images, video and text, Clubhouse shifts the focus to an audio-only format - allowing for more genuine interactions - something sorely missing on social platforms.

(Something very cool that you will notice before you even download the app is the image icon, which features a real member of the community and changes frequently!)
Entering the Clubhouse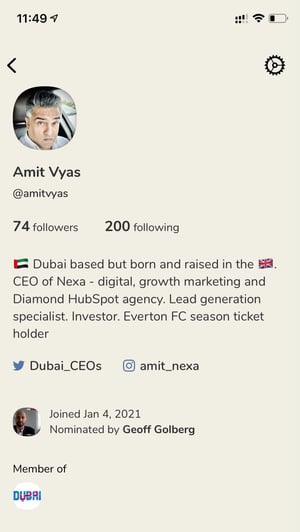 I had heard about the mysterious and upcoming launch of Clubhouse in digital marketing circles and was itching to experience the app first hand. The problem is that the app is "nomination only" and I anxiously awaited my invite to participate in the new podcast-like app, currently there are only about 30 individuals present on the app in the UAE. Finally, I received my invitation and was excited to try it out for myself - and I was not sure what to expect. New social media apps are usually touch and go, and the unique audio-only feature had me curious about its functionality.
As I logged in, my first port of call was to select my preferences, which was predominantly based on my interests and some limited personal information.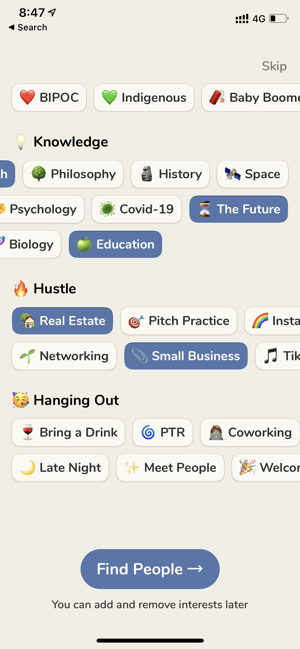 Next, I wanted to explore the live 'rooms' and I was taken through to a clean home screen that listed the various debates and discussions that were taking place in real-time as well as chats that were scheduled for a later time.
I immediately appreciated the simple and slick user interface, and quickly discovered that the apps algorithm corresponds with your address book and allows you to choose who you would like to follow based on your specific field of interest, from music, film and culture through to beauty and technology.
After exploring what was on offer, I entered the rooms and I noticed how well-organised everything was, each room is made up of users, room moderators, speakers and related guests - ensuring conversations run smoothly.
The chat rooms are lively and filled to the brim with great energy, and there is a willingness amongst speakers who are not just willing, but excited to share their knowledge and help others.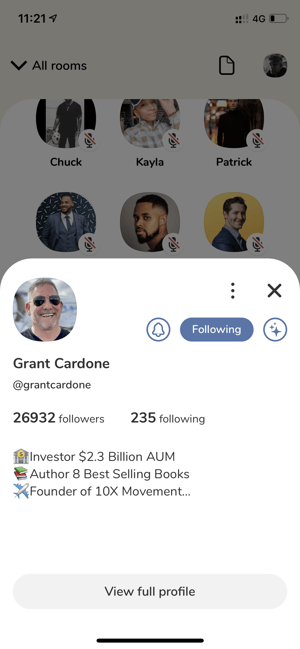 It was refreshing to enter a digital world that was not solely based on image, animosity, trolling and angry debates. Another great aspect of the app is that it is made up of a lot of thought leaders and celebrities, and these icons are actively taking part and communicating with members. In the space of a few minutes you can find yourself speaking directly to Marc Andreessen, Gary Vaynerchuk or Grant Cardone. At this point I knew that the hype around the app was justified.
Another notable feature is that the app allows you to keep listening to what's being discussed in a room while you browse other aspects of the app, or scroll through other apps on your phone (YouTube could learn a thing or two from this). One point that does need to be mentioned is that the app only runs on iOS, but as it grows in popularity that will quickly change.
Is there room for this platform in today's climate?
Absolutely. The world has recently gone through a collective trauma, and with social distancing rules in place, and unpredictable lockdowns being implemented around the world, we need a space that allows us to connect with like minded individuals - and really connect.
And when it comes to business in the new normal, Clubhouse may just be the future. The platform offers a way to host audio based conferences and provides the opportunity for insightful and engaging panel sessions. With a good moderator in place, and insightful panelists lined up to discuss a specific topic - conferences, workshops and webinars have been given a new, exciting and easy to use platform. Think about it like this, the app has an unlimited scale, runs 24/7 and is accessible to people around the world who have access to it - and spaces are not limited and sessions aren't constrained by time (we are looking at you, Zoom).
Personally, I see tons of commercial opportunities to come from the app and believe wholeheartedly that this is the future of social media and business communication alike.
I am looking forward to what's to come - see you in the Clubhouse! Follow me @amitvyas