If you're a B2B company and looking to conduct business in the Middle East, there's a good chance you're in search of sales leads. In today's marketing climate, this is a top priority as it has the power to enhance your presence, build your brand's community and influence your sales. In this article, we're sharing some of the best ways to generate sales leads in the region.
The Basics of Sales Lead Generation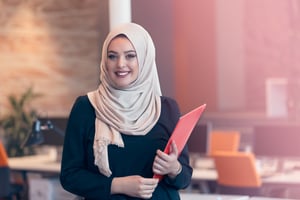 Lead generation is a hot topic among marketers, and for good reason. Digital marketing has transformed the sales funnel, making the process from awareness to purchase a lot more marketing-based, with sales only coming in towards the end stages. Marketing is therefore more than just the promotion of your products or services - it is a continued effort that guides the customer.
Digital marketing allows for leads -
[lead: A person who shows interest in a brand's products or services, making them a potential customer]
- to be collected by means of the willing exchange of information. These potential customers share their details with you so you are able to contact them with more marketing, while you offer them something of value, referred to as lead magnets.
Businesses use CRMs, automations and marketing techniques to generate and nurture leads. This often involves lead forms and lead scoring. Scoring is important because it allows a business to further segment and target a market to ensure that their specific needs are met. In today's world, it is the quality of leads that matters more so than the number of leads. In other words, people need to be actual potential customers that provide your business with a promising chance of becoming customers.
Top 10 lead generation techniques in the Middle East
Optimise: In order for your content and channels to be as effective as possible, you need to optimise them. Using keywords and search engine optimization are the best ways to achieve this, both for your website and social media channels. There is little competition in this regard in the Middle East, though the most effective ways to implement this is to do it in Arabic.

Social media: Campaigns, contests and advertising on social media are among the ebay ways to attract potential customers to your brand and business. This is particularly true in the Middle East, where social media rates are high and continuing to grow. Select the best channels to suit your brand and devise strategies with lead generation offers in mind.

Direct communication: Engaging with your leads directly is one of the best ways to generate leads. You can do this by offering support and having live chat available on your website. Another method is through email marketing. Keep in mind that Middle Eastern audiences prefer informative email content over promotional or transactional email content. Also consider communication through SMS and Whatsapp in this region as this is often a widely accepted communication medium.

Networking: Networking and personal relationships have a great influence in the way business is conducted in the Middle East. Networking at events is therefore important (if you're unable to host or attend them, consider online events such as webinars). Another key way to network is by way of referrals, which you can encourage people to do by sharing about their experiences with your business.

Remarketing: Lead generation does not only refer to attracting new prospects. It can be highly beneficial for your business to consider missed opportunities with reminders. To do this, re-engage with prior leads in different ways, or use your advertising to retarget audiences. This is very important for Middle Eastern markets as trust and loyalty are among the top considerations when making purchases.

Contribute: Contributions are a great way to increase brand awareness and visibility. Content can be contributed to industry related forums and publications, for instance. This will aid in your business's perception of being a key player, as well as increasing the levels of trust over time.

Targeting: When working on lead generation strategies, you should conduct A/B testing to see what works best for your company. The Middle East is a complex and diverse region, so you will need highly specified segmentation and localisation in order to be successful in the region.

Tools: A great way to generate leads is through offering convenience to customers, by having relevant tools on your website. You should have things like appointment bookings and calculators readily available, with clear calls to action. Another important aspect to consider for businesses in this region is having your website available in Arabic.

Call centres: Working with call centres who can cold call and generate leads from their own matching databases can be highly beneficial to your business.

Agency: Working with a lead generation agency based in the Middle East is your best at achieving all of the options mentioned above. They will have the necessary understanding of the Middle East, as well as the tools and expertise to effectively generate leads for you.
That wraps up the need to generate leads and the best ways to do so in the Middle East. Leads have the power to grow your business in more ways than one. Have a look at your conversion rates - do they need some improvement? We at Nexa, Dubai's number one lead generation agency, can help.
Book a free session with us today to discuss your business needs.