The term "growth marketing" has been doing the rounds over the last 2 years, but what does it actually mean? Growth marketing is about attracting, engaging, nurturing and retaining customers through digital marketing tactics, analysis, personalization, consistent refinement and technological advancements.
By crafting and delivering your prospects, leads and current customers with personalized marketing messaging, and delivering this message to them at the right time, you are able to optimize your organizational growth.
In this article, we take a look at the ins and outs of digital growth and why this tactic is the future of marketing and business growth.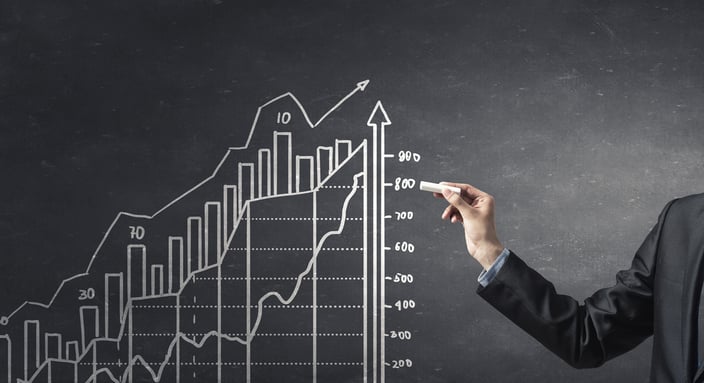 What is Digital Growth?
Traditional marketing is made up of repetitive tasks such as sending out email blasts, running PPC campaigns, and using the same online keywords across content. Of course, this will yield some results but the lack of lead nurturing and personalization can quickly alienate consumers in the digital age.
On the other hand, growth marketers make use of digital growth techniques that allow them to experiment with a variety of online channels and transformative strategies, all of which are rooted in analytics and testing to determine how best to spend the marketing budget.
This is done through transformative marketing technology such as Customer Relationship Management platforms that allow space for A/B testing and marketing reporting, providing insight into what strategies are working and what needs to be amended. These tools also have the capability to segment leads and drive them through the buying cycle - leading to increased sales and business growth.
CRM technology is intricately linked to growth marketing as this tool allows space for all of the above as well as personalized online campaigns that can be implemented across platforms - all of which can be managed in a single location and customized to suit business goals.
Below, we will outline the most important components that make up a growth marketing strategy.
What Tactics Make Up a Growth Marketing Strategy?
Customer Lifecycle or Customer Journey
A customer lifecycle refers to the journey your potential customers take as they learn more about your business, engage with your company and convert into customers. There are three important elements of the customer lifecycle that growth marketers focus on and these are:
Activation/Attraction
Nurture
Reactivation
Each of these stages plays a key role because they contribute to the overall customer experience and are marked by specific campaigns.
The activation or attraction stage is designed to attract the attention of the target audience and this is done through introductory and informative marketing campaigns that build brand credibility.
The nurture stage is about activating and growing the lead's interest through relationship building. At this stage, personalized email marketing and social media campaigns are key.
The reactivation stage is about re-engagement and is designed to drive retention and loyalty through post-purchase communication and remarketing campaigns.
Every one of the above stages is vital and holds the same level of importance as the other. It is important to focus efforts on each stage in order to successfully drive lead generation, lead conversion, and customer loyalty.
A/B testing is a form of user experience testing and consists of randomized experiments. This includes statistical hypothesis testing or 2-sample hypothesis testing. A/B testing is one of the primary practices for a successful growth strategy and can be used for a number of marketing efforts including landing pages, email campaigns, and social media ads.
Essentially, by deploying A/B testing you are able to understand which variation of your campaigns works best for engagement and lead generation. With this data at hand, your marketing team can then optimize future campaigns for greater results.
Cross-channel marketing is about building a strategic channel to reach your target audience. This includes email marketing, social media marketing, in-app messaging, social media marketing and search engine marketing. When deploying cross-channel marketing you need to focus on the individual lead or current customer and decipher which marketing channel works best for them. For example, if you are in the B2B space, then LinkedIn and email marketing are ideal and if you are targeting Gen-Zers, then TikTok marketing may be what you are looking to invest your marketing budget into. However, it goes deeper than that.
Thanks to CRM technology you are able to track and analyze individual leads and create automated campaigns based on their individual actions and behaviors, ultimately crafting and initiating the most personalized marketing campaigns possible. This means you will reach your right audience, at the right time, with the right message - driving them through the buyers funnel effortlessly.
The Wrap Up
When it comes to attracting leads and customers, you don't want to push too hard. Instead, you want to deploy an inbound marketing methodology that is designed to drive the consumer through the buyer's funnel. Digital growth understands the new-age consumer and makes sure to do all of the above through the most innovative means by working side by side with transformative technology and creativity.
How We Can Help
In the world of business, no word is more important than GROWTH. Standing still should never be an option, if anything, it's a backward move.
Growth creates opportunity. Growth is power. Fast, sustainable, and efficient growth is the utopia. This is what we do.
We have been driving growth for clients since 2005 and look forward to helping your business grow in 2022.
Contact Nexa for all your digital growth needs today - and get ahead of the competition in 2022.