2020 has been a difficult year, and no business has been left untouched. While some have flourished, the majority haven't been so fortunate. As much as we want to go back to normal, we have to acknowledge that it is no longer business as usual, it is now business in the "new normal."
This year, marketing has had to adjust alongside all other industries, and this adjustment has led marketers to focus more on customer experience, providing the consumer with only the most helpful, valuable and relevant content. These are the values that marketers need to focus on in order to rebuild brands and take them to the next level in 2021.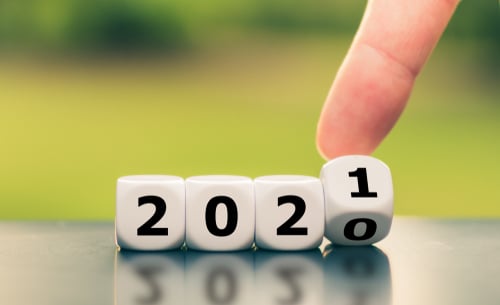 As the consumer has spent more and more time indoors due to the COVID-19 restrictions, they have become more reliant on technology than ever before, and marketers need to focus on technology and use it to nurture meaningful relationships with consumers, that goes far beyond the buyers first purchase.
In 2021, marketers need to build cohesive experiences, from the moment the prospect discovers a brand to when they make their first purchase - and thereafter. It is about continuing the relationship in order to build trust and keep a brand front of mind, in fact, according to SalesForce Research, 84% of customers believe that the experience that a business provides is as important as its services or products - and with that in mind, consistent and valuable communication is key to lead generation marketing in 2021.
To sum it up, marketers need to put systems in place to reach potential and current customers, store current and potential customer data and create cohesive journeys for them.
In 2021 marketers will have to focus on the following:
Customer Relationship Management Platforms (CRMs)

Content Marketing

Omni-Channel Marketing

Account Based Marketing (ABM) (for B2B marketing)
1. CRM Platforms in 2021
Customer Relationship Management (CRM) refers to a software system that businesses use in order to manage strategic interactions with potential and current customers. This system helps businesses streamline all of their marketing and sales processes, nurture relationships, create positive customer experiences, increase sales and ultimately increase the bottom line.
The reason CRMs are vital for 2021 is that a good CRM will make sure that your marketing, sales, and customer service work together at the highest level - ensuring the best brand experience for your consumer. This is because a CRM is designed for your sales and marketing team to streamline manual and time consuming tasks, track campaigns, measure campaign success, collect quality leads and manage and nurture these leads. A CRM should connect to all your marketing platforms in a single place, including all of your social media platforms, email campaigns, lead magnets and website - and this means that all your teams have access to information easily and on the go.
It also helps that every bit of customer data you record in your CRM will be able to tell a story, and explain how your leads and clients were acquired (be it through a social media campaign or email campaign etc), how far along the buyer's journey they are, and how they would like to engage with your business - essentially through this platform you gain insight into your leads, and learn how to convert them into paying customers.
One of the most valuable elements of CRM technology is that the system keeps sales teams up to date, and assists them in document templates, emailers, lead nurturing, calendars and tasks. Sales people also gain insight through the tool as they are able to figure out what techniques work best when converting clients, and it increases communication between sales management and sales teams.
A CRM will not only help your sales team stay on track by nurturing relationships, it also offers in-depth reporting to ensure your sales team knows what works and what doesn't. All this information can be accessed and assessed by your team members, ensuring they are on the same page at all times.
No matter how small or large your business, by having an organised single space to store your customer data undoubtedly makes your processes easier, and your business more efficient. A CRM completely eliminates time consuming tasks and creates a streamline customer service experience - and this is vital to marketing in 2021.
As 2020 was a bad year for almost every organisation, it is important to note that a good CRM offers a great return on investment that is measurable and will help your business flourish in the new year.
2. Content Marketing in 2021
Today, we have unlimited access to information, and we can search for it and obtain it within seconds. The world has grown ever accustomed to instant communication and this is why it has become vital for businesses to be present online. The thing is, being "present" and visible is not enough with the changing expectations of consumers in the online age.
Today, as stated above, a businesses online presence needs to be customer centric, offering helpful information and answering the right questions. The risk of your business not answering your potential customers questions, will lead them to your competitors who may be filling that void. Companies that have a strong content marketing strategy will reap the rewards, in fact 64% of marketers believe that learning how to build a content strategy is one of the greatest educational needs in the digital marketing industry.
So, where do you begin creating your content marketing strategy for 2021?
Mission, Objectives and Goals: When you begin planning your content strategy, you need to build a foundation by understanding your brands mission statement. This makes it easier to focus your efforts on what really matters, keeping your content on the right path at all times. Once you have a fully rounded and fleshed out understanding of your message and goals, that is: your target audience, what platforms they use online, and what value they will get from your content, it is time to lay out your goals. Your goals consist of what your business will get from your content marketing, that is whether you expect more leads, more website traffic, better SEO etc.
Buyer Persona: We briefly touched on understanding your audience when it comes to creating your mission statement, but in order to achieve the most out of your content marketing strategy, you need to dig deeper and truly unpack your target audience, their likes, dislikes, online presence, income, location and more. By creating a buyer persona, you are able to understand your audience's priorities, decide on the best channels to use for your content marketing efforts. Learn more about creating a buyer persona,

here

.
Content Type: Consider the type of content you want and need to create. Most marketing strategies rely on a primary content type that is usually published on a businesses main site and from here, it will be repurposed and shared across online platforms. This is why

blog

posts are important, you can copy your blog post link and share it on your social platforms, linking a user directly to your website. There are a variety of content types other than blogging that you can include in your strategy such as: video content, infographics, social media posts and lead generation content (such as emailers).
Marketing your Content: Make sure to market your content to your audience. Consider using email campaigns or social media advertising tools, such as Facebook ads or LinkedIn marketing. You are able to target these ads to your specific audience and this will encourage more engagement, result in more brand awareness, and ultimately lead to more sales - thus improving your bottom line and giving you a great return on investment.

Measure your Results: It is vital to monitor your progress throughout the process, and this can be done using a variety of tools, from Google analytics to social media analytics and CRMs. With this information you are able to tweak your content strategy to ensure the best end results.
Content marketing takes time and in 2021, it comes down to understanding your objectives, tailoring your strategy around your goals, delivering helpful content and reaching your audience effectively.
3. Omni-Channel Marketing in 2021
Omni-channel marketing is not something new, but it has become more relevant than it has ever been before. With so much information available online, consumers are able to move from channel to channel when they are looking to make a purchase. And in 2021 marketers need to adapt to this more than ever before - the world has gone through a trauma and consumers are going to be much more careful when making a purchase. This means they are going to do their research before spending their money on a product - and this research is conducted online and through a variety of online channels.
In 2021 marketers will need to increase their marketing reach through various touch points. From Search Engine Optimisation to make sure a brand can be found on Google, to social media platforms and mobile applications. The world is more connected than ever before, and buyers expect your business to be just as connected, and to reach them at every possible touchpoint - and you have to reach them when they want you to reach them.
4. Account Based Marketing in 2021
ABM is described as the fastest, most cost effective way for B2B businesses to generate leads. To put it as simply as possible, it is a targeted approach to B2B marketing, one that involves honing in on key accounts, creating hyper-targeted content and campaigns, and delivering a personalised experience to the companies and decision makers within those companies that matter most.
ABM does not just call for alignment between marketing and sales, it merges them as this kind of personalisation requires both parties to be completely in sync. By doing this, and by personalising the buyer's journey, marketers are able to customise communication, content and campaigns to specific accounts, and this is what promises a greater return on investment and a boost in customer loyalty. This kind of marketing results in higher revenues in a shorter time frame.
ABM stops marketers from having to cast a wide net when it comes to lead generation, because it works to identify key prospects and create personalised and customised programs and messages to direct at these key accounts. This strategy goes beyond lead generation and encourages lead nurturing, upselling, and cross-selling, and this is why ABM is vital for B2B marketing in 2021. Learn more about Account Based Marketing, here.
In Conclusion
Marketing in 2021 is about the consumer and providing them with valuable service.
This year, business has changed, communication has evolved, and customer expectation has shifted. It is time to acknowledge the impact that Covid-19 has had on all our lives as we rebuild and normalise our new marketing efforts designed for the "new normal."
Digital sales and marketing is the new normal, and we can help. Contact Nexa today.