The world is forever changed. This year has brought with it uncertainty and fear. We fear for our families, our loved ones and our businesses. Everything we know has been flipped on its head, including the marketing world. Nothing is as it was, and many marketers are wondering ,"where do we go from here?". This is a loaded question, and it is up to marketers to find ways to reposition their brands, and find new ways to engage with customers - and it all comes down to empathy, transformation, technology, and innovation.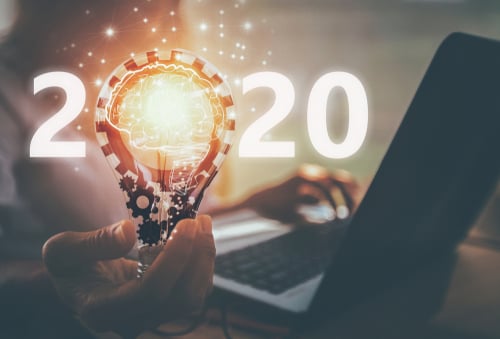 Now is the time for marketers to relentlessly focus on a brand's customer experience, provide these customers with only the most relevant and helpful content, and continue in the pursuit of industry innovation. These are the values that marketers need to focus on in order to rebuild brands and lead them to flourish once more.
Here, we take a look at how marketing has transformed in 2020, and what marketing tactic you should focus on as we head into a new world and new digital age.
Marketing Innovation and Transformation in the time of COVID-19
Right now, more than ever before, companies need to begin building trust with their customers.
As technology drives customer expectation to greater heights, marketers have begun to nurture meaningful relationships with consumers, and this goes beyond the buyers first purchase. Marketers build cohesive experiences, from the moment the prospect discovers the brand, to when they make their first purchase, and beyond. Marketers are with the customer every step of the way.
As technology drives customer expectation to greater heights, marketers have begun to nurture meaningful relationships with consumers, and this goes beyond the buyers first purchase.
Marketers build cohesive experiences, from the moment the prospect discovers the brand, to when they make their first purchase, and beyond. Marketers are with the customer every step of the way. In fact according to SalesForce Research, 84% of customers say that the experience that a company provides is as important as its services or products.
Marketing Priorities in 2020
Innovation refers to being able to adapt to change, and this is vital in the time of COVID-19. Today, marketers need to innovate through real time engagement, and by providing helpful and trusted content that reaches the consumer at the right time. According to SalesForce, exploring improved tools to reach this challenge is one of the top five priorities of marketers in 2020. Essentially, marketers need to put systems in place to reach potential and current customers, store current and potential customer data and create cohesive journeys for them.
Top 5 Marketing Priorities in 2020:
Innovating

Engaging Customers in Real Time

Complying with Privacy Regulations

Improved use of Tools and Technology

Modernized Tools and Technology
Marketing Challenges in 2020
All of the above is no easy feat to tackle, and marketers know that these goals are challenging. Creating a cohesive journey that customers will want to experience is a daunting task and poses a few challenges for marketers.
Top 5 Marketing Challenges in 2020:
Engaging Customers in Real Time

Innovating

Creating Cohesive Customer Journeys Across Channels

Unifying Customer Data

Sharing a Unified View of Customer Data across Business Units
One of the biggest issues marketers will face at this time, is where to place their budget. Before the time of COVID-19, marketing budgets would be diverse and allocated to an array of initiatives, and right now this needs to be reevaluated.
The best way to start is to focus on your brand fundamentals, and understand what your consumers trusted about your brand before COVID-19. This is what should drive your marketing efforts and your marketing message at this time.
Every marketer needs to be adaptable during these unprecedented times, especially when it comes to budget and strategy. This is because consumers are reevaluating their own purchase decisions, and marketers need to reflect on how they can adjust to the change of buying cycles. This is why Account Based Marketing, content marketing and omni-channel marketing have become critical to marketing strategies in 2020.
Account Based Marketing in 2020
Account Based Marketing (ABM) is one of the latest and most effective marketing and sales lead generation strategies, specifically when it comes to B2B. It is a marketing strategy that concentrates its resources on a set of targeted or key accounts within the market.
To put it simply, Account Based Marketing is strategic marketing that is designed to target specific accounts. ABM does not just call for alignment between marketing and sales, it merges them as this kind of personalisation requires both parties to be completely in sync. By doing this, and by personalising the buyer's journey, marketers are able to customise communication, content and campaigns to specific accounts, and this is what promises a greater return on investment and a boost in customer loyalty. This kind of marketing results in higher revenues in a shorter time frame.
ABM stops marketers from having to cast a wide net when it comes to lead generation, because it works to identity key prospects and create personalised and customised programs and messages to direct at these key accounts.
This strategy goes beyond lead generation and encourages lead nurturing, upselling, and cross-selling, and this is why ABM goes hand in hand with Inbound Marketing.
Content Marketing in 2020
Marketing in 2020 is all about engaging the customer and building trust. Content marketing lends to this as it is the practice of creating digital content that is valuable and relevant to the target market, with the aim of attracting a targeted audience of converting them into customers.
Statistics show that content marketing receives 3x more leads than paid advertising and 55% of marketers affirm that creating quality content for their blog pages is one of their biggest marketing priorities.
Content marketing allows brands to connect with their target market by creating content that is useful and helpful. This kind of content creates engagement and interaction with your brand. When this content is shared across social media platforms, it allows space for even more engagement, and allows brands the opportunity to speak to the audience in the comments section, respond to questions, and engage in real time conversations. This kind of personalised, instant communication builds trust - and this is a marketing priority for 2020.
Omni-Channel Marketing in 2020
Omni-channel marketing is not something brand new, but it has become more relevant than it has ever been before. Today, consumers move from channel to channel when they are looking to make a purchase. And marketers need to once again, adapt. They need to increase their marketing reach through various touch points. From Search Engine Optimisation to make sure a brand can be found on Google, to social media platforms and mobile applications. The world is more connected than ever before, and buyers expect your business to be just as connected, and to reach them at every possible touchpoint - and you have to reach them when they want you to reach them.
According to SalesForce research, 54% of consumers become annoyed if they are targeted with an advert for a product they have already bought. Over the past few years, technology has advanced, and marketers are able to meet this kind of customer expectation, allowing for dynamic content across all possible channels.
In Conclusion:
Marketing transformation in 2020 is all about innovation and using different touchpoints to reach the consumer. It comes down to boosting audience segmentation and providing a personalised and dynamic experience across different channels.
In 2020, business has changed, communication has evolved, and customer expectation has shifted. It is time to acknowledge the impact that Covid-19 has had on all our lives as we rebuild and normalise our new marketing efforts.
Digital sales and marketing is the new normal, and we can help. Contact Nexa today.