The hospitality industry took a major hit in 2020, and hotel marketers need to embrace new technologies if they want to acquire more guests and make increased sales in the coming year.
Customer Relationship Management (CRM) software is quickly becoming a necessity for the hotel and hospitality industry, as this technology has the power to develop and sustain trusted relationships between potential guests, current guests and the hotel. A specialised CRM will not only collate valuable guest information, but also takes the guesswork out of marketing campaigns, allowing campaigns to be more targeted and segmented - reaching the right audience at the right time.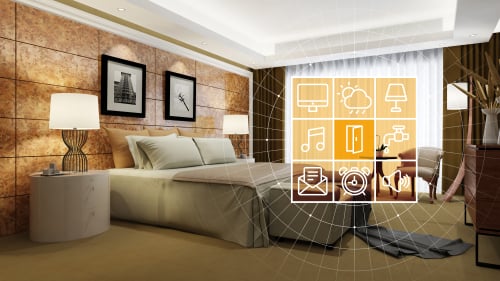 If you are in the hotel industry and you are looking for a powerful CRM to help you attract quality leads and gain more guests, you need to know what makes for a good CRM.
Below, we take a look at what features your hotel CRM should have and help you find the best CRM for your business.
What a hotel CRM should offer:
When choosing a CRM for your hotel, make sure it offers the following features:
Marketing: When it comes to hotel marketing, capturing guest and prospective guest information should always be a priority. A powerful CRM will be able to capture lead and guest data, allowing you to analyse patterns which can be used for future forecasting as well as future marketing campaign strategy. The CRM you choose should be able to integrate fully with your digital marketing efforts, including your social media platforms, email marketing campaigns, website, lead forms, blogs and landing pages. You should also be able to create online guest surveys that can be analysed by the software, which will help your team identify any weaknesses or strengths within the hotel - helping you manage any guest complaints or compliments. This kind of software provides your team with greater insight and assists in future marketing and guest acquisition efforts.

Marketing and Communication Automation: Your CRM should be able to provide personalised, automated email campaigns and communications based on a leads specific actions. You can set up triggers that ensure your leads are reached at the right time, encouraging them to book a room or return for visits - or provide feedback on their stay. This automated software cuts out the middle man, saves your sales team time, and ensures you are consistently engaging with your guests and leads - keeping your hotel front of mind at all times.

Greater Customer Experience: As stated previously, your CRM should be able to store and analyse helpful information about your guests, including visits to your restaurants, spas, hairdressing facilities, gym etc. By having this information in the system, you are able to tailor your messaging to suit your guests likes and behaviours. This does a lot for the customer experience and makes your guests feel comfortable and appreciated by your hotel - which in turn, results in more bookings and guest loyalty.

A Centralised and Easy to Access Database: Your CRM should be able to store all guest information, lead data, schedules, and appointments in a single place. The information stored on the CRM should include everything from conversations that have taken place through email, social media communications, client reviews, testimonials, telephone calls and more. As this information can be collected in real time, you eliminate chances of human error or mistakes - ensuring your hotel is always up to date on what is happening with guests, staff, marketing efforts and bookings alike.
Based on the above, data is key to CRM success for hotels, and you need to invest in a CRM system that allows space for marketing, sales and customer service features.
Introducing HubSpot CRM for Hotels
HubSpot is a powerful inbound marketing and sales platform that is designed to assist businesses in engaging potential customers, converting leads, nurturing relationships and increasing sales. The marketing space is full of CRM offerings that promise to help your business grow, however, in regards to hotels and hospitality, many of these platforms do not offer all the features required to ensure the best possible results.
HubSpot is the ideal platform for hotels as it offers marketing, sales and service alignment to ensure your guests receive only the best experience, which in turn, results in more bookings and brand loyalty.
HubSpot has been created to provide a full CRM solution that is fully integrated with your marketing and sales platforms, ensuring you receive the best value for money and a return on your investment. To help Hotel's, HubSpot new pricing policy, announced in late 2020, means that HubSpot is now even more cost effective for hotels. The new policy allows hotels to segment databases so that only those that customers that the hotel wants to market to will count towards the cost of the HubSpot for Hotels license!
All the Tools your hotel CRM Needs
HubSpot offers a variety of features that will help your marketing, sales and service teams achieve their goals.
These features include:
Sales Hub: Email automation, email tracking and meeting scheduling.
Marketing Hub: Lead generation, marketing and analytics.
Service Hub: Knowledge base and customer feedback to help you connect with customers.
In Conclusion
If you want to streamline processes and gain more guests in 2021, then HubSpot is the software for you.
If you are interested in implementing HubSpot for your hotel, our HubSpot development team has experience integrating HubSpot's CRM with a number of platforms that can increase the efficiency and data access for your hotel.
With vast experience in hotel and hospitality marketing, we are proud to be a HubSpot Diamond Agency Partner and have been recognised as thought leaders and innovators within this field. If you are looking to generate leads, we can help.
Contact Nexa today and get the guests you want in 2021!