When you visit an e-commerce website, you expect certain functionality to be available, and many sites do not have all the features that are required for a successful e-commerce site. And it is this small difference that can substantially alter a businesses bottom line.
The last thing you want is to create an e-commerce site and load all your products and services, only to have the site run slowly, and you certainly don't want to give your potential customers a bad user experience. You also don't want to find out that you are paying more for a service that will cost less somewhere else. This is why it is important to put in the research when choosing the e-commerce platform that best suits your business and your business goals.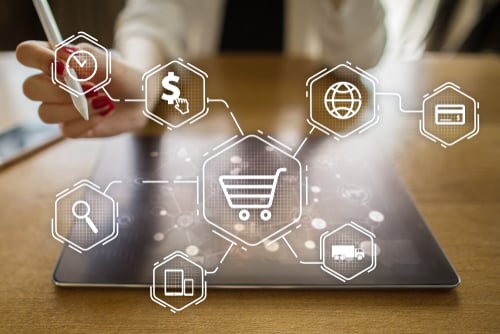 Here, we will compare the features, ease of use, performance, design and integrations or plug-ins of the top e-commerce platforms, helping you make an informed decision regarding the platform to use for your business.
Wix
Wix is a platform that would only work for a simple online store. It offers great design choices but it lacks many vital features required for creating a successful online store, for example, it does not have an abandoned cart recovery option.
But the site is beginner friendly and offers exceptional online support. Wix is new to the e-commerce space and it is slowly building up on the features that it currently lacks.
The Pros of Wix:
Offers a variety of free themes
Easy to use and simple to set up
Support for users
The Cons of Wix:
Not optimised for SEO but working on improving this
Not many marketing features and marketing integrations
Cannot customise your site template.
Can only handle a small volume of products.
Shopify
Shopify is a subscription based software service that provides you the opportunity to design and create an e-commerce website. You have the ability to use their shopping cart solution to sell, ship, and manage your product offerings. By using this service you gain access to an easy to use administration panel, through which you can add your products, process your orders and store the relevant data.
Not only does Shopify work as an e-commerce platform, you can also use the software for your brick and mortar stores. They offer a Point of Sale solution that is able to process in-store payments via a mobile-application.
However, as it stands, Shopify only offers a few free themes when it comes to your design, and the themes that are paid for are between $100 - $180. The platform's greatest flaw is that the sites they offer are not completely optimised for Search Engine Optimisation purposes, therefore weak ranking sites may come out of the software.
Shopify also charges transaction fees if you are not using their Shopify Payment solution, however, their payment solution is solid and secure.
The Pros of Shopify:
Quick loading time
Easy to set up
Certified partners to assist you through your build
1-click selling solution
Offers multiple social and channel selling solutions
Good themes and designs
The Cons of Shopify:
Poor SEO ratings
You cannot fully customise your checkout process
Little customisations can be done. You have to follow the theme, and the shopify settings as a whole
Applications you require may quickly add up and become expensive
WooCommerce for WordPress
WooCommerce is an open-source e-commerce plugin that works with WordPress. The plugin was designed specifically for small to large online stores that use WordPress. The plugin is well known for its simplicity, easy installation, and customisation.
WooCommerce essentially plugs into a WordPress site and can turn it into a fully functional e-commerce store. It also has extension for integrating payment gateways, email marketing, social media, shipping and 1-click selling solutions. If you already have a WordPress site, learning to use WooCommerce is a breeze. However, for those who are not familiar with WordPress, the technical aspect may become a struggle. The technical aspects include the installation of WordPress, buying web hosting, and setting up your theme and plugins.
But these are not big problems as a simple YouTube tutorial can help you through the process. The biggest issue with WooCommerce would be the scalability, as some users claim that the more products they add, the slower the site becomes. Cost wise, it is free and only a few of its extensions have a price attached.
The Pros of WooCommerce:
Great SEO platform as it is associated with WordPress
1-click selling is an available option
If you require assistance, most, if not all developers are familiar with the platform
Variety of marketing options are available for integration
Customisations of the visual side of the ecommerce site as well as the functionality you need in the E-commerce CMS.
The Cons of WooCommerce:
Hosting may become costly
No online support
You will require extensions for basic e-commerce functionality
For specific functions, you will need to have a web designer and developer help you along the way.
Can handle upto 9K products, anymore and it starts to slow down.
Magento
Magento is an e-commerce platform that is built on open source technology and provides stores with a flexible shopping cart solution, and offers full control over the look, feel, content, and functionality of an online store. It is also designed for Search Engine Optimisation, catalogs and offers a powerful marketing solution. To put the functionality of the site into perspective, big brands such as Cisco and Nike use and trust Magento for their online stores.
However, coding is an important part of the Magento offering. If you are able to work with a developer, and want an e-commerce site that is fully customisable and powerful, than Magento is an excellent choice. Unlike WooCommerce and WordPress, Magento also has a large community of online developers who are available to assist you and answer any questions you have regarding your build - for free.
Magento itself is a mostly free platform, but there are paid solutions that work for large e-commerce businesses. These enterprise solutions are quite expensive as they include annual licensing fees, but these fees pay for faster service and bring with it additional features such as email campaigns and automatic upselling.
The Pros of Magento:
Feature rich and fully customisable
Strong SEO functionality
1-click selling
Large community to assist
Scalable
Flexible in choosing where to host the software
Extensive reporting section for ecommerce
You can link your physical stores in multiple countries and your online store into one inventory.
Can handle over 10K products.
The Cons of Magento:
Costly themes
Requires development professionals
Requires space and memory to reach top performance
With heavy features in the CMS, it may become daunting to the management team of the site.
What is the best E-commerce platform for small - medium business?
Small businesses do not require massive features that will break the bank. However, if you do run a small online store, you should invest in a platform that is scalable and can grow, as your business grows. Therefore, you need to consider platforms that include SEO, good design options, marketing inputs and the ability to sell on a variety of platforms such as social networking sites. You should also consider the ease of use, as you don't want to have to hire a professional to assist you through every process of the build.
When choosing your e-commerce platform, look into the above metrics when making the choice for your business. Currently, we would recommend Shopify to small and medium sized businesses due to the ease of setup, access to payment gateways (locally and internationally) and the setup costs involved.
What is the best E-commerce platform for large business?
If you run a large business, you will need complete control over your website. This means you should invest in a web hosting company or a dedicated server, with this in mind, a platform like Shopify would not be ideal. As you will have big orders coming through your website, you will require a lot of flexibility to connect software in order to help you reduce any possible errors, and you will require software that seamlessly integrates with your inventory system.
A great platform for big business would be Magento, as it covers all of the above effortlessly. Learn more about choosing the best e-commerce site for your business, here.
In Conclusion
Choosing the right e-commerce platform for your business comes down to your specific business and business goals. Magento could be considered one of the best overall platforms for most business models as it performs well in regards to marketing integration and SEO.
WooCommerce for WordPress is also quickly becoming a market leader in terms of features, while Shopify integrates successfully with brick and mortar stores, as well as online stores.
It is important to do your research when choosing a platform for your site. Consider SEO, marketing solutions, user experience, scalability and customisation. Once you identify what is important to your business, you will be able to find the platform that suits your requirements. Ultimately, your budget may also determine the choice of E-Commerce platform for your business. If this is the case, our article on how much does a E-commerce website cost, may help.
At Nexa, we work with most open-sourced solutions or custom code your e-commerce platform for you, depending on the size and scale of your business.
If your business requires a highly complex and customised solution, we have the skills to create this. Customised stores allow for a great deal of scale and can be built to suit your specific needs, with no technical limitations.
Want to see how much your e-commerce website will cost? Click here for our Website Calculator.