We all know what WhatsApp is; it's a part of our day-to-day lives. In fact, you have probably looked at your WhatsApp messages well over 10 times today. But, for the sake of context let's quickly unpack what the app is and take a look at just how popular it is across the world.
WhatsApp is a global messaging app that allows users to send text, voice notes, videos and media. The app was first released in February 2009 and has since gone on to become the most widely used messaging app in the world. As of 2021, there are 2 billion active WhatsApp users around the world and the app is available in over 180 countries and 60 different languages.
The above stats portray the dominance of WhatsApp and how it plays a role in our daily lives. And with so many users and unimaginable engagement, the app provides a massive opportunity for businesses. These opportunities are particularly relevant when it comes to lead generation.
In this article, we take a look at how you can incorporate WhatsApp into your lead generation efforts, helping you increase sales and better your bottom line.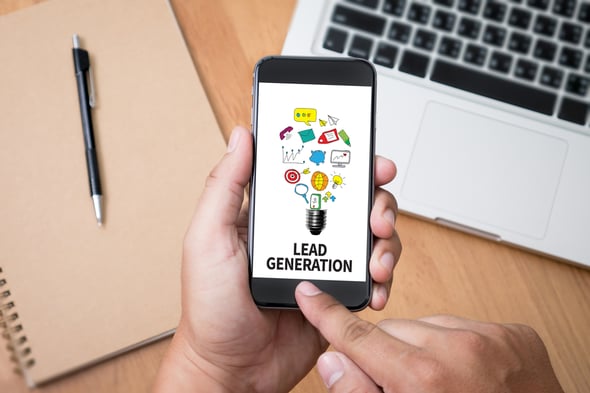 WhatsApp for Business Communication
More and more businesses, whether offline or online, are using WhatsApp as a primary channel of communication. While staff are able to communicate with one another easily through this channel, the business itself is also able to communicate with clients and provide a more personalized experience for the consumer. Today's modern consumer is all about instant gratification and instant communication, and WhatsApp allows them the chance to get in touch with a business at any given moment.
With the above in mind, it is clear that WhatsApp is becoming integrated into customer support channels, and many businesses are recognizing the potential of WhatsApp in terms of quality lead generation. Below, we take a look at how you can use WhatsApp to increase your reach, attract and generate leads, and turn them into customers.
WhatsApp for Lead Generation
WhatsApp lead generation is about focusing on potential clients by using WhatsApp messenger as a primary tool for communication. This means you are able to use WhatsApp for marketing, sales and support communication, allowing you to share valuable information with leads and drive them through the buyer's journey. The idea behind this strategy is to meet potential buyers in a place where they feel safe, in control and comfortable. As WhatsApp is a part of our daily lives, what better place to create a safe and personalized client and business environment.
So, how can you integrate WhatsApp into your lead generation strategy?
There are three primary ways you can integrate WhatsApp into your overall lead generation strategy, these include:
Let's take a look at how these strategies work.
1. Using WhatsApp and Your Website for Lead Generation
WhatsApp and your website should go hand-in-hand in the modern world. This is because your website offers the ideal place to generate new chats with users who are actively interested in your business offering. You can create a WhatsApp chat bot or chat widget on your website to ensure users are able to message you while they're browsing your products and services - in just a single click.
WhatsApp knows the power of its app and now provides businesses with WhatsApp links on their websites. This is done through an API that allows businesses to integrate click-to-chat buttons in any part of their website.
This lead generation strategy provides support to users who are actively engaging with your website, which means they have a vested interest in your product or service offering. You are able to turn these visitors into leads by providing a WhatsApp chat option. Once a user has contacted your business through your WhatsApp chat option, you are immediately able to store their information and place it into your Customer Relationship Management (CRM) system for further lead nurturing.
2. Using WhatsApp and Social Media for Lead Generation
Social network channels offer a powerful way to connect with your target audience and also provide a place to generate new chats with potential customers. When creating content on Instagram or Facebook, you are now able to integrate a click-to-chat WhatsApp link that comes with all the information a potential client needs about your service or product.
Through your social media posts, a potential customer is able to start a WhatsApp chat with your business, allowing for smoother communication and of course, greater lead generation opportunity. This tactic works the same as using WhatsApp on your website, and allows your marketing and sales teams to collect and store relevant lead data to use for further lead nurturing and conversion purposes.
3. Using WhatsApp and Paid Ads for Lead Generation
This tactic consists of creating paid online advertisements that have a powerful Call-to-Action (CTA). The CTA should direct the viewer to begin chatting with the business via WhatsApp. This strategy becomes important when your business is selling a product online that can't be purchased anywhere other than your website (think, eCommerce businesses).
By directing your potential customer from your paid ad to your WhatsApp, you have the opportunity to shorten the sale cycle and engage with your potential customer in real-time. This means you are able to navigate the conversation and guide the potential customer to take further action or make a purchase. Through this tactic, like all of the above mentioned, you are able to collect important lead data and direct them through the sales funnel.
The Wrap Up
WhatsApp is a part of our daily lives and businesses need to leverage off this global communication channel in order to gain quality leads. There are a variety of ways to use WhatsApp in your lead generation efforts and implementing these tactics doesn't have to be difficult.
How We Can Help
If you are interested in creating and implementing a powerful WhatsApp strategy for your business, we are here to help. We are also a HubSpot Diamond-Partner Agency and are able to assist you with WhatsApp and HubSpot website integration.
Here are some benefits of the HubSpot & WhatsApp integration:
2-way sales interactions can be mapped into HubSpot. This allows businesses to trigger automation based on specific responses.
Send and receive messages inside of HubSpot CRM
WhatsApp conversation histories can be found inside of your CRM
To get started, contact Nexa using the 'Request a Quotation' button on this page.