The ongoing Covid-19 pandemic has changed the way businesses operate. We've witnessed more businesses move online and many employees continue to work remotely. With many businesses adjusting to the eCommerce space and with changes in consumer behaviour and the buyer's journey, digital marketing has had to adapt considerably. Digital marketing strategies have shifted as marketers take the new normal into consideration when it comes to every aspect of their efforts.
Quarter 1 of 2021 has taught us that we have to embrace these changes and embrace creative, measurable and strategic marketing tactics to ensure the best marketing outcomes in 2021.
Below, we take a look at what we have learnt (so far) about digital marketing in 2021.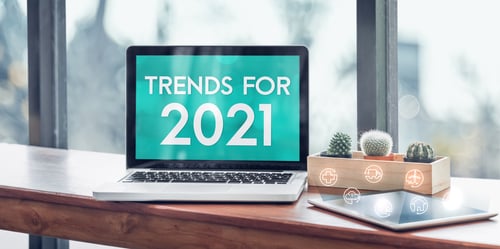 Digital Marketing 2021 Q1 in Review
Content Creation, Customer Retention and Social Media Marketing
With social distancing regulations in place, the consumer is spending even more time online. Essentially, as consumers, we have become used to communicating and engaging with friends and family through online channels. In turn, most of our business engagements and consumer research takes place through various online channels and social media is one of the first touch points we have with brands today.
With the above in mind, social media has become vital for engaging leads and retaining current clients. Businesses need to dedicate more resources to content creation and social media marketing in 2021.
So, what does a good content marketing and social media marketing strategy look like?
High-quality, informative content (blogs, articles, infographics and videos) that cater to every stage of the buyer's journey (from awareness and lead nurturing to post-purchase)
Regular posts that have specific call-to-actions
Highly targeted social media lead generation campaigns that direct the consumer to a landing page where lead data can be collected, stored and used for lead nurturing purposes
All posts need to be analysed and measured to ensure all campaigns are optimised to their potential. Campaigns can be monitored and tracked in real time, and adjusted accordingly
Social media management is vital and customer engagement and timely responses should always be a priority
When it comes to social media marketing, we all know about LinkedIn, Facebook, Instagram and TikTok. But there is a new platform that is taking the marketing community by storm and offers a new and exciting way to reach and engage with high quality leads in 2021. We're not talking video, images or blog posts anymore folks. We are talking audio!
Clubhouse, Podcasts and Audio Marketing
Launched in April 2020, Clubhouse is an invitation-only audio-chat app that has taken auditory communication and marketing to the next level. The app has caused quite the stir due to its exclusivity, and the social networking platform has now been valued at almost $100 million. The social media app delivers a one of a kind experience that can be described as an audio-only virtual event on a large scale.
So, how does the app work?
Do you remember the first internet chat rooms? The ones that were made up of people with the same interests, discussing topics that meant something to them? Those chat rooms were usually hosted via a platform such as mIRC, and individuals were able to type privately to each other or to a room of people. Clubhouse has taken that concept and propelled it to suit the digital age.
The app is completely audio and is made up of virtual rooms where people from around the world are able to host conversations about various topics. The voice-only app is similar to podcasts (a rising trend in entertainment and marketing) however, the conversations happen live and aren't recorded for playback. This gives the user a sense of exclusivity - which makes for greater engagement.
As a marketer in 2021, this platform presents a great opportunity for business thought leaders and industry experts. Marketers can use this app to establish brands and brand-owners as go-to resources - while promoting services and products at the same time.
This is an opportunity that shouldn't be ignored as we head into Q2 and marketers need to jump aboard this trend before brand competitors get the upper hand. From impromptu focus groups for marketing awareness, to connecting with niche customers and discussing industry trends - Clubhouse needs to be taken seriously by marketers.
What makes Clubhouse so appealing to marketers is its ability to reach a niche, high-quality audience. Today, it is important we don't cats too wide a net when it comes to lead generation. Sales teams don't need to waste unnecessary time and resources chasing down uninterested leads. And this brings us into our next point - the importance of lead generation and lead scoring in 2021.
Lead Scoring & Customer Relationship Management
Lead generation is the lifeblood of any business and digital marketing has made the process of lead generation easier thanks to search Engine Optimization, Social Media Marketing, Pay-per-click advertising and more. As opposed to traditional marketing, we are no longer casting too wide a net and reaching individuals who do not fit out target market. However, the above tactics are not enough to ensure all your leads are sales-ready. This is where marketers come in. Digital marketing teams need to spend time nurturing and engaging with promising leads, only to hand over leads to sales reps once they have been qualified.
But, how do marketers know when a lead is marketing-qualified or sales-qualified? Enter the lead scoring!
Lead scoring is a methodology that is used to rank prospective clients against a scale that reflects the perceived value of each prospect to the business or organisation. This kind of scoring is made up of a variety of factors and can include: job position (is the prospect a decision maker in their business?), social media followers (is the prospect a thought-leader?) or company size. These are just three examples of what kind of data is used to establish a leads value to your business. Thanks to Customer Relationship Management systems (CRMs) such as HubSpot, this model is made easy due to online data collection, automation and audience segmentation.
You see, HubSpot and related CRMs are able to track every interaction a prospect has with your business, from their social media engagement with your business page to website clicks, email open rates, lead forms and downloads. This means that you are able to understand every aspect of your lead from their behaviour to their demographics (based on a variety of factors, from their social media information to lead forms that they fill out on your website). And it's this information that will help marketers score leads and hand them over to the sales team once qualified.
This is not just a 2021 trend, but the future of digital marketing and sales alignment strategy - and you don't want to get left behind.
Sales and Marketing Alignment
Integrated Sales and Marketing is not just a passing digital marketing trend, it is a proven approach to modern day marketing, one that creates a unified and seamless experience between consumers and brands. This is done by ensuring marketing and sales teams are able to work in tandem to keep the sales flywheel turning.
Marketing and sales teams have a long standing reputation for not working side by side, because for decades these teams have been working toward the same goal in different ways which inevitably results in workplace friction and the "blame game."
So, how can this friction be eliminated?
In order to achieve a successful integrated and sales marketing strategy, it comes down to open communication, departmental alignment and well-managed systems designed to help performance across both teams.
The best way to generate lead data between marketing and sales is to integrate your marketing and sales software in one place. This kind of integration benefits both marketing and sales teams by storing valuable data and lead information in a single location - allowing room for improved results. By connecting both teams through a powerful Customer Relationship Management software such as HubSpot, both departments can view the entire lifecycle of a visitor as they become a customer.
Today, thanks to advanced Customer Relationship Management (CRM) software such as HubSpot, your marketing team is able to track online behaviours of leads while data from your sales team can help marketing gain better insight into what kinds of leads likely convert into paying clients - and what the most effective channels of communications are. A CRM is also able to launch and analyse marketing campaigns, and provide greater insight into audience behaviour and trends through reporting features. This helps marketing and sales teams better understand what the audience is looking for, what is working and what messaging best suits a specific lead.
The Wrap Up
Q1 of 2021 has taught us that we, as marketers, need to:
Reach the consumer through quality content, on the right platform, with the right message, at the right time.
Think outside of the box when it comes to engaging with the consumer and embrace new social media platforms. Audio is where it's at!
Nurture, analyse and measure leads through lead scoring tactics to direct them through the sales pipeline.
Align marketing and sales to ensure the best customer service and improve your bottom line.
About Nexa
A digital-first company in existence since 2005, Nexa has helped thousands of businesses flourish and achieve their true potential during this time.
How we can help
From implementing the HubSpot CMS and CRM systems to digital marketing strategy and implementation, we transform organisations with inbound marketing methodology. Whether your focus is generating leads, accelerating sales, aligning teams or developing a powerful fully-rounded digital marketing strategy, we offer the complete range of digital transformation services to meet your needs.
Contact Nexa today for all your digital transformation needs.