Over the past 15 years, the Arab region has witnessed major technology-led transformations which changed the norms of doing business, practicing governance and carrying out development efforts in the region.
As of March 2020 there are more than 183 million individuals using the Internet in the Middle East with 133 million of this audience, actively using social networking platforms. As of March 2020, the internet penetration in the Middle East is at 67.2% while the world average sits at 56.8% and this is why Arabic businesses, or businesses that function within the Arab world, need to begin focusing on reaching their audience, in their spoken language. Arabic Search Engine Optimisation has become vital for businesses that function in the Middle East and Arabic speaking countries, but what is SEO and why is it important?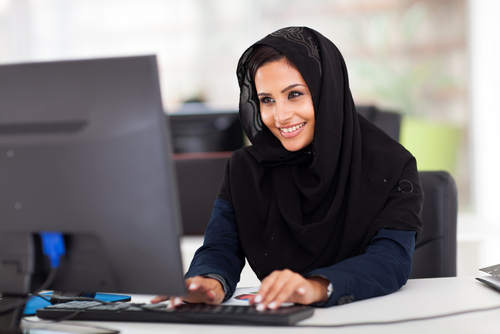 What is Search Engine Optimisation?
Search Engine Optimisation is the process of growing the quantity and quality of your website traffic by increasing your website's visibility on the Search Engine Results Pages. To put it simply, SEO is about implementing strategies to make a page rank higher than its competitors for related keywords in a user's search results.
This is done through technical SEO as well as website content, which refers to making use of specific words that a client or potential client will use when searching for something on the web. This does not mean that specific keywords must be inserted or stuffed into a website's content randomly, quite the opposite.
Website copy, blogs and long form articles all need to be strategic, well-written and helpful in order for Google to view the website as an authority in its industry, helping it rise up the search engine result ranks.
While most of the world focuses on English SEO, businesses that function within the Arab world should also be focusing on Arabic SEO, as this cost-effective approach to digital marketing is certain to generate organic traffic in the Middle East region, provide long-term results, and works as a key access to online acquisition in the Middle East.
Arabic SEO
As per the stats above, there are 183 million individuals using the internet in the Middle East, and from this number there are an estimated 146 million native speakers and these internet users will commonly search for nearby local products and services in their native language. As it stands, there is high competition for key English location-based terms for websites but the space in Arabic SEO is still quite new, and therefore less costly.
For the past few years, digital marketing budgets in the Middle East region have been focused mostly on organic social media marketing as opposed to SEO, but search engines are a vital source for generating organic leads, and this is why Arabic SEO is becoming increasingly relevant.
Below, we will outline the importance of Arabic SEO, the difference between Arabic and English SEO and how you can use this effective digital marketing tool to expand your upper funnel by reaching quality leads and gaining organic traffic:
Build a Quality Arabic SEO strategy
The Arabic consumer is unique when it comes to their search habits as their searches are largely impacted by language and culture. The Harvard Business Review conducted research into the importance of culture, language and religion as a factor for business success in the Middle East Region. Through their research they discovered that businesses that ignore the interplay between language and culture in the region are ignoring a vital factor for success.
When you begin trying to understand the Arabic market, you need to separate the region into different sectors and once you have done this, you need to identify your key market, and optimise for that specific market. For example, if your market is KSA or UAE, you will need to optimise your keywords and content to match the top keywords in those regions.
Then comes cultural and language awareness. You need to optimise your website for your specific audience and consider the cultural impact of your marketing actions - this means that you need to understand slang, relevant marketing messages, trends in the region and most importantly, how the language you are using is localised into Arabic. It is also vital that you research the key competitors within your industry and take a look at their keyword ranking, back-links, and domain authority in the search results. This will give you insight into the landscape and help you identify any gaps within their content so that you can strategise an even better Arabic SEO approach.
Optimising and Localising Arabic Keywords
Begin the process of implementing Arabic SEO by conducting in-depth research to find the most appropriate keywords. Remember that you cannot just choose the top most relevant keywords simply based on their monthly volume, you should put together a list of the relevant words related to your business that are used by your clients, sales team and customer support teams - and add these key terms to your final search term list.
Never just translate keywords from English to Arabic, you need to localise your keywords to avoid using irrelevant search terms. By simply Google translating words, you are losing a massive amount of quality organic traffic - remember that certain terms do not translate into Arabic and can be misleading because of this.
It is also important to note that slang terms are different in certain Arabic countries, so ensure you do your research and put together keywords that are targeted to the local market.
Optimising Arabic Website Content
When it comes to Arabic On Page Optimisation it is important to not translate your metadata through an app such as Google translate, this is why many companies prefer to work with a professional SEO copywriter who is able to create native titles and meta descriptions into localised Arabic. Remember to optimise all your website media too, including videos and images by including localised Arabic Alt descriptions - no aspect of your on-page SEO should be ignored.
Another important part of on-page Arabic SEO is to ensure you are using the correct language tags in your multilingual website. Many businesses choose to create a separate website for their Arabic content and if you do choose a local domain, you will have a higher chance of ranking in the local Search Engine Results, maximising your results.
Creating a Content Marketing Strategy
In order to enhance your ranking for specific keywords, you will need a long term content marketing strategy that is designed to consistently add optimised, relevant and high quality content to your website.
When strategizing your content, keep your audience in mind, and answer the questions they usually ask through blog content, long-form articles or even Arabic e-guides and e-books. By consistently offering helpful content to your audience and target market, you will not only establish yourself as an industry leader, Google will recognise your efforts and you will begin to rank higher in the search results. Use long-form keywords within the content as they play a significant role in conversation rates for organic traffic, particularly in the Arabic region as there is a lack of informative content written online in the language.
Measure your Progress
Make sure to set up and use Arabic SEO tools that allow you to track your SEO progress and success. To ensure you track your campaign, set up Google Analytics and other SEO tools for your Arabic website, and there are SEO tools that are able to provide different domain analytics and keyword rankings for your local website.
As stated previously, every region will have different online user behavior that will require different metrics to allow you to track your KPIs. Customise your metrics to suit the regional factors and to gain information that will help you amend and better your Arabic marketing strategy.
In Conclusion
If your business is targeting audiences in an Arabic speaking region, there are many aspects of Arabic SEO to consider, from translation to content strategy. It is important to work with an experienced agency that is able to provide adequate Arabic SEO services to ensure your website and your business is able to flourish in the region and reach the correct audience.
Nexa, Dubai's Leading Independent Digital Marketing Agency offers Arabic SEO and translations from English for all content, including websites, landing pages, brochures and social media posts to help you reach a new online audience.
Contact us to find out more - and get ranking!