Leaders of B2B companies are contemplating the recovery plan for their businesses in the post-covid era, but the virus has introduced unprecedented complexities to most business and business operations, creating widespread uncertainty about future prospects in many B2B-focused sectors.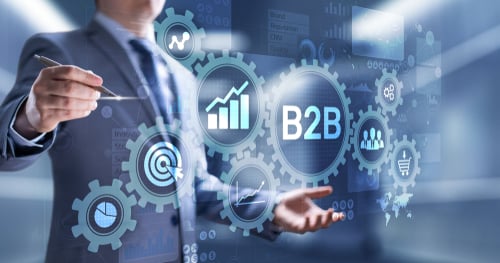 According to an April 2020 global B2B Decision-Maker Pulse Survey, of more than 3,200 people within the B2B space, 45% believe the economy will rebound in 2 - 3 months while the remainder stated that they believed it could take upwards of 12 months. These contrasting viewpoints reflect just how unsure business leaders are regarding the financial effects of the COVID-19 virus. In the same breath, this may also show the varying impacts of the virus in different geographical locations, as some companies may be ready to ramp up processes while others have no choice but to close or function at a lower capacity.
As many B2B companies focus on liquidity and a variety of short-term concerns, they should also act quickly to capture market share through cost-effective and highly targeted marketing endeavors and place their focus on customer value and support. This kind of agility will give B2B businesses the advantage over their competitors as we head into the next phase of our new normal.
B2B leaders need to begin readying themselves for this new phase by building long term strategies and researching transformative marketplace trends. Essentially B2B leaders need new strategies that will help them identify new opportunities and go-to-marketing models that work to increase both digital and remote sales.
Reshaping the B2B Marketing and Lead Generation Approach for the New Normal
COVID-19 changed our everyday lives; it changed the way we do business and many B2B companies had to shift from daily in-person communication and interaction to remote and digital sales, in one way or the other. For example, a sales team may have had to contact buyers solely through digital channels - and this online interaction is probably going to be the new normal for the foreseeable future. But this shift comes with a lot of positive consequences that can bring in new opportunities.
The most valuable resources B2B businesses have available are content-rich websites, the ability to perform live chats, online content and material, and social media. All these channels can be used to strengthen bonds with customers and strong digital channels have the power to help B2B companies reduce their sales costs significantly. In fact, according to the B2B Decision-Maker Pulse Survey mentioned above, 65% of respondents said that in late April their new go-to-market models were more effective in reaching customers than their traditional sales methods.
As B2B businesses head into the next new normal, it is important they embed digital and remote marketing and sales options along the entire customer journey.
As each B2B business develops a go-to-market model that is unique to their business and their customer base, they need to make sure that they focus this model on digital and remote sales, considering the world can go back to lock down at any moment, and considering the consumer is now expecting online service more than ever before.
The goal is to be able to take sales and marketing online in the most effective and cost-effective way possible and this is where Account Based Marketing comes into play.
Lead Generation & Account Based Marketing
B2B sales leads are highly sought after by both marketers and salespeople due to the high revenue amount that a 'good' lead can generate for a business, and now we need to be able to find these high quality leads and decision makers online as opposed to at trade shows and in traditional settings. Account Based Marketing (ABM) is one of the latest and most effective sales lead generation strategies for B2B, and is especially important in the time of COVID-19, where this medium can be used to introduce a business and strengthen relationships with prospects.
It is a marketing strategy that concentrates its resources on a set of targeted or key accounts within the market, and all of this takes place digitally. ABM is about creating personalised campaigns that are intricately designed to engage each individual account.
This strategy goes beyond lead generation and encourages lead nurturing, up-selling and cross-selling and is one of the keys to getting the greatest value from a lead generation campaign for B2B companies.
In order to take this on successfully, the following steps need to be taken by B2B businesses:
Discover: B2B companies need to conduct in-depth and fact based customer segmentation, to get the right level of detail, customer surveys and interviews are essential.
Design: After understanding the target market in each segment, consider the direct online channels you can use to reach key account managers, sales reps, distributors,stakeholders etc. Also make sure that you have put performance management tools in place to ensure you are able to track and measure your marketing approach.
Build: Before beginning this marketing and sales model, communicate changes in roles, accounts and KPI's to the relevant employees and personnel as they will also need to communicate with their customers about any changes or transitional plans.
Sustain:

Check in with customers to make sure they are experiencing quality during this transition and make sure you have a strong performance management system in place to sustain this new system.
B2B E-Commerce
Since the onset of COVID-19, digital interactions with businesses have become critical to customers now than they ever were before the pandemic, and this is why the shift to B2B e-commerce is important.
Many B2B businesses are trying to introduce or enhance their online channels, with some offering online trade shows and webinars. If a B2B company is looking to create a stronger online presence, they need to design e-commerce solutions with the customer in mind and focus on the customer journey and pain points when creating the e-commerce site.
As B2B businesses begin their journey into e-commerce, they will have to test different approaches to see what works best for the customer and their teams. Effective solutions can be identified by establishing the correct metrics and key performance indicators, monitoring the number of sales and the number of people who switch to e-commerce from other channels. And this is why these businesses need to focus on data collection, specifically in three areas. These being: online traffic, conversions and order value.
By measuring the success of the platform, and the customer experience, businesses will be able to prioritise issues and test solutions and scale them as soon as possible to see the best results.
Customer Relationship Management (CRM) Systems for B2B
Above we have discussed ABM for cost-effective and highly targeted marketing, while we outlined e-commerce solutions to improve sales - but how do B2B businesses manage these new online tools? This is where Customer Relationship Management (CRM) systems come in.
A CRM system is important because it collects, organises and manages all of your prospects and customer-related information. This allows you to track the buyer's journey for every lead or customer you interact with and communicate with. A CRM is important for B2B companies that are choosing to go more digital in their marketing and sales approaches through the strategies mentioned above.
By connecting to a CRM system, your sales, marketing and service staff will avoid spending hours searching through emails and trying to connect with other coworkers to check the status of specific leads. Most good CRMs can be connected to your website forms to capture online inquiries directly into the system and route it to the right person for follow up (whether it's based on product type, geographies or other criteria, automatically).
The best way forward is to look at CRM systems that fully integrate all your office systems. A good example of a much-needed integration is linking your email system to the CRM so that reps can immediately assess what's already been communicated with a given prospect or see what's next. When activity recording is inconsistent, passing a lead from one rep to another becomes more challenging, and causes leads to leak through your funnel and this is why CRM is valuable. A strong CRM system will keep the sales funnel moving. At Nexa, we recommend HubSpot as an incredibly powerful CRM that is ideal for and customizable for most businesses.
In Conclusion:
Many B2B companies will be dealing with challenges that arise from COVID-19 for years to come. As it stands, most business leaders are focused on surviving the immediate crisis instead of looking ahead at how they can get through the recovery phase. Leaders can increase the odds of long term success if they focus on digital innovation and it is those leaders that will gain an advantage over their competitors.
B2B lead generation is vital if you are looking to grow your business but many mistakes can be made along the way if you fail to create a customer-centric strategy. There are a number of different lead generation tools that you can use to create a successful campaign in-house, but it also makes sense to engage with B2B lead generation specialists who have the expertise and experience to help.
Nexa has been generating highly qualified sales leads for businesses of all types for almost a decade. We have both the experience and track record to help businesses in all industries generate highly qualified sales leads.
Contact us and begin building your B2B sales lead generation campaign.