The COVID-19 pandemic has devastated the world, impacting lives, businesses and jobs, and grinding the global economy almost to a complete halt. This world wide crisis has exposed our greatest vulnerabilities but at the same time it has forced the world to come together with empathy and humility. The virus knows no borders, and has impacted cities, families, countries, companies and economies throughout the globe. As the crisis response efforts enter a new stage of transition, many companies have started to focus on rebuilding and setting a new course for business and at this juncture, businesses require bold leadership and strong strategy. In no way is it business as usual, however we need to begin to build the foundations for business sustainability and new found success now.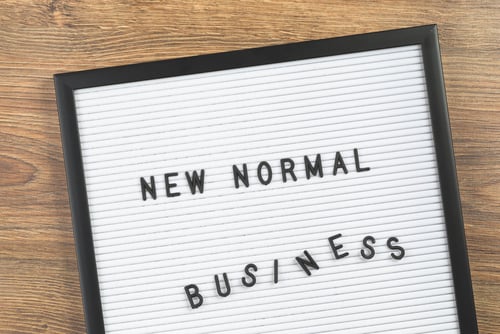 Since early 2020, your business strategy has probably come to a complete standstill and now you will have to start rebuilding from scratch. It is time to bring your executive team together, and reconfigure your business and operating models to suit our new reality. Business leaders are facing challenges like they've never faced before and have had to manage both the emotional and practical impacts of the pandemic but as time progresses, businesses are now more forward thinking, having already responded to whatever situation they faced.
As we move from response to recovery, the key for business leaders and business seniors is to make strategic decisions that will guide them to a renewed future- it is time to respond, recover and renew.
Gartner has put together a response plan to help businesses rebuild their strategies after COVID-19 and have put this plan into three stages, those being:
Respond: Immediate actions taken that are focused on keeping employees safe and essential business functions operating. Essentially, this refers to temporary business fixes put in place to stop the bleeding.
Recover: A more organised and coordinated effort to stabilize your business operations, creating a plan to restore a scalable state and identify capabilities you require to reopen, rebudget, rehire and resupply.
Renew: This is an extended period that is marked by strategic and long lasting execution throughout the organisation, when a business learns to conduct operations and workflows in a repeatable, new and scalable manner. This phase also makes use of lessons learned from the previous phases to help build a new foundation and way forward.
Each of these phases vary based on industry and country, however every business can make use of these actions to ensure a better business strategy post COVID-19. As it stands now, most businesses are in the Renew phase, as the world begins to slowly reopen and cases of COVID-19 begin to drop and is the focus of this article.
The Renewal Stage for Business Strategy Post COVID-19
During times of unprecedented disruption, it is vital that business leaders not only embrace change, but seize the moment and look for greater and more constructive ways to operate and re-imagine their business objectives.
It is this kind of quick and agile thinking and decision making that creates strategies that will establish a lead over competition that will sustain and last after the initial disruption - having this kind of dexterity is vital for business success.
To begin building your new strategy you need to be agile to build organisational resilience and pinpoint your business weaknesses and operating models - you will have found these in the beginning stages of COVID-19 and it is vital you weed them out. And once identified you are better positioned to take on what is to come and weather the next possible disruption.
Once you have pinpointed your weaknesses, you need to determine exactly how the pandemic has broken your existing business strategy and business model, and find where the risks as well as the opportunities are as a result of this. Senior management and leaders should be able to identify important uncertainties and unpack and evaluate them in regards to their importance to the future of the business or organisation. And with this information, you need to craft a strategy and use adaptive strategy techniques and tools to work with as the new normal continues.
In order to implement this successfully, you should make strategic planning a continuous activity to ensure you are able to respond to any changes in your business, or any re-emerging crisis that may occur.
Strategise for a Sustainable Future:
Asses Business Activities: During the renewal stage, leaders need to take the opportunity to rebuild their models and strategies to suit the new reality and some organisations may need to reduce or retire certain activities permanently, and in many cases this may be positive for business as these probably should have been let go from the business model a while ago.

Reinvention: Some businesses may need to reinvent themselves for the long-term. For example, if you own a manufacturing business you may have to permanently switch your production facility, or if you own a retail business, you may have to stick with digital marketing and online purchases (e-commerce) to reach your market. Some businesses can reinvent themselves by taking a look at their capacity and reevaluating what they are able to take on now, for example many government facilities may have to retire their brick and mortar centers and function solely online and remotely.

Analyse Expenditure: Take a close look at where your business has been spending money. Consider which expenses are unnecessary or avoidable. Many may be completely avoidable during a crisis. Tough decisions will have to be made, but making these decisions is crucial to sustaining success during a worldwide crisis. Consider how you can optimise your burn rate. There may be areas that you will be able to reduce spend and make up for those reductions by increasing your personal efforts. Right now, the key is to run as lean as possible without sacrificing quality. Consider your budget and Profit & Loss statement. This requires identifying strategy cost-cutting tiers, to reflect the drop in revenues. To put it simply, focus your resources on where you make money and jettison the rest.

Event Cancellation and Lead Generation: Many companies have planned and budgeted for specific events and may now feel as if they are missing out on a lot of lead opportunities because of the cancellation. But businesses can now turn to a variety of online channels to drive successful lead generation, from social media to email campaigns. This is why businesses should turn to digital marketing to chase the bottom line, and to get the most out of online lead generation campaigns, you need to make use of quality online content and lead nurturing campaigns.

Marketing: Today, marketers need to innovate through real time engagement, and by providing helpful and trusted content that reaches the consumer at the right time. According to SalesForce, exploring improved tools to reach this challenge is one of the top five priorities of marketers in 2020. Essentially, marketers need to put systems in place to reach potential and current customers, store current and potential customer data and create cohesive journeys for them. The best marketing tactics to use for your business strategy in 2020 are Account Based Marketing, Content Marketing and Omni Channel Marketing - all of which are online and will give you the greatest return on your investment. Every marketer needs to be adaptable during these unprecedented times, especially when it comes to budget and strategy. This is because consumers are re-evaluating their own purchase decisions and marketers need to reflect on how they can adjust to the new buying cycle.

Invest in Technology and Automation: Now more than ever, it's critical for all teams to function as a cohesive unit. This is why companies are investing in CRM systems during the COVID-19 crisis. A customer relationship management (CRM) system is important because it collects, organizes and manages all of your prospects and customer-related information. This allows you to track the buyer's journey for every lead or customer you interact with and communicate with.
In Conclusion:
What will your organisation's future hold as we head into the world post COVID-19? This worldwide crisis has made us all re-evaluate our business strategy and has also created new opportunities to reset our goals and ambitions.
As a fully independent growth marketing agency, Nexa continuously challenge traditional 'marketing norms' by offering digital marketing and technology to our clients that helps them to achieve improved business results and performance - which is particularly important as we head into life pose-COVID-19.
We will work with you to dynamically craft cutting edge strategies tailor-made for your specific business, based on your goals and objectives integrating a range of digital marketing tools and channels, which is proven to deliver the best results.
Contact Nexa today for all your marketing strategy requirements.