Did you know that companies that have a blog receive 97% more inbound links than businesses that do not use this tactic? This means that all of these companies receive more search engine traffic, which results in more sales.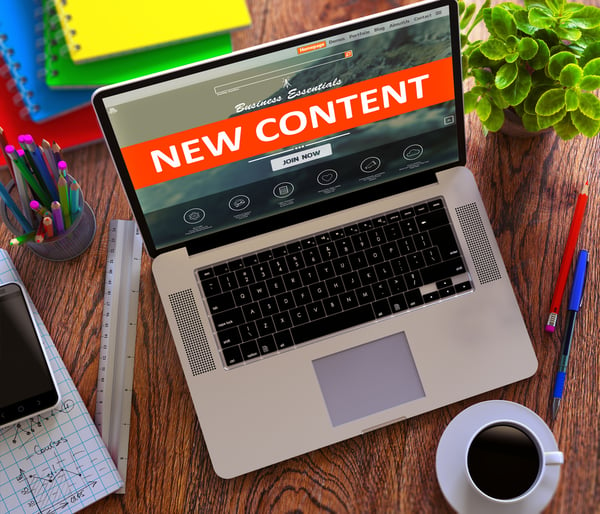 No matter what kind of industry you are positioned within, no matter how small or big your corporate business may be, having a high quality blog on your website allows you to stay in touch with consumers, engage your target market, and collect warm leads. By providing helpful, informative, and valuable information through your blog, you give your target audience the opportunity to learn more about your business, trust your brand and view your company as an industry thought leader. This is the kind of marketing that nurtures loyal customers, helping you create a personal and engaging relationship with your customers.
But where do you begin?
Here, we take a look at 5 steps to help you get started with your corporate blog:
1. Buyer Persona
Before you even begin planning your content, you need to take an in-depth look at your buyer persona so that you understand your target audience and what they would expect or want to gain from your blog. A buyer persona refers to the profile that describes your ideal consumer, and its primary purpose is to detail what type of customer you are targeting through your corporate blog and related content.
Your buyer persona is a semi-fictional representation of your ideal consumer and is based on market research and data about your current clients and when putting together your buyer persona you should consider customer behaviour, demographics, interests, goals and motivations.
Once you have identified your buyer persona, you are able to begin planning your content around the profile, creating content that is designed to attract them, gain interest, and drive them to action.
2. Objectives and Goals
The primary purpose of a content marketing strategy is to achieve a specific goal and reach specific milestones, without these goals and objectives in mind, you will publish irrelevant posts that serve no lead generation or brand awareness purpose.
It is vital you define your corporate blog goals and these should always be realistic and measurable. For example, if your goal is to get 1,000 quality leads in the period of 3 months, you need to make sure that all your blog posts speak to your target audience, provide them with helpful and useful information, and drive them to take a specific action, such as filling out a form with their contact details.
You need to work toward your goal with every blog post in order to get the results you expect from your marketing campaign - and results you are able to measure.
3. Measure your Goals and Return on Investment
This is the most important part of your content marketing strategy, and it is an aspect many marketers forget to focus on. Digital marketing such as blogging, allows you to measure your campaign and the return on your investment effectively and seamlessly.
It is important that you use the correct metrics to measure your blogging success. You are able to use platforms such as HubSpot, which are designed to provide accurate reports regarding your blogs, such as blog site traffic, click through rates, time spent on the page, and what actions were taken by the users on your page. This will help you understand what is working and what needs to be amended - allowing you to understand what is converting your traffic into leads and what is not.
4. Content Type
There are many types of content that you can include in your corporate blog strategy, and these include videos, podcasts, how-to guides, case studies, industry news, e-books and more. Different types of businesses will find success with different types of content, and you need to discover which works best for your audience - and this is why the above point is relevant.
Experiment with different types of content and through analytics, figure out what is working best in helping you reach the goals you have put in place.
5. Update Older Content
Take the time to analyse your blogs every few months to see if any of the information is outdated and can benefit from re-purposing, also make sure to check the analytics of your blogs and see where they may need improving, what is working and what is not.
This hands on approach will ensure you get the best results from your corporate blog efforts.
Corporate Best Practices
The above outlines how to get started with your corporate blog strategy, but we would also like to provide you some brief tips when it comes to creating the content for your blog.
Here we look at corporate blog best practices to help you in the development of your content:
Always Express your Corporate Values: Stay true to your corporate values in every piece of content you publish. You do not have to blatantly speak about these values in every post, but keep them in mind when approaching certain subjects - never stray from who you are as a brand as your potential and current clients will pick up on this and they will quickly lose trust in your business.

Write for your Customers: Do not write for yourself, you always need to keep your customers front of mind and remember that the goal of your blog is to get sales leads, draw in new clients and boost your business by informing your customers about your industry and offering them helpful information - you are not using your blog to simply "sell" to them.

Collect Email and Data: It is great to have visitors come through to your blog page, but it is imperative to continue the conversation with these visitors once they click away from your site. This is why many blog posts come with lead magnets which offer something to the user that is free, such as an informative e-book. In order for the user to get this free e-book, they need to provide their contact information which allows for future lead nurturing campaigns. Learn more about lead magnets and lead generation, here. At the very least though, try to generate as many subscribers to your blog as possible using forms, pop-ups and any other method that allows readers of your blog to share details such as their email addresses with you.

Be an Industry Thought-Leader: Your corporate blog should revolve around your industry and your industry knowledge, establishing your business as an industry leader in your field. With this in mind, it is vital that you stay ahead of trends, research the latest industry news, and touch on important topics related to your industry - that your customers may be interested in learning about.
When blogging for your corporate business, your ultimate goal should always be to convert readers into customers, and this is why your blog should always focus on creating content for the purpose of conversion. There are of course many complexities as part of the customer conversion process but it's important to note that quality content is the key driver of website traffic - never lose sight of this.
Also remember that your corporate blog is not your primary attraction, it is essentially a gateway to assist readers in discovering your business and getting them excited on what it is you can offer them.
In Conclusion:
Creating a corporate blog strategy will take time and effort, however it is this intricate planning that will ensure you receive the best possible results from your content marketing efforts.
If you are looking to create an effective corporate blog designed to reach your target market and generate leads, we can help. Contact Nexa today and drive highly qualified sales leads for your business.