Everyone knows about email marketing, a marketing tactic that has been around since the dawn of the internet. In fact, the first mass email campaign was sent out in 1978 by Gary Thuerk, the Marketing Manager of Digital Equipment Corp. Thuerk sent out a mass mailer promoting DEC machines to 400 users that resulted in an astounding $13 million in sales. This was a monumental moment in marketing, and from its inception, email marketing was known as one of the most effective channels for direct marketing.
Fast forward to the late 90s and early 2000s when email marketing became somewhat repetitive and "spammy". Many email recipients became tired of receiving sales related emails from faceless corporations that just wanted to "sell sell sell" and email marketing started to lose its edge. Marketers desperately needed to try a new approach to email marketing, and in 2010 segmented, personalised and targeted email marketing campaigns were introduced.
With automation, personalisation and highly targeted emails campaigns, email marketing became powerful once more. And in 2013, emarketer reported that segmented, and automated email campaigns received 50% higher conversion rate than traditional email marketing tactics.
With the introduction of Customer Relationship Management software such as HubSpot, email automation, personalisation and segmentation has become even easier to implement, and through CRM platforms businesses are now able to measure and track the success of each campaign - all of which allows for greater lead generation, conversion and customer retention.
This kind of email communication and marketing forms part of today's Inbound Marketing strategy. Inbound marketing is a process of communicating with high quality leads by providing them with information that they actually want to be informed about as opposed to the spammy email marketing of the past.
But sending out automated campaigns is not just about typing up a quick email, sending it to a mass audience and asking recipients to make a purchase - today, email marketing requires strategy, lead nurturing and quality content designed to drive an action. The goal of any email campaign is to get the user to take a specific action, and if the user does not open your email, does not understand the messaging of your mail and cannot find your Call to Action in the email - then your campaign will be for naught.
So, where do you begin with email marketing in the modern era?
In this article we provide 10 tips for email marketing that will help you improve open rates, click through rates and lead generation potential.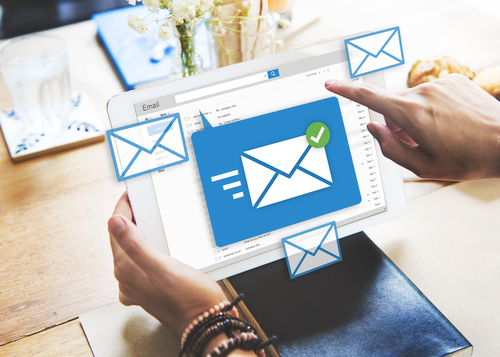 10 Tips for Email Marketing in 2022
1. Email Workflows
Contact Leads at the right time with the right message
Whatever tactic you use for lead generation, be it social media lead generation campaigns, website lead forms or newsletter sign ups, you need to take advantage of the window of opportunity when you are at the top of a prospects mind. This is why it is important to always send an email to a prospect within 24 hours of receiving their information.
In order to pull this off seamlessly, you should consider investing in automated email workflows as this tactic ensures you don't miss any opportunity for nurturing or engaging with a prospect. For example, HubSpot offers a Workflow app that creates personalized and automated emails that are triggered in a variety of ways i.e.: when a contact is added to a list, clicks a link in an email, submits a form to your site, views a specific page on your website or is marked as a qualified lead.
2. Get Personal
Send emails from a person, not a faceless brand
Your email open rate will increase substantially if you send out emails that come from a real person. This is because recipients are more likely to believe in and trust an email from an individual's personal work address as opposed to an email sent out from a generic work address.
Remember: It is important to implement A/B testing in this regard to see what works best for your business and brand.
3. Make sure to set the Preview Text
Don't waste any opportunity to deliver your message
Email platforms such as Gmail and Outlook display the first few lines of your email body text alongside your email subject line - essentially, these platforms display a teaser or text preview of your content before a user clicks on the email.
If you do not set up your own preview text, the platform will pull content from the body of your email which will look messy in this space. But if you set up your very own preview text, you have the opportunity to use this space for unique content that is designed to entice the user to open and read the body of the email.
Use this space to provide a short and concise overview of what it is you are offering in the email. Best practice is to keep this content less than 50 characters.
4. Engaging Subject Lines
Be Clear, Honest and Concise
When it comes to creating your email subject line, remember that you are competing with a lot of other emails in your recipients inbox. This means that you need to stand out from the crowd, and in order to do this, you need to create subject lines that are compelling, and drive the user to click on the email.
To entice readers to click through to your email, make sure that your subject lines:
Are Straight to the point, Clear and Easy to Understand
Are less than 50 characters as this ensure they will not be cut off by certain devices
Use tone and language that your consumer is used to and relates to
Make use of action orientated language that creates excitement and a sense of urgency
Offer a value proposition so recipients know what is being offered
Do not use spam words such as "save" or "Cash"
At Inbound, HubSpot's annual conference a study was presented that outlined statistics collected from over 200 million emails between the months of March 2020 and August 2020
HubSpot provided insight into the subject line words that increased open rates during the 30 days studied and the top 6 words are:
Free
Today
Last Chance
In Stock
Month
Tomorrow
These words give the user a sense of urgency, that is: they only have one shot to claim the deal and it is this urgency that drives them to action. The same study revealed that subject lines with less than 20 characters have a significant open rate increase: B2B Open Rate Increases by 27% while B2C increases by 29%.
Essentially, when it comes to email subject lines, make sure your key word stands out, your subject line is relevant to the content of your email, and is as straight to the point as possible.
5. Be Concise in your messaging
No one wants to read a long email
No one wants to receive a long email, who has the time for that these days? People prefer concise, short emails that get straight to the point and have a clear focus. This is also important because users usually choose to scan emails as opposed to concentrating on them in-depth. You want them to be able to quickly identify and understand your message while they scan the body of your text.
To make sure your email is short yet concise, write it as if you are speaking with a person directly. If your email has to be longer than a few lines, break it up into sections using short paragraphs and bullet points to provide visual breaks so as not to overwhelm the reader.
6. Include an Easy to Identify Call-to-Action Button
Direct the reader to take action
What is the purpose of your email? Is it to get a contact to download a free ebook? Purchase a product? Contact a salesperson? Whatever the purpose of your email, you need to make sure that your recipient knows how to initiate the action. This is when a Call to Action button comes into play.
As we stated above, your recipient is more than likely to scan your email without reading the copy in its entirety. With this in mind, it is important that you have a clear call to action button that is easy to spot. Without this button, your recipients will not be able to take the desired action that benefits them and your business.
7. Make your Images Clickable
Hyperlink all your email images
The goal of any email marketing campaign is to drive the recipient to take a specific action, and the action usually requires a click through to a specific page (be this a lead form or website page). One way to increase your click through rate without overdoing your text or copy is by hyperlinking your images through to your chosen landing page.
For example, if the goal of your campaign is to get recipients to download an ebook, you can include an image of your ebook cover in the body of your mail. Instead of just adding a hyperlinked text with the copy "click her to download" you can also make the image itself clickable. People in general are more drawn to images as it is, and you can capitalize on this by making the image itself clickable as well.
8. Create a CTA above the fold
Place at least one clickable item above the fold
Emails are all about click throughs and you want to make sure that your email campaigns get as many as possible. We discussed adding a call-to-action button in the body of the email, and also stated that you should make your images clickable. With that in mind, you also want to make sure that you have at least one clickable item that lies above the fold of your email.
This means that the receiver does not have to scroll down your email in order to find the CTA. A clickable item near the top of your email is specifically important for mobile users as they tend to require more scrolling and zooming when reading email content. By providing a recipient with something actionable that can immediately be seen, you will quickly increase your clickthrough rate, and in turn, increase business growth.
9. Stay Social Media Savvy
Include Social Media and Social Sharing Buttons
Make sure to extend the longevity of your email by adding social sharing buttons to your content. Most email platforms come with templates that have built in social sharing buttons which makes it easier to implement across your campaigns. By making your emails sharable, you are able to reach a greater audience and gain more leads through the power of social media.
You also need to include your business social media links in every email, ensuring your receiver has the ability to learn more about your business through social platforms. This will quickly establish your business as trustworthy, and you will grow your social following in the process - building more opportunity for engagement and community building.
10. Monitor and Measure Results

Track your emails and campaign success

What works for one email receiver or segmented audience, may not work for another and this is why it is important that you check your email open rates and clickthrough rates.

By monitoring the success of your campaigns you are able to gain greater insight into your audience, and this data provides your marketing team with the opportunity to improve campaigns accordingly.

Use your email performance data to run A/B tests that are designed to show you what email content your recipients engage with, and amend your strategy to suit what your audience finds more desirable.

Analytics are vital and should play a part in your entire email campaign strategy. Without analytics, how will you know if you are succeeding or not?
BONUS EMAIL MARKETING TIP
Most people receive hundreds of emails per day. So how do you make yours stand out? Consider using the following, which has proven to be effective when used appropriately:
Emojis in your subject line and preview text
CAPITALISED content within your subject line. Just one word in a longer sentence though.
In Conclusion
At Nexa we believe and understand the power of Inbound marketing when implemented strategically. We believe that email marketing has most certainly changed over the years - and for the better!
If you put time and effort into your email campaigns and ensure you have strategies in place for lead generation through this platform, you will attract more leads in 2022.
Does your business need a regular flow of qualified sales leads? Email marketing is the way forward and we are here to help.
Nexa has been generating highly qualified sales leads for businesses of all types for almost a decade. We have both the experience and track record to help businesses in all industries generate highly qualified sales leads.
Contact Nexa for all your email marketing and lead generation needs.