We are overwhelmed with digital media from the moment we wake up to the second we close our eyes. With social media platforms bombarding us with information, our attention span has dwindled significantly and with this in mind, digital content creators have to create new media that grabs the attention of the viewer - and keeps that attention.
The problem is that our attention spans are considerably short, and creators and digital marketers need to communicate their brand message in a quick and entertaining way - and this is where short-term or bite-sized videos come into play.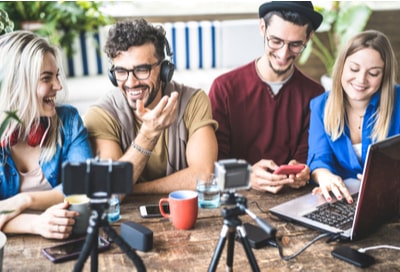 Introducing Short-Form Video
Short-form video content, as the name suggests, is video content that is quick and easy to consume. Short-term video content usually runs from 10-60 seconds in length and has taken over the digital landscape thanks to the social media powerhouse that is TikTok. This phenomenon has taken over almost all digital channels, with YouTube introducing Shorts to its offerings and Instagram providing Instagram Stories and recently, Instagram Reels.
This form of content is not only helping digital content creators and influencers gain viral success, it offers a way for digital marketers to reach their audience in an entertaining and easy-to-consume manner.
In August 2020 Instagram launched its reels functionality, and as a part of the Meta company, it was only a matter of time before Facebook introduced this offering. And that time is now.
The Global Launch of Facebook Reels
After launching in the United States in September 2021, Meta has now launched Facebook Reels across 150 countries in order to capitalize on the popularity of short-form video content.
But the fact is that Facebook Reels quickly became a necessity due to the threat TikTok poses in the social media landscape. TikTok is rising in popularity every single day and this has seen a drop in active Facebook users as they make their way to the exclusively video content app.
Facebook Reels was successful when it was launched in the US and the global roll out is set to have the same success. What's more, Facebook Reels is introducing creative tools and new ways for creators to make money through Reels - similar to that of TikTok. Many of these new features are now available through Facebook Reels in the United States and are quickly being distributed to other markets. Facebook Reels users will soon be able to remix videos, upload clips and duet other videos - Meta is definitely taking ideas from the TikTok playbook in this regard.
Facebook Reels are 60 seconds in length and can be saved to drafts before posting while new clipping tools and editing tools will be added to the feature in the coming months.
There will be 2 formats available to advertisers on Instagram Reels. These will be semi-transparent overlays that sit at the bottom of the Facebook Reel as well as sticker ads which creators can place on their Reel - helping creators monetize their efforts. Another added bonus is that Reels will be presented in more places in order for users to discover content.
In Summary
Meta is looking to combat its social media competition and the battle has only just begun. With short-term video on the rise, we can expect more and more advancements in the creative space and digital marketers and content creators alike, need to keep an eye on these advancements if they want to stay ahead of the competition.
How We Can Help
As a forward thinking digital agency, we are here to help you create content and engage with your audience in entertaining, creative and measurable ways. Our social media and video content creators will get your brand message to the masses and help you better your bottom line.
Contact Nexa for all your digital marketing, video content and social media needs.