Departmental silos reduce overall organizational collaboration and inhibit growth while fragmenting your customer service experience. Today, it is vital to have all your teams working toward a common goal and in order to achieve this, you need to break down these departmental walls.
This kind of alignment is key to success as it offers transparency and accountability between departments. And in today's digital age, it is vital that organizations create an effortlessly streamlined customer experience, from marketing through to sales and service.
Without proper sales and marketing alignment, leads will quickly fall through the cracks, and the statistics speak for themselves:
The above highlights just how significant the lack of departmental alignment can become and it is vital that you begin to break down your silos in order to improve business, increase sales, and better your bottom line.
Thanks to technology such as Customer Relationship Management platforms, you have the power to use technology and automation to integrate your teams and align your departments in a single location.
In this article, we take a look at the importance of departmental alignment and how CRMs can be used to automate processes and integrate your teams toward a single goal.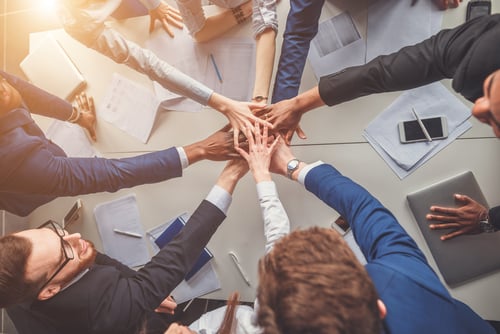 What is Departmental Alignment?
Organizational alignment refers to the idea that all departments, from the CEO to sales to marketing, have a single goal for the company and work collaboratively to reach these goals with accountability and transparency. Departmental alignment is vital for seamless business processes and operations, both when it comes to internal processes and customer service.
This is because if departments aren't aligned they work with different technology and limited data which can significantly affect all areas of customer service. In fact, according to a survey completed by Clear Company, 97% of employees and executives attribute a lack of team alignment to negative project outcomes.
Before we dive into what technology you can implement across your organization to encourage greater alignment, let's take a deeper look at the benefits that come with complete marketing, sales, and service alignment.
The Benefits of Marketing, Sales, and Service Alignment
By aligning your departments and creating a centralized location for data collection and collaboration your business will benefit in the following ways:
Full Customer View: By aligning your departments and using collaborative tools like CRMs, your employees are able to share more data on customers and leads, which provides a clear view of every customer journey, from start to finish.
Greater Customer Experience: As roles, accountability, and responsibilities within each department become defined within these collaborative spaces, fewer opportunities will be missed and there will be less overlap.
Quicker Decision Making: With a centralized location for data, leadership within each department is able to make decisions accurately and quickly. A CRM provides a single location for marketing, sales, and service data and provides direction for decision-making while siloed teams struggle with a variety of opinions, making the decision-making process difficult and disconnected.
Better Accountability and Transparency: Aligned teams share a single goal and they understand what their specific role is within the organization and how they can affect the larger company. This understanding makes way for greater engagement, drive, productivity, transparency, and of course, accountability.
Optimized Responsibilities: Aligned departments and teams ensure every employee is assigned tasks that best suit their skillset. Each person is aware of their role and what is expected of them. This once again improved productivity and morale across the business.
We live in the digital age, and as people continue to seek community and a greater working environment, it is important that organizations break down silos and allow teams to communicate and grow together.
The benefits of departmental and team alignment are undeniable, but how can you implement this kind of alignment across your business?
We have touched on Customer Relationship Management tools, also known as CRMs, and now we take a look at what a CRM is, how it aligns your teams and how you can implement it across your organization.
Introducing Social and Collaborative Tools
A collaborative tool or Customer Relationship Management (CRM) platform allows your business to create communication between different departments, from marketing to sales and service, ensuring no potential customers fall through the cracks.
And the keyword in all of this is "customer." A CRM will align your teams to ensure the customer comes first - enhancing all business processes and directing all departments to a single goal.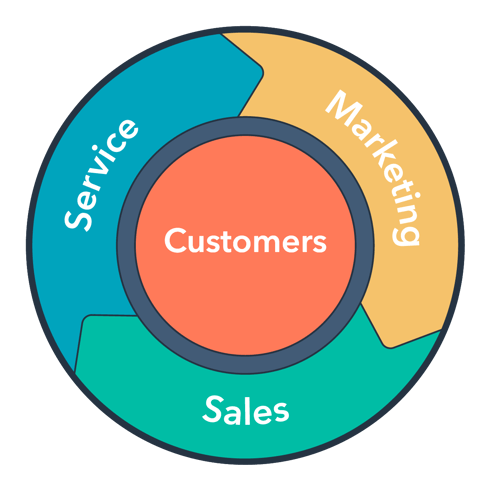 As per the graphic above, the CRM philosophy is simple: Putting the customer first by aligning departments to deliver a greater customer experience.
The below statistics outline why this sits at the heart of CRM and alignment:
86% of customers

will pay more for a greater customer experience

Customer centric

companies are 60% more profitable than those that don't place focus on customer care
1 in 3 customers will move away from a brand after just one negative experience
By placing focus on the customer and aligning teams, you ensure that no potential or current customer falls through the cracks and a CRM has the power to bring all departments together by storing data and information in a single location while tracking all customer interactions in real-time. This, in turn, betters all areas of the business from sales to marketing and customer support, allowing employees to make informed decisions on lead generation tactics, lead nurturing, cross-selling, and upselling opportunities.
When a CRM is implemented successfully across an organization it gives companies greater insight into opportunities to grow with each customer or lead, by measuring their value and identifying where they are within the buyer's cycle. Essentially, aligning your departments in a single CRM allows you to gain new customers and retain existing ones while giving you insight into individual customer needs and wants - allowing you to improve your marketing, sales, and service tactics and create a more personalized experience for your customers and leads.
If you are looking to implement streamlined alignment across your organization using a CRM, HubSpot is one of the most powerful, easy-to-use, and easy-to-integrate software available.
Let's take a look at how HubSpot will align your departments and help you create customer-centric marketing, sales, and service strategy.
HubSpot for Marketing, Sales, and Service Alignment
HubSpot is an all in one marketing, sales, and service software that offers advanced tools to help your business with just about all digital marketing and sales tactics including, Search Engine Optimisation, Blogging, Social Media, Landing Pages, Marketing Automation, Email campaigns, lead generation campaigns, and website analytics. Essentially, HubSpot puts all your marketing, service, and sales together under a single umbrella, and includes tools that every marketer and sales professional needs to reach success...
What does HubSpot Offer?
HubSpot offers a variety of tools and has the capability to understand and cater to every part of the buyer's journey. The tools within the software are divided into what is known as "hubs," you can purchase these hubs separately, but when they are combined, they work together seamlessly ensuring success across your sales, marketing, and customer support teams.
About HubSpot Marketing Hub
All the tools that you require to run a great marketing campaign are available within this software, and these tools work together to attract, engage and delight potential and current clients. With HubSpot marketing at your fingertips, your marketing team is able to create compelling content and get it to the right audience at the right time, ensuring high-quality leads, and customer conversion.
What HubSpot Marketing Hub Offers:
Email Campaigns
Landing Pages
Blogs
Search Engine Optimization
Social Media
Analytics
Marketing Automation
About HubSpot CRM
The Customer Relationship Management (CRM) software helps your marketing and sales team organize and track all of your leads and current clients. This powerful tool saves your team from performing time-consuming menial tasks throughout the day, leaving them to do what it is they do best.
What HubSpot CRM Offers:
Activity Tracking
User Contact Information and Related Data
Pipeline Visibility
Live chats with Prospects and Clients
Syncing of Outlook and Gmail
About HubSpot Sales Hub
The HubSpot Sales Hub is made up of tools that allow you to seamlessly manage, communicate with, and track your leads. With this platform your team has more insight into the sales pipeline, empowering them to interact with potential customers without having to spend time entering data or writing similar emails over and over again. To put it as simply as possible, the Sales Hub is designed to close more deals for your business.
What HubSpot Sales Hub Offers:
Free Calling
Email Templates
Email Sequences
Pipeline Tracking
Meeting Scheduling
About HubSpot Service Hub:
The customer service software ensures swift and easy connection with potential and current customers, allowing you to nurture relationships, convert leads into customers and manage relationships. This kind of personalized service makes for happy customers, which in turn, improves your bottom line significantly.
What HubSpot Service Hub Offers:
Support Tickets
Customer Feedback
Knowledge Base
Live Chats
Conversation Bots
Goals and Reporting
Please note that each of these hubs comes with different subscriptions, and some tools may not be available for certain subscription levels. HubSpot offers a lot for businesses and is the ideal platform for marketing, sales, and service alignment.
The Wrap Up
Success comes from being aligned before you take action, and by using a CRM such as HubSpot, you are able to align your teams and move toward a common goal, allowing room for accountability and transparency. In today's day and age, alignment is key, and implementing the right tools across your company will get you on the path to greater business success.
How We Can Help
We have been providing Inbound Marketing and Sales Lead Generation to a wide variety of businesses for well over a decade, and we have been using HubSpot as the primary platform for these services. This is because HubSpot offers a variety of marketing, sales, and service tools that work together to convert leads into sales.
We are proud to be the region's leading and only HubSpot Diamond Agency Partner and have been recognized as thought leaders and innovators within this field. If you are looking to generate leads, we can help.
Contact Nexa today and drive highly qualified sales leads for your business.