The most effective way to grow your startup is to follow a thorough and forward thinking digital marketing strategy. Growing a startup is a massive undertaking and this is why you need to have a solid plan in place, allowing you to spend your time and budget wisely on your marketing efforts in order to reach your goals and make measurable a return on your investment.
In this guide we will take a look at the digital marketing tactics you can use to elevate your startup business. The digital marketing strategies that we outline here will give you the insight you need into creating a strategy suited to your specific business goals.
Let's dive right in.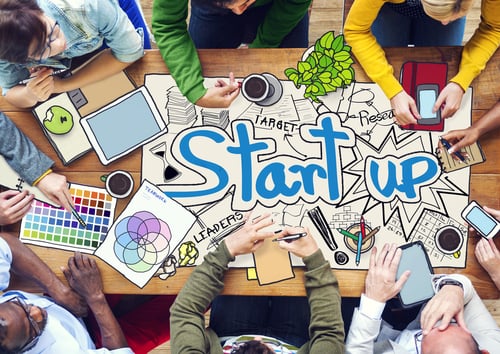 Digital Marketing Strategies for Startups
In this article we will be taking a look at the following tactics:
Branding and website
Social media marketing
Content marketing
Personalized email marketing
Search Engine Optimization
Building a brand and website is the first step to your startup's digital marketing strategy. In order to be successful, your brand needs an online home and this is your website. Your website is the place your potential customers will visit before making a decision and taking further purchase action so it is vital your website represents your brand and engages with your audience.
When building your brand and your website consider the following:
Create a unique logo: Your logo will represent your brand's identity and will be used across your digital and traditional marketing platforms. This is why you need to come up with a logo that defines your brand story. Remember, your logo doesn't have to be complicated - keep it simple, unique and in line with your identity - think colors, font and style.
Build your website:

Create a website that showcases your brand and your products and services in a user-friendly manner. This is the face of your online presence and should house your branding and marketing in a cohesive way. Your website needs to also direct users to take a specific action and should be designed for lead generation and conversion purposes. When developing and building your website make sure to pay attention to your home page and clearly explain what your business is, and how you can solve your prospective customer's problem. Make sure to have an easy to navigate website, this keeps prospective clients on your website for longer periods, bettering your Search Engine Optimization efforts, building brand awareness and establishing trust which leads to purchase. Place your focus on building essential pages within your website - that is, have pages that outline your products and services in a clear and concise manner. As your business and website grows, you will be able to scale your website and add more pages and content.

Mobile friendly and speedy:

Make sure that your website loads quickly - this will keep prospects on your website for longer and will help with your search engine optimization efforts. As we live in the digital age, it is vital that your website is also mobile-friendly, meaning it converts well when people are viewing your website from their phones.
Now that you have a strong, easy-to-navigate and well-branded website, it's time to focus your efforts on social media marketing.
Now that you have a website to direct your audience to, it's time to build your social media presence. Social media marketing is vital in this day and age and should never be a side thought. Social media is the best way to spread brand awareness and engage with your audience and you need to be present and active on your chosen social platforms. When it comes to selecting social media platforms for your business, focus your efforts on where your target audience is most active. This doesn't mean that you have to neglect other platforms, it just means that certain campaigns can be focused on certain platforms.
When setting up your social media platforms, you may need to place a budget in building these platforms through lead generation ads and brand awareness campaigns through the platforms. And it is important to note that this won't cost you an arm and a leg, you can control your spending on these platforms and amend it in real-time to ensure the best possible results.
It is possible to grow your social media audience organically, but this does take time and effort. It is always a good idea to begin with a paid strategy that targets your ideal audience. If you choose to launch a social media campaign, create a customer persona and use this as your social media targeting base. And make sure to spend your budget on platforms that work well for your audience - don't go in blindly on all platforms with campaigning if it is not relevant to your business.
Campaign and spend aside, make sure to keep your social media platforms active and engaging. This can be done without spending. Create content to post throughout your social platforms and always engage with your audience. Remember, if people come across your social media page and see no activity - they will not trust you as a brand.
And this is where content creation comes into play.
Content Marketing
The phrase "content is king" is not just thrown around because it's catchy. The process of creating content, publishing it and promoting it is vital when it comes to reaching a specific audience.
With well-defined content marketing, you are able to create a collection of information that you can use across your digital platforms, from social media to blog posts and related paid advertising campaigns.
When creating a content marketing strategy you first have to understand your audience and what kind of information they will be searching for in relation to your business offering.
Make sure that the content you create will be useful and valuable to your audience be this a video tutorial, blog post, thought-leadership article or ebook. If you have a long-form piece of content, you can turn this into smaller snippets for social media - and reuse and rework your content across the digital landscape.
When it comes to creating a content strategy consider the following steps:
Keyword research: Know what your audience is searching for online and define the kinds of keywords or key phrases they will be searching for. Add these themes to your content without keyword stuffing to ensure the google search engines are able to identify what kind of business you are, and your audience gets the help they need through your content.
Create unique content: Make sure that your content is unique and of the highest quality. You need to answer the right questions and establish your business as a thought leader in your specific industry. This is how you build brand trust and drive conversions across your digital platforms.
Optimize your content: Make sure to optimize your content for the search engines so that your website doesn't get left behind in the digital noise. This is known as search engine optimization and we will get to that shortly.
Content marketing is what will drive all your inbound marketing efforts and help guide your audience through the buyer's cycle, converting prospects into loyal customers. Email marketing is a form of content marketing, and this personalized approach to marketing is what will further nurture relationships with your prospective and current customers, let's take a deeper look.
Once you have a powerful website, solid social media presence and quality content, you are able to market your business directly to your audience. This is where email marketing comes into play. Email marketing is personalized and able to nurture prospects through the buyer's cycle. This is an important inbound marketing tactic and helps build a community and personal relationship between your brand and the consumer.
Have space on your website for individuals to sign up for a newsletter or emailer - this also offers a great way to collect customer data and use it for further lead nurturing down the line. You may decide to contact each user individually or segment your audiences - either way, you are providing them with personalized emailers that meet them where they are at in the buyer's cycle - providing them with the right message at the right time - based on their specific interactions with your brand.
A Customer Relationship Management system such as HubSpot can help you do all of the above and personalize and automate your email marketing endeavors to nurture and convert clients. For startups with a limited budget, there are free HubSpot tiers you can use and you can scale the services as your business grows.
Search engine optimization is the process of optimizing your website for the search engine results, enabling your website to rank higher for specific search terms. This means you will get more targeted visitors to your website - visitors who are actively searching for your offering online.
Search Engine Optimization comes with a lot of benefits and should be an important part of your start-up marketing budget. Some of the benefits of SEO include:
Builds brand awareness
Directs organic traffic to your site without having to pay for these clicks
Organic traffic converts better
SEO helps with social media ranking
There are a variety of aspects that go into building a solid SEO strategy and SEO is made up of the following:
Technical SEO: Make sure that your website infrastructure is properly optimized for the search engines and search engine crawlers. This ensures that the search engines recognize your website as a quality page, and they will then present your website to those searching for your business offerings.
On-Page SEO: These are techniques that help search engines UNDERSTAND your content. This is done by optimizing page titles, adding meta descriptions and using keywords across your content.
Off-page SEO: This has to do with building relevance by acquiring backlinks to other sites, which shows the search engines that you are legitimate and a thought-leader in your industry.
A lot more goes into all of the above, and this is just a brief overview to help you get started on your start-up marketing journey.
The Wrap Up
The key to successful start-up marketing lies in understanding your customer and their needs and using your marketing efforts to create highly personalized and targeted campaigns.
Since 2005, Nexa has been creating marketing strategies for brands and businesses located around the globe and have a vast portfolio of clients, including homegrown businesses and large global corporations. If you want your start-up marketing to flourish in 2022 - we are here to help.
Contact Nexa for all your marketing needs! Start by completing the form on this page.