Updated 2023.
Are you seeking a job in performance marketing and lead generation or perhaps you're hiring for this role within your company? In this article, we will provide you with 25 interview questions. We also provide you with answers to help the interview process.
Before we dive in, you need to remember that employers will be carefully assessing your qualifications alongside your professional goals and character. Through the process you need to showcase what you have to offer, and the responses you give your interviewer will provide insight into your work ethic and attitude. This may include your strategic thinking, motivation, time management skills and more. Keep this in mind when answering questions and engaging with the interviewer.
Below, we provide 25 sets of performance marketing and lead generation interview questions to guide you toward career advancement.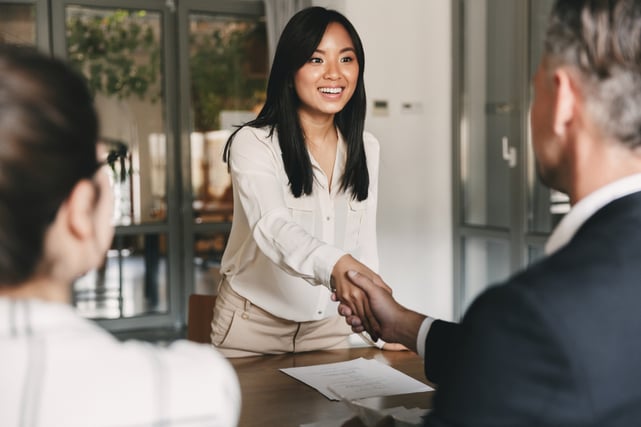 25 Performance Marketing and Lead Generation Interview Questions
Q1: Define performance marketing.
A: This is a foundational question that will show the interviewer you are aware of your role and what is expected of you within the organization. Mention that the key word in your title is "performance" and that performance marketing is based on an array of desired marketing and lead generation results such as a download, sale or lead. Explain that performance is based on a clients goals and objectives and how you use specific tools and tactics to reach these goals effectively.
Q2: What is a lead?
A: This is another foundational question. Explain that lead generation is the initiation of target market interest into a business. And that leads can be created for purposes such as list building, e-newsletter list acquisition and ultimately for sales. Make sure to mention buyer personas, targeted campaigns and that leads are based on quality, not quantity.
Q3: What skills do you have that make you an expert or thought leader in lead generation?
A: As a lead generation expert you need to communicate effectively and express how you will improve lead quality and increase conversion rates with specific tactics. Make sure to mention your skills when it comes to outcome sales and qualifying prospects and discuss how you work autonomously with marketing, sales and service departments. You need to take this opportunity to display your judgment and analytical skills.
Q4: What are some of your biggest accomplishments regarding lead generation campaigns?
A: This is the perfect opportunity to show off your communication skills. Describe a few of your achievements in the field that highlight your character, work ethic and company value. This is obviously the ideal time to discuss your skills and show the interviewer that you have the ability to overcome obstacles and reach goals. A good way to approach these kinds of questions is to always highlight your behavior and performance skills in the workspace.
Q5: What performance marketing and lead generation tools are you familiar with?
A: Your proficiency in using certain tools will show the interviewer that you have put time and effort into your career, from Customer Relationship Management platforms to pipeline tracking, landing pages and email automation. This also provides an opportunity to discuss the tools and tactics you would like to learn more about - showing that you are willing to learn and grow in the digital marketing space.
Q6: What mistakes have you made in your career and how did you learn from these mistakes?
A: When it comes to these seemingly negative questions, it is important you show the interviewer that you have grown in the performance marketing and lead generation space. Name one or two mistakes you have made in previous roles, which may include focusing too much on marketing and less on analysis and results. When a person answers this question with intention and honesty, you will show your potential employer that you can take accountability for your mistakes and are able to grow from these errors. Most companies, especially those in the digital marketing industry, are looking for employees who have potential rather than those who have piqued and are unable (or unwilling) to grow and learn.
Q7: What techniques do you use to measure the quality of your campaigns and the success of your work?
A: This question has many layers. You should list the tools you use to measure your performance marketing campaigns and lead generation success. For example: Google analytics, Customer Relationship Management tools etc. Make sure to explain what metrics you use to measure success and mention that you don't believe in vanity metrics - you are about high-quality leads and tangible results. Mention acronyms related to lead generation and performance marketing that you believe to be important such as CPC, CPA, CTO, CVR etc. In this part of the interview you can also discuss how you measure your success and success in your role - that is: what you want to achieve and how you align your process with the clients goals and objectives.
Q8: What steps do you follow to ensure goals and objectives are achieved?
A: Discuss and identify certain organizational tools that you believe are necessary in your performance marketing and lead generation role. This goes beyond tools for performance marketing such as PPC or Google AdWords and becomes more about your organizational skill, data collection and management. Consider asking the interviewer if they use a Customer Relationship Management tool or do they prefer working with other data collection tools. Create a discussion and show your interviewer that you are willing to learn.
Q9: What are your thoughts on inbound marketing for lead generation?
A: This question is set-up to find out if you know the methodology of inbound marketing and how it has helped shape digital marketing lead generation. Make sure to explain how you believe inbound marketing to work, and how you use this methodology to drive performance marketing leads. For example, mention how content creation and lead generation work side by side to ensure high-quality lead generation and conversion. Touch on e-books, email marketing (automation and personalization), webinars, and landing pages to show that you understand the concept of marketing and lead generation alignment.
Q10: What elements do you use to optimize conversion rates per Pay-Per-Click campaign?
A: A conversion rate is important for performance marketers and refers to bringing a viewer to a site however, there are steps you can take to increase conversion rates and bring in high-quality viewers as opposed to a high volume of viewers. Some of the elements you should mention include: compelling content creation, relevance between your ads and the landing pages and sign-up options and call-to-actions on the landing page. Make sure to express your understanding of quality conversions as opposed to a high-number of conversions for the sake of "vanity metrics" and explain tactics you will use to increase high quality conversions - be this working alongside the content team and creating actionable lead generation tactics on your pages.
Q11: What approach do you take to create an effective performance marketing campaign?
A: Again, make sure to mention your understanding of high-quality leads as opposed to a high number of leads. Mention the landing pages and how you can optimise them with individual search queries and modify the content and call-to-action on a landing page to suit these requirements.
Q12: How do you manage your leads?
A: This is an important question and should show the interviewer that you have an understanding of digital transformation technology such as Customer Relationship Management platforms. Explain how it is important to store leads in a single place and that CRM technology helps you track these leads as they move through the sales pipeline. Express how, by storing this information and lead contact details in a single place, you are able to track the lead and engage with them via personalized and automated email communication based on segmentation and actions. If your interviewer does not use a CRM system this is a great opportunity to express why you believe CRMs to be the future of lead generation and it shows that you are ahead of the curve in your industry.
Q13: What are your thoughts on email marketing for lead generation?
A: This is a great time to discuss personalization through email marketing. Every lead generation expert understands that generic email marketing and spam marketing is a thing of the past. Today, it is important that we use automation and personalization tools to ensure email campaigns reach the right lead, at the right time, with the right message. Email marketing is no longer about simply selling, it is about building relationships and guiding the lead through the sales pipeline. Mention some of the email automation tools you have worked with in the past to show your experience and understanding of digital technology.
Q14: Do you believe in departmental alignment between your team and the sales team?
A: Lead generation has come a long way since the days of cold-calling. Today, departments need to be aligned in order to understand each individual lead and where they are in the sales process. It is important for you to work alongside sales and service teams to ensure no lead gets left behind. As a performance marketer and lead generation expert you should be helping the sales department by providing them with sales-qualified leads as you direct leads through the sales pipeline. Departmental alignment is more important than ever and marketing and sales need to work cohesively in order to generate greater sales. Make sure that you explain your role as a performance marketing and lead generation expert and how your role can help the sales team perform better and help a client grow better.
Q15: What tactics do you use to ensure your messaging reaches the right audience?
A: This question will be asked to see if you have a greater understanding of lead generation beyond simply acquiring high numbers of leads. Describe the process of building buyer personas, developing a variety of campaigns to reach different buyer personas at different stages of the buying process. Mention the importance of social media, content creation, email marketing and audience segmentation - and describe how you use each process and platform to gain quality leads and guide them through the sales pipeline.
Q16: What software are you familiar with?
A: This is sure to come up in the interview. Outline the experience you have with different tools and platforms. Include Customer Relationship Management software's in this discussion as CRMs are the future of digital marketing, performance marketing and lead generation.
Q17: What is a buyer persona?

A: As a performance marketer you should know that a buyer persona is a character that has been created to represent the ideal consumer for a business. When it comes to performance marketing and lead generation, buyer personas are vital in helping with market segmentation, and helps in campaign creation, analysis and measurement of campaign success.
Q18: How do you use social media for lead generation?
A: Describe the importance of social media for reaching targeted audiences while describing the tools available through different social media platforms for the purpose of lead generation. This is also a good time to outline the different kinds of leads you can get through different social media platforms - for example: LinkedIn is a great place for Account Based Marketing lead generation tactics while Facebook is a way to direct target audiences to landing pages and collect their contact details for further remarketing campaigns.
Q19: What do you know about ABM marketing for lead generation?
A: This question will show that you are up to date with the latest lead generation and sales tactics in the industry. Account Based Marketing also referred to as key account marketing, is a strategic marketing and lead generation approach to business marketing based on account awareness in which a business considers and communicates with individual prospects or key accounts via a variety of channels including LinkedIn. Explain how ABM helps in your lead generation efforts. Make sure to bring all your answers back to experience and how these tactics have helped you previously.
Q20: What value are you offering to your audience that will compel them to want to give you their contact details?
A: This leads back to the question of inbound marketing and content creation. Make sure to describe the purpose of call-to-actions and well as lead forms. And outline examples of how you have offered value to an audience which helped a client achieve desired lead generation results.
Q21: How do we get our content in front of the audience that we're targeting?
A: Explain your understanding of content marketing for lead generation and the tactics used to reach the target audience. Discuss PPC, AdWords, SEO and social media tactics for lead generation.
Q21: How do you measure the success of your efforts?
A: This is where you discuss analytics, measurement and metrics. Outline what metrics you believe to be important when measuring the success of lead generation as well as the tools you use to measure this success. This will show your interviewer that you are about results as opposed to vanity metrics - something that we have made clear throughout this article.
Q22: What value do you add to the team?
A: This is the final stage of questioning and should outline the value you will bring to the business. Discuss your strengths and how you added value to previous teams. Make sure to mention how you can improve the bottom line with results and how you work with clients and team members to ensure a motivated and productive environment in the workplace. This is the perfect opportunity to express your work ethic, dedication and commitment to your job and your desire to grow with the business.
Q23: How do you work with a team?
A: The last few questions are about proving your value and dedication. Discuss the teams you have worked with previously and how you managed individuals with different opinions and how you learned from team members. No one wants to hire someone who won't fit the environment. Employee branding is becoming increasingly important and you need to answer this with an understanding of the companies corporate identity and workplace environment - do your research!
Q24: What are your strengths and weaknesses in the workplace?
A: This question is not necessarily designed to showcase your strengths and weaknesses in your craft, rather you strengths and weaknesses when it comes to workplace environments. Be honest and open and touch on how you handle mistakes and criticism.
Q25: What makes you the right candidate for this position?
A: This question usually starts or ends the interview. It is the best way to sell yourself, show your value and your strengths. Take this moment to quickly outline some of your career highlights and what you look forward to accomplishing in the future. Also make sure to do research about the business you are interviewing with and align your answer with their brand identity.
The Wrap Up
During the interview process it is important you stay calm and focused, while showcasing your personality at the same time. Always be honest during the exchange and be bold when showcasing your strengths. It is also important to stay humble and be honest about any mistakes you have made in the past and how you have learned from these errs in judgment. Be precise and quick in your answers and provide in-depth responses when this is warranted.
We wish you all the best on your career endeavors and hope this has helped you gain more insight into the interview process and how to manage yourself through the process.