Marketing Operations is a term that is used to describe the function of the marketing team or marketing organization. This includes people, process and marketing technology (MarTech), that optimizes marketing and scales it with consistency and quality.
Marketing Operations is what holds a marketing team together, delivering support functions, governance and planning to ensure all marketing functions focus on providing value and reaching desired goals.
This kind of tactic places emphasis on end-to-end marketing optimization and covers everything from planning to budget, implementation, measurement and analysis. What makes this tactic so powerful is that it builds a foundation for marketing excellence as it focuses on metrics, best practices and reporting to deliver the best results.
Essentially, Marketing Operations is the coming together of creative and analytical skills to optimize marketing efforts and yield results. And it is marketing automation technology that powers this philosophy and has the ability to completely change the way you market to your audience.
In this article we take a deep dive into the process of Marketing Operations, take a look at the marketing technology that enables this tactic and unpack the best practices relating to Marketing Operations.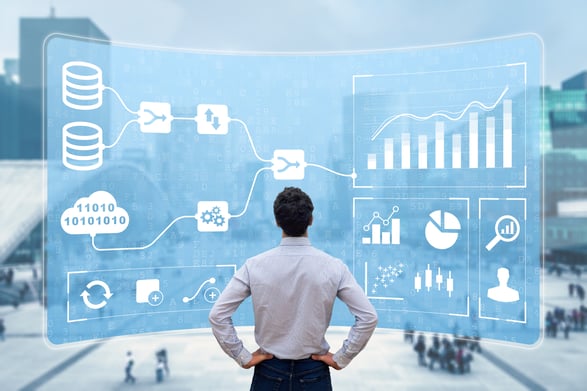 What makes up Marketing Operations?
The span of Marketing Operations is vast and includes a variety of tactics that can be split into three categories and it is these three pillars that make up marketing operations best practices.
The 3 pillars of Marketing Operations
Now that we have an understanding of what makes up marketing operations, let's take a look at the pillars that keep your marketing operations running smoothly.
The 3 pillars of marketing operations that we will investigate are:
Process management
Marketing technology
Data and analytics
Let's dive right in.
1. Process management
When marketing a business to potential clients, this kind of work involves a variety of processes and marketing operations must ensure that these processes deliver the best results.
These processes are:
It is vital that the marketing operations team ensures that marketing investments align with business goals and all marketing budgets are well managed. This is done by implementing the right marketing strategies and developing processes that allow for smart budgeting.
The marketing operations team needs to manage and track the creation of all marketing content and manage the distribution of the content following its creation.
Demand generation or lead Mmnagement
The process of working to increase public demand for your business's products and helping to manage leads. That is, directing leads through the buyer's cycle through personalized marketing tactics.
Managing and maintaining your company's brand identity and keeping in line with industry regulations.
2. Marketing technology management
There are countless marketing technology platforms available to help marketers better their efforts across organizations. It is these technological solutions that have the power to help your team create, manage and promote content across digital channels. However, it is vital that you find Marketing Technology that enables all of the above mentioned in this article. For example, a Customer Relationship Management (CRM) platform such as HubSpot is able to provide all of the required processes for Marketing Operations. These kinds of platforms provide a singular place to conduct all the necessary Marketing Operations pillars.
One of the core responsibilities of marketing operations is to manage marketing technology such as Customer Relationship Management platforms. When putting your marketing operations together you need to pinpoint the marketing technology that will better your company goals. Your marketing operations team needs to leverage the capabilities of the chosen marketing technology to better all marketing efforts across the company.
3. Data and analytics management
This pillar is one of the most important, if not the most important in marketing operations. The data that marketing operations focus on include how the company markets products or services and how potential customers react to these marketing efforts. Your marketing operations team needs to do the following in regards to data and analytics management:
Monitor KPIs from campaigns
Monitor ROIs from campaigns
Create a structure to report data to staff and leaders
Analyze data to determine what it reveals about customers and the marketing efforts itself
Track conversions and lead generation through tactics such as lead scoring
Customer Relationship Management (CRM) systems allow the space for data and analytics to be explored in an automated and thorough manner, ensuring marketing operations run smoothly through a single location.
The Wrap
Digital marketing is always evolving and this means that your business needs to be agile in decision making and quick to implement data-driven action. Establishing a team of marketing operations professionals that are able to act on data-driven decisions is vital and by providing them with the tools they require to properly meet and exceed goals, you will keep your business going forward and improve your marketing efforts substantially.
Contact Nexa today for all your marketing operation needs.