If you are a business owner or a marketing professional, you have heard the term "Customer Relationship Management or CRM." But what is a CRM, what can it do for your business, and how much does it cost?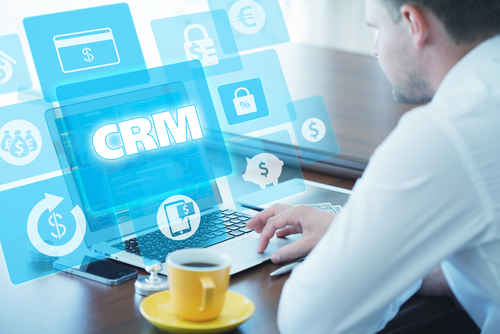 A Customer Relationship Management software, as the name suggests, is an advanced system that is designed to manage relationships with customers and leads. Leads and customers are the lifeblood of any business, and a CRM is designed to create a constant flow of high quality leads while retaining current clients through personalised and automated communication, engagement, customer service and marketing campaigns.
All business owners and salespeople know that the best way to convert leads and retain customers is by understanding who they are, how they have interacted with your business, their buyer behaviour, and how they have found your business. However, storing this information in traditional ways such as on file, in spreadsheets and on scraps of paper, is an overwhelming and time-consuming process that can quickly lead to human error, loss of contact information and failed sales. A CRM is designed to eliminate this problem, as it offers a central place for all this information to live.
The reason this system is so sought after is that it saves salespeople time, which in turn saves businesses money. Through the platform sales teams are able to get contact information of leads, track leads, qualify leads and send out automated communication based on a leads actions without wasting time scrambling to find customer data. This in turn, leads to greater customer service, as your prospects and customers will always feel listened to and understood because the sales team and service teams are always on the same page as them. This in depth customer information is also available to your entire team, and different departments, ensuring your entire business is on the same page and team members will always be able to pick up the conversation with prospects and clients where it left off.
To sum it up: A CRM solves all possible issues between a business and its prospects and customers. This is because it offers a central place to organise all the relevant details about your leads and customers - which makes it easy for everyone on your team to gain insight into your business, and the status of every lead and customer relationship.
Before we dive in to the costs of a CRM, let's take a look at the benefits of the software and how it can help your business grow.
How can a CRM help your business in Dubai?
As stated above, CRMs bring value to business as you gain a complete picture of your customer, their communication with your company, the sales pipeline and buying behaviour. All of this is vital to building and maintaining a lucrative, trusted and positive relationship with the individuals who are the foundation of your business success.
Storing all customer and lead information in a single place benefits your sales team as a centralised history of all interactions between your company and a lead will be time saving and prevent any opportunity for human error.
All of this creates cohesion, teamwork and productivity within your workforce as everyone is working toward the same goal, and your team is able to access everything they need to do a good job and stay up to date.
So, how much does a CRM cost?
Well, this is a complicated question as CRMs can provide a variety of services and it all comes down to what you want to achieve from your CRM efforts. But the short answer is that some CRM systems cost nothing at all for basic features that allow you to track sales, while others can cost as much as $100 per use per month - for more advanced features and customisations.
How Much does a CRM cost?
Most CRM software's offer a variety of CRM options or packages that can be scaled to suit your businesses budget - and as you reap the benefits of the system you will be able to add more services to your platform at a cost. Essentially this CRM system can grow with your business.
As it stands, CRMs are usually priced per user, per month. In other words you may have to multiply your cost based on the number of team members using the software. But most CRM systems offer a variety of packages for businesses to choose from, with the cheapest package usually offering the basic CRM functions and the most costly providing advanced services such as customised reporting and full service sales automation processes.
When it comes to choosing the right CRM for your business it is important to understand that a CRM is not a business cost, but rather a business asset that can grow and evolve alongside your business.
To provide some insight into the importance of CRMs as a business asset, the CRM industry is expected to exceed $40 billion in 2020, because the system has become an indispensable part of sales and customer service processes for growing businesses. According to a study made by Nucleus Research back in 2014, every dollar that is spent on CRM gives a return of $8.71, and this was a big deal for businesses back then. Now, in 2020, the return on investment has risen dramatically as these platforms become more and more advanced. The good news is that you do not need to put down too much money as you begin your CRM journey because the software can grow alongside your business.
For example, CRM leader, HubSpot, is not only designed for large organisations and enterprises, it is also a solution that can be scaled to suit any business and any size - and any budget. HubSpot offers a variety of features and several different plans that can be used to help your business grow through the power of customer relationship management.
HubSpot not only offers a powerful CRM solution, but you are also able to add features from 3 categories onto your CRM system as your business grows, including:
Marketing: The HubSpot marketing platform is made up of advanced tools for email marketing, landing pages, content creation and much more.
Sales: The HubSpot sales plan gives your team the ability to keep track of deals, score leads, follow up on leads, and much more.
Service: The HubSpot Service tools are designed specifically for your customer service team, making sure the customer experience is smooth and streamlined.
Do you need a CRM for your business in Dubai?
No matter how large or small your business, having an organised space to store your customers data will make your processes easier, and your business more efficient - which in turn, leads to more clients, greater customer retention and of course, business growth.
A CRM eliminates time consuming tasks and creates a streamlined customer service experience. By streamlining your processes, improving team productivity, and nurturing new leads, a CRM will give you a great return on your investment and help your business flourish.
In Conclusion
If sales are the lifeblood of your business, it's vital that your organisation, no matter its size, has a powerful Customer Relationship Management Software system to help you track not only the performance of your sales team but also to measure the effectiveness of your sales process, win rates, success factors and closing patterns.
HubSpot provides a highly powerful sales CRM that will help you better understand the sales processes within your business. In addition to the core CRM features, HubSpot provides optional Sales features for SMEs and large enterprises that streamlines efficiencies even further.
Nexa is proud to be a Diamond-tiered HubSpot Partner and this places us in the top 2% of HubSpot Partners globally. Contact us or fill in the form below for all your CRM requirements, today!