Today's most successful businesses are consistently seeking methods for improving their marketing strategies in order to increase their audience reach, and lead generation has become one of the most important aspects of every marketing strategy.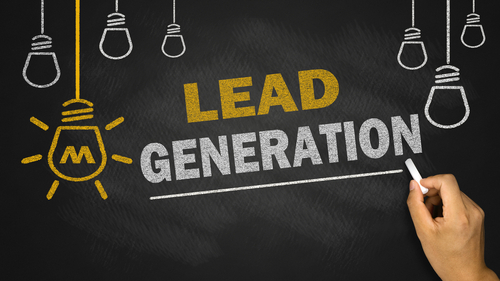 Before we begin - some context
As mentioned above, Lead Generation is a vital part of any business, and for more B2B focused businesses, having a structured, well strategized Marketing, Lead Generation and Sales plan will help realize a company's potential irrespective of the industry they operate in.
In this article, we discuss many of the aspects that a business needs to consider when embarking on a marketing and lead generation journey. But it's essential that before reading, you understand the following areas of context:
Lead Generation isn't just about generating sales leads through marketing campaigns. A company can create many sales opportunities but if they don't have the skills, processes and know-how in terms of managing these leads, the actual conversion ratio from lead generation to closed business may not be maximised. This in turn, impacts overall return on investment (ROI).
Getting the most out of Lead Generation also requires quality assets that are used during this process. By assets, we mean a good quality website or landing page, downloadable guides and brochures as well as images and videos that are both informative and engaging. These assets not only help engage prospects, but also increases lead generation conversion rates.
Other considerations when budgeting for Lead Generation Campaigns
The cost of a Lead Generation campaign is made up of many parts:

The cost of Lead Generation Assets including landing pages, videos and other content
The advertising budget that will be employed to generate the leads
The Agency Fees to help create the assets and campaigns as well as optimizing campaigns so that you maximize return from this activity.
The statistics speak for themselves:
Companies with well strategised and mature lead generation strategies achieve 133% more revenue than companies without well executed lead generation strategies.
63% of marketers believe that generating traffic leads is their top priority and their biggest challenge.
Marketers will spend over $201 billion on lead generation by 2023.
As per above, you can see that lead generation is a business priority and marketers are therefore, willing to spend money on this strategy.
Lead generation acts as a stimulant for potential clients and is the driving factor from initial customer engagement all the way through to final purchase. When a well strategised and well executed lead generation campaign takes place, businesses gain huge profits in the process. So, the real question you should ask yourself is not how much does lead generation cost, but rather, what is lead generation worth?
It all depends on what you expect from your lead generation campaign and what tools you will use in your lead generation process. Businesses need to understand that there are a variety of lead generation tactics that they can utilise, and they need to figure out which tool will work best for their goal and their budget.
Paid Advertising for Lead Generation
If you are looking for instant gratification and want to generate online leads in a hurry, then paid advertising such as Google AdWords is the lead generation tactic for your business.
Let's take at some statistics around Google AdWords:
63%

of users say that they will click on a Google Ad

66%

of all clicks that come from search results for

buyer focused keywords

are on paid ads.
And these statistics are on the rise, as more and more shoppers go online to make a purchase, especially in the age of COVID-19. However, in order to have a successful Google AdWords campaign, you need to have a great website. You need to make sure that your website is fully optimised before you go live with your AdWords campaign. You cannot create a campaign that directs users to a website that is slow and difficult to navigate as they will log off your site and move on to your competitors website. Therefore, this may be an extra cost to your campaign and AdWords can be an expensive undertaking.
Any lead generation professional will tell you that the average Cost-Per-Click (CPA) in Google Ads, across all industries, can be between $1 and $2 on the search network and under $1 on the Google display network. But these numbers drastically vary based on your particular industry and your keyword competition. In highly competitive industries, clicks can cost upwards of $10 per click.
While you will have the power to control your Cost-per-Click bid, you do not have the ability to control how much your competitors are willing to spend on their campaign. This is why you need to make sure that the numbers are working for your business and that you are targeting relevant keywords without only using the most competitive keywords for your industry. You need to continually adjust your budget as you monitor the performance of your campaign and this is how you will get the most out of your AdWords campaign and will see a return on your investment as the leads come through.
There are also many emerging ad networks that you can make use of for paid advertising campaigns. For example, Facebook is an excellent opportunity for advertising however, you will need to invest in a creative landing page, much like you would have to do for a powerful AdWords campaign.
YouTube is also an emerging opportunity for lead generation, and 48% of marketers are looking to use YouTube as part of their lead generation strategy in the coming years. This will require excellent videos and production, making it a more costly process.
Search Engine Optimisation for Lead Generation
Search Engine Optimisation (SEO) takes time but it offers one of the biggest returns on investment and provides the most long term results.
Let's take a look at some SEO statistics:
If a page ranks in the first position in the Google search results on desktop, it will get a

30% click through rate

for unbranded searches.
61% of digital marketers believe that improving SEO and growing a businesses organic search presence is their number one priority for inbound marketing.
When beginning an SEO based lead generation campaign, you should always begin by focusing on Local SEO.
Local SEO is incredibly effective for local stores, smaller businesses and companies that do not necessarily require a national target audience. And according to Hubspot, 88% of consumers who perform a search will call or visit the local store within a day. This is important when considering what you want the outcome to be from your lead generation efforts.
If you are interested in creating a National SEO strategy, you need to know that it can take years for a website to do well in such a competitive space. However, if you are consistent and dedicated to your SEO efforts, you will experience the greatest return on online lead generation through National SEO. Essentially, it is a long term strategy that comes with long lasting benefits. The wait is worth it and you will reap the rewards once you land on Google's first page! If you are interested in finding out more about the significant financial benefits that come with SEO, click here.
Social Media for Lead Generation
Social Media marketing is certain to get you leads, but just like SEO, you need to put in the work.
Let's take a look at some social media statistics:
71%

of consumers that have a good experience with a business on social media will recommend the business to others.
57% of businesses believe that their social media marketing is effective for sales lead generation.
Social media marketing takes time and requires hours of online work to be effective for lead generation. Just like Search Engine Optimisation, you have to put in the time and effort to achieve prosperous results. This is why bringing in a social media marketing company is highly recommended for all social media lead generation campaigns.
Social media marketing does come with a spend, however the cost is worth it if you are a business looking to grow or if you are a big corporation looking to reach a new audience. In fact, social media marketing budgets have doubled throughout the world over the last few years.
What makes social media for lead generation so effective is that platforms such as Facebook, Instagram and LinkedIn offer campaigns dedicated to lead generation specifically. The platforms allow for highly targeted campaigns and also provide lead forms to ensure you receive the information you require from the users. It is because of this highly targeted approach to lead generation that social media has become extremely popular and valuable among businesses and marketers.
Email Marketing for Lead Generation
Email marketing is still a top tier tool for effective lead generation and according to Adestra's email marketing reports, it has been proven that email marketing delivers the best return on investment and outperforms paid advertising such as PPC and AdWords.
Let's take a look at some email marketing statistics:
Companies can earn

$38 in revenue for every dollar

spent on their email marketing
According to an eMarketer study, the median email marketing return on investment sits at

122%
Email marketing has the power to reach customers, is easily integrated with a variety of marketing tactics, keeps customers and potential customers informed of new products, deals and company news, and it is also an inexpensive marketing tactic.
To ensure your email for lead generation strategy is effective, you need to:
Know who your customers are
What would entice them to provide you with their information
What information do you require
When is the right moment to send out a campaign
You also need to personalise your email, make sure they are mobile friendly and it is vital you analyse the click-through-rate and monitor your unsubscribes.
In Conclusion:
When it comes to budgeting for your lead generation campaign, you need to have clear goals in mind to ensure you choose the right lead generation tool for your business.
Right now the question is not "how much does it cost?" but rather "how much is lead generation worth to my business?" And lead generation is absolutely worth it if it is implemented correctly and is suited to your specific wants, needs and business objectives.
At Nexa, we know that lead generation is the lifeblood of any business. We have been providing Inbound Marketing and Sales Lead Generation to a wide variety of businesses for well over a decade.
As experts in Lead Generation, we are proud to be the region's leading and only HubSpot Diamond Agency Partner and have been recognised as thought leaders and innovators within this field. If you are looking to generate leads, we can help. Contact Nexa today and drive highly qualified sales leads for your business.