As millions of people across the world use the internet every day to learn, communicate, work, shop and engage, digital marketing in the MENA region is growing at a rapid rate and cannot be ignored by marketers. However, when it comes to digital and search marketing in Arabic, there are some significant challenges that marketers will have to face and work through in order to come out on top.
The challenges that come with Arabic digital marketing should not scare marketers away, in fact, it is vital that you overcome these challenges and understand the best way to implement Arabic digital marketing before your competitors get one up on you and your audience turns to them for a better user experience. You see, most people want to use their own language when using the internet, in fact 88% of online shoppers prefer to purchase products online using their own language. With this in mind, if your business is targeting Arabic speaking individuals, you need to be able to give your target market a native language experience.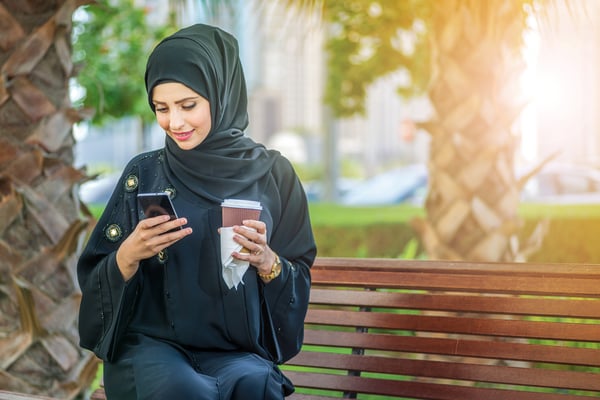 The past 10 years has seen a significant rise in the number of Arabic speaking individuals online with Egypt representing 20% of Arabic speaking online users, KSA holding 12% and the GCC countries making up 22% together. And with smartphones becoming the norm in these regions, most of the aforementioned Arabic speaking individuals are using their phones as a way to surf the search engines and find what they are looking for online. With this in mind, it has become vital for any business targeting an Arabic speaking audience, to create effective digital marketing campaigns in their native language.
When it comes to Arabic countries, Google dominates with 97% of the market share, and this is why it is important to have your business visible online in Arabic. And another important fact to consider is that Arabic is one of the most widely spoken languages in the world, and with 41.7% internet usage, targeting this specific audience is vital. As opposed to the western market, the online Arabic audience is still relatively new and young, and because it is still developing, your business will have lower competition online, making your marketing efforts not only effective, but cost-effective.
With Arabic being the 4th most spoken language online, there is less than 1% Arabic content online and this leaves room for those seeking to take over the market, allowing them to create relevant content that their target audience would enjoy engaging with and sharing on their social platforms. As more and more businesses begin to identify this opening in the market, there is no better time for businesses to capture the native market and get their content to their audience.
However, as stated previously, Arabic comes with some unique requirements that need to be taken into consideration when building your Arabic digital marketing campaign, these include:
URL structure, domain names, page layouts and the translation of the language by a native Arabic speaker needs to be considered - and it is vital that you never use translation tools when converting your English website into an Arabic website, as many words do not have a direct translation.
Poorly translated content will lead to high bounce rates, this means that people will click off your website, and this is why it is important to have a native speaker translate your website into Arabic.
Spaces will need to be included between the coordination and the word so that search engines are able to read this as a new word.
Words that have a Hamza need to be carefully considered when it comes to paid online campaigns. This is because Arabic speakers don't usually include Hamza when searching online.
Arabizi is an online Arabic language, and this should be considered when targeting your audience, especially the youth. This new online language was created when Arabic speakers needed to communicate online and their computers did not support Arabic letters and it has since become a new language that the youth uses consistently. By using Arabizi in your online content you will certainly reach users and have little to no competition in this language online - ensuring your content is found easily in the search results or on social media.
Businesses looking to reach an Arabic speaking audience, need to invest in the right digital marketing agency in order to deliver Arabic content that is engaging, shareable and accurate in its translation. The agency you choose to work with should also be able to prime your content for Search Engine Optimisation, optimising your site for the right keywords and key-phrases, and ultimately maximising your online presence. Your chosen agency will help you select words that have a high monthly search volume, which will make your website reach Arabic speaking users who are actively searching for your product and services online.
When it comes to Arabic digital marketing, it is vital you provide high-quality local language content and intelligent optimisation that will give your business better results and get your website ranking in the search engine results for the long-term. By creating personalised content with your Arabic digital marketing campaigns, you will quickly gain the competitive advantage and will be able to evolve and grow alongside your customers - keeping your business top of mind at all times.
In Conclusion
If your business is targeting audiences in an Arabic speaking region, there are many aspects of Arabic digital market and content creation to consider and this is why it is important to work with an experienced agency that is able to provide quality Arabic digital marketing services to ensure your website and your business is able to flourish in the region and reach the correct audience.
Nexa, Dubai's Leading Independent Digital Marketing Agency offers Arabic Digital Marketing and translation services, including Search Engine Optimisation services, websites, landing pages, brochures and social media posts to help you reach a new online audience.
Contact us to find out more - and get ranking!