Today's consumer is in charge of what they want to see and when they want to see it. Because of this, marketers need to drastically alter the way they generate leads. They need to ensure that the customer is genuinely interested in the service or product before "pitching" or offering it to them. Pitching to an audience that may not be ready for a sales conversation may lead to brand resentment or create negative sentiment towards a business.
To sum it up, marketers need to qualify their leads before they implement or execute any sales actions. The more accurate the lead, the greater the chance of them becoming customers. Digital marketing offers a platform to improve lead quality, increase conversions, and create sales revenue but requires careful planning and a strategic, well thought-out approach for a campaign to be successful..
In this article, we investigate how you can successfully maximise your return from sales lead generation campaigns, and how you can increase online leads for your business.
Return on Investment - Lead Generation Strategy
1. Define your Target Audience
To successfully reach your target audience, you need to define them, so it is important to research your audience. You need to know where they live, what they enjoy doing, insights on disposable income, lifestyle, personality, etc. So, where do you begin?
Tips for identifying your target audience:
Identify your Current Customer Base:
Why do your current customers buy from your business? Take a look at their common characteristics, traits, and mutual interests. Once you identify this, it is likely that other individuals similar to them would also benefit from your service/product. Many social media platforms and media companies such as Google, allow marketers to upload important customer data, allowing them to create targeted audiences based on matching traits.
Identify who your competitors are targeting. You don't have to go after the same market, you may be able to pinpoint a niche market that your competitors have been overlooking. By targeting niche markets, the lack of competition can result in generating more cost-effective leads. Learn more about identifying niche markets, here
Defining your target market takes research and hard work, but once you are aware of who you are targeting, it is much easier to identify what marketing tools and platforms you can use to reach them. By having this in-depth knowledge, you reduce unnecessary costs on irrelevant marketing platforms, helping you save money and get a greater return on your sales lead generation investment.
2. Create a Landing Page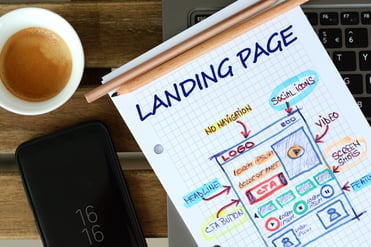 Have you ever clicked on a sponsored advert and been directed to a new page? More often than not, when you click on the Call To Action button of an advert, you are taken to a landing page that has been optimised to convert leads and is a vital part of a successful lead generation strategy.
Your landing page is the "front line" for your campaign and contains details about the products or services you offer. It is vital to get the landing page right as it is the first impression people will get about your brand. They clicked on your advert because they were interested in your product or service, and now you need to nurture trust. If your landing page is weak, you will lose a lot of potential clients right at the very top of your sales lead generation funnel.
Tips to Optimise your Landing Page for Conversion:
Create a sense of urgency, with short and direct headlines and sub-headlines. To put it simply: get straight to the point.
Outline key information using bullet-points.
Make use of visuals, as visuals draw the eye and convert better than an overwhelming amount of text.
Ensure you have a strong call to action (CTA).
Address any possible doubts your lead may have by creating a FAQ section on your landing page.
Now that you have developed a strong landing page to convert your leads, you need to direct them to your landing page.
3. Direct your Audience to your Landing Page
There are a variety of digital marketing tools that you can use to direct your target audience to your landing page. The best option depends on your budget, business model and of course, where you are more likely to find your target audience.
Some of these options include:
PPC refers to Pay-per-click advertising, this is a model of digital marketing in which you pay a fee each time your advert is clicked. This is a way to direct visitors to your site, rather than to gain those clicks organically. Pay per Click marketing is not the cheapest option, but if you are offering a great product or service with high margins, PPC is a great way to direct your audience to your landing page. PPC marketing is also a powerful way to drive "intent-based" traffic to your website or landing page. This type of traffic usually originates from high-intent search queries. This refers to when a user is browsing for a specific product or service on a search engine such as Google.
Email marketing refers to sending a commercial message to a group of people, using email. This is a good option for marketing if you have a well established email database. Email marketing is an incredibly cost-effective tool, so businesses should always try to build their databases on the back of all their media campaigns. By doing so, they are able to nurture and educate prospects further using email as the main source of communication.
From Facebook and Instagram to LinkedIn, Snapchat and Tik Tok, social media offers a targeted way for you to reach your audience and direct them to your landing page. This can be done through organic posts, as well as paid ads. Learn more about social media marketing for lead generation, here.
Compelling and consistent content plays a vital role in lead generation. We previously outlined this in our Sales Lead Generation article. Unique and high-quality content has the power to generate traffic, and this is done through thought-leadership articles, blogging, Search Engine Optimisation, and Social Media platforms. By creating informative and helpful content, you establish yourself as the go-to leader in your industry, and if you add a strong Call to Action on your content, you have the power to direct your audience to your landing page.
By creating helpful content, you develop trust with your audience, which will direct them to click through to your landing page, which in-turn converts leads into customers.
4. Create a Conversion Funnel
A conversion funnel, also known as a sales funnel, outlines the path that your prospective client takes through your lead generation strategy that eventually leads to a conversion. This is referred to as a sales "funnel" because as prospects click through to your landing page or website, they can drop off at various points of the sales journey/path. Those that do convert at each stage will make up a smaller percentage, thus the term "funnel" is used when describing this journey.
Traditional sales funnels are based on Attraction, Interest, Desire, and Action (AIDA) however, the conversion funnel is a bit more complicated. This is because the conversion funnel places emphasis on a customer's behaviour every step of the way, which acknowledges that conversion doesn't just end at checkout.
To put it simply, a conversion funnel is a continuous way to acquire, keep, and grow your ideal customer base, while making use of social media, and a variety of digital marketing tools to meet your target market's needs more efficiently.
Learn more about building a conversion funnel for you Sales lead generation campaign, here.
5. Build your Email Database
All conversion funnels should be designed for conversion, and for nurturing leads. In order to build a relationship with your leads, you need to communicate with them. This is why it is important to collect email addresses on your landing page. Make sure that when you are designing your landing page, you add a form for visitors to submit their email addresses and contact details. Make sure that this form is responsive on all devices, from laptops to mobile.
Once you begin to build your database, it is time to begin an email drip campaign or social media campaign that links directly to your newly acquired database of email addresses.
6. Email Marketing Campaigns
This is when the lead nurturing begins.
Schedule in a 'welcome email' once your lead has submitted their email address.
Once this is done create an email strategy that will convert potential customers into paying clients. Below is a list of best practices when it comes to email marketing:
Keep your emails short and precise
Grab attention with catchy subject lines
Consistently update your email database and keep your database clean
Set automated campaigns to stay in touch
Link your email to specific landing pages that have a strong call to action
Optimise emails for mobile viewing
Test campaigns and analyse results
Now that you have set up your email campaign and are in contact with prospective clients, it is time to nurture those relationships, taking them from leads to loyal customers. Advanced marketing automation platforms such as Hubspot provide an even deeper tracking process to successfully send out your email campaigns.
7. Social Media for Nurturing Relationships
Social media allows businesses to engage with clients and potential clients on a more intimate and immediate level, creating a great opportunity for businesses to convert leads into clients. From Facebook and LinkedIn to Twitter and Pinterest, there are a variety of social platforms that will help you reach, and engage with your audience. Through these platforms you can speak directly with your target market, and find out what they want and need from your business.
By creating a variety of positive touch points for target market interaction, the more likely your leads will trust your brand and ultimately become loyal, paying customers.
In Conclusion:
Maximising return on investment from your lead generation campaign is a long-term and continuous process. Once you have created an efficient marketing system and conversion funnel strategy, you are able to streamline your lead generation process and massively increase business growth.
Does your business require a regular flow of qualified sales leads? And do you want to see a great return on investment with your sales lead generation campaign? If so, we can help. Nexa has been generating highly qualified leads for a variety of businesses for almost a decade. Book a meeting with the Nexa team today.