The majority of marketers will attest to the importance of social media marketing for businesses. This has been an increasing trend as the world continues to depend upon online media and mediums more and more. Businesses have identified social media platforms such as Facebook, Twitter, LinkedIn, Instagram and Pinterest as preferred networks to reach potential customers and have therefore setup a string presence on these sites.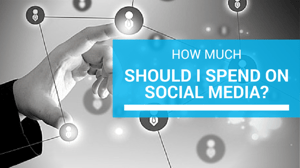 Based on our understanding of the marketing and specifically Dubai, Abu Dhabi, Doha and other Middle Eastern business hubs, a number of businesses are failing to link revenue with social media activity and as a consequence are unsure of what budgets should be allocated to social media.
So what is the cost of social media marketing in Dubai, Abu Dhabi and Doha?
This is a difficult question to answer. A good place to start is to look at why companies still aren't sure of what return they are generating from their social media activity. The problem is that many businesses still class social media activity as posting regular content on platforms and then engaging with the responses. The hope is that this community of followers will either be existing customers or new customers that they believe may convert based on the increased visibility of the business and the interaction. While this isn't totally untrue, it is in fact far from being a full social media strategy and one where a business will NEVER be able to track any accurate return on investment.
That's why businesses still look at social media as a cost rather than an investment.
When you ask business owners, CEOs and other key decision makers about their company's marketing efforts, they often refer to this as a investment. And that makes sense. There is a clear trackable metric in place (or not) that allows businesses to understand that marketing generates a return on investment for the business and a direct impact on revenue generated. Maybe due to the immaturity of social media, the same people still consider social media as a cost rather than an investment for the business. And we think we know why.
There is a distinct lack of quality social media experts and holistically positioned digital marketing agencies out there in the local market.
And it's obvious to see when you take a close look at it. Next time you speak to your digital marketing team, agency or social media advisors, ask them one simple question: "How can you demonstrate clear return on my company's investment in social media?" If the answer you start to receive contains the following words "engagement," "interaction," "fan numbers," "likes" or "follower numbers" it's likely that no matter how active your business is on social media, you'll never been able to describe this activity as an investment for your business.
However, if you hear things like "increased traffic to your website," "lead generation," "marketing automation," "conversion" or "landing pages," it's likely that your business is already generating a good steady flow of new business from this activity.
Which brings me back to the cost of social media marketing...
At this point, there are two points to consider:
What is the cost of social media marketing?

What is the cost to my business of NOT engaging in a

good

social media strategy?
Experience in the industry suggests that you genuinely will "get what you pay for" when it comes to social media activity for businesses in Dubai, Abu Dhabi or Doha. Unfortunately, there are too many people masquerading as social media experts, which include not just an army of freelancers but also PR agencies and Advertising Agencies who simply have a lack of digital marketing understanding that cannot be applied effectively to a client.
So when you are considering cost (investment) / or how much you should spend on your business' social media activities, use the following guide:
If you just want large fan numbers, additional visibility and a busy stream of content but no interest in actual return on investment, you should spend AS LITTLE AS POSSIBLE. Use a freelancer or small agency who will be able to provide this for you for less than AED 4,400 (US$ 1,200) per month.
If however, you are interested in building a strong relationship with potential customers built on trust and credibility and are interested in generating high quality sales leads to support your sales funnel, think about the following:
How much is the average customer worth to you over 1, 2 or 3 years?
How long is your sales cycle?
How visible is your business to prospects during the sales cycle?
How many leads do you normally need to generate to close a deal?
What is your current cost per lead?
If you have answers to the above, you probably need to speak to a content marketing, social and digital marketing agency who can start to plan out a strategy for you that will provide a direct impact for your business.
Social Media Marketing Abu Dhabi - Is there a difference in cost?
The short answer is that there really shouldn't be. But there are caveats. For example, compared to Dubai, if your business is targeting the local Abu Dhabi audience, you may need more content in Arabic rather than in English, If this is the case, expect to pay a little more for your services to take this additional work into account, especially if dual language posting is required.
Digital Marketing Agency in Abu Dhabi
As social media opportunities increase, we believe it's vital that Abu Dhabi based companies work with larger, full-service digital marketing agencies who has the experience as well as a wide service offering that can support your business' needs from brand awareness through to strategic lead generation.
Want to learn more about the true power of social media and creating content that builds trust and credibility for your brand? Download our free e-book:
Nexa is Dubai's Leading Independent Digital Marketing Agency. We help business from small startups to multinational businesses by providing high-quality digital marketing services.
Our in-house team of Digital Marketing experts use cutting edge technologies and proven tactics to create a winning formula for businesses across the globe.
Speak with us. Let's get your social media marketing up to scratch and yielding high returns.