Public Relations, commonly referred to as PR, is the practice of strategically and deliberately managing the creation, release and spread of information between a business/brand and the public, in order to manage public opinion and perception.
As communication and marketing has evolved alongside the digital landscape, so too has PR. Today, PR has gone digital, and although both traditional and digital PR cover crisis management, reputation management, and advocacy, the approach to each method is different.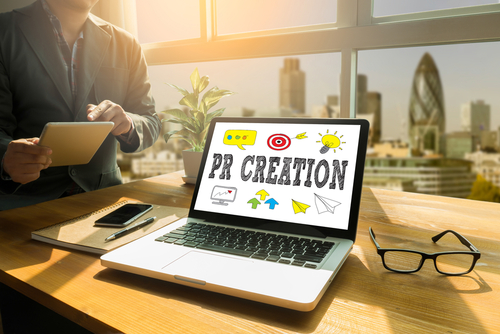 The Difference Between Traditional and Digital PR
Traditional PR is the practice of gaining brand or personal awareness through print, newspaper, magazine, television, broadcasting channels and industry-specific media outlets, while digital PR strategies are tailored to suit the digital world. At its core, Digital PR is an evolved form of PR that uses tried and tested strategies that are expertly optimised for the online space - making the communications reach that much greater than traditional methods.
Digital PR aligns public relations to a wider digital audience and leverages off a variety of online marketing strategies including Search Engine Optimisation, inbound marketing, social media, blogging and lead generation to ensure greater reach and better results, But one of the biggest differences between traditional and digital PR is that the campaigns can be easily measured using digital techniques as all online digital campaigns can be monitored, tracked and measured, allowing for clearer reporting that demonstrates the actual value of the PR campaign. This is in stark contrast to the tracking and measuring capabilities that are part of traditional PR campaigns.
As traditional PR campaigns are usually done through traditional media techniques (such as newspapers and magazine articles), it is impossible to track the audience in great detail, understand if the campaign appealed to them, engage with the audience in real-time, and measure the success of a campaign in monetary value.
In order to create exceptional PR campaigns, PR specialists will use a variety of internet based techniques such as link building, content creation, influencer outreach and social media.
Below, we outline some of the most effective digital PR tactics that highlight the difference between traditional and Digital PR.
Drive Qualified Traffic with Quality Content and Quality Backlinks
In the past, PR specialists would publish articles in magazines, set up television interviews or radio adverts, hoping they would reach the right audience at the right time. Now, with the digital world at our fingertips, it is possible to ensure your content reaches your specific target audience and drives them to take a specific action.

By publishing high quality content and thought leader articles on authoritative websites that your target audience visits regularly, and having these articles link back

to your brand or personal website, not only helps your website's presence in the search results and boosts your SEO efforts, but ensures that you are generating

qualified traffic

to your website. This is known as creating "backlinks."



One of the primary ways to achieve successful backlinks is to publish informative content on an authoritative website, and provide an incentive for the reader to click through to your personal website. This can be done by citing a source that links back to your site, linking to something visual that the audience will benefit from, or directing the reader to more in-depth information - all of which will be housed on your personal site.
This strategy is about creating quality "backlinks" and this can also be done through targeted networking with industry influencers, journalists and online magazine editors. This practice is encouraged by Google and related search engines and should be a part of every businesses or individuals PR campaign. However, the only way for this strategy to be successful is through quality content creation...

Digital Content Creation
No professional PR specialist is going to plaster unhelpful, low-quality content on to authoritative sites just for the sake of backlinks. This kind of content needs to be helpful, informative and establish the brand or person as an industry thought leader in order to build trust, manage reputation and build brand awareness, Content marketing and content creation is a vital part of any digital PR campaign and the days of just advertising your product or service are long gone.

Today's digital consumers have more choice than they have ever had before when it comes to brands and they want to be able to connect with brands on a more personal level and in more meaningful ways. Traditional PR used to be about "selling a product, service or an idea" while digital PR turns that on its head and makes it about creating relationships between a brand and its prospects. And this is one of the biggest differences when it comes to traditional and digital PR content creation.

A PR professional will work with experienced content creators to produce and craft compelling stories around a brand or person that resonates with the target audience. And in order to gain the interest of a target audience, all content needs to have a strong narrative that will stick with the audience, make them engage with the brand, encourage trust, and have them coming back for more. The main difference here is that digital PR is about storytelling as opposed to traditional PR content that focused more on "Selling" or "telling."

Plus - if you want a quality and authoritative website to publish your content with back links to your personal site - you need to provide content that is worth publishing!
Strategic Social Media to Encourage Engagement
Digital PR experts are fluent in the language of social media, and should be able to work alongside social media managers and strategists to ensure they optimise the power of these engaging platforms for PR purposes.

Through the power of social media, you can connect with customers and influencers, creating dialogue and excitement around a person or a brand - ideal for PR and this is why social media needs to be a part of your PR strategy.

Social media should always be a significant part of a digital PR campaign as these platforms have the power to influence and persuade an audience through well designed and well crafted social posts. Well structured, shareable and informative social media posts aside, PR specialists are also able to use social media to understand the audience in greater detail. By studying comments, tracking social engagement, responding to complaints/queries or compliments, reading inbox messages and going through social media reviews (all in real time), PR specialists can gain more insight into what the audience likes and dislikes, learn more about the community, and deliver greater brand service because of this insight.
The Importance of Digital PR for Businesses
Build Brand Identity and Awareness: Digital PR will build your brands online presence through content creation and social media engagement. By creating regular high quality articles or press releases that link back to your company website, your target market and customers will soon see that your brand has a lot of industry knowledge to offer. By showcasing your knowledge and expertise, you will quickly put your business ahead of your competitors in the eye of your consumer, as well as in the eye of the search engine results…


Increase Search Engine Visibility: As digital PR requires great content creation and link building, it helps your website become trusted by the search engine results pages. By creating high quality links back to your company's website, you help your search engine optimisation efforts and will rise up the google ranks, ensuring you rise above your competitors in the relevant search engine results. This will in turn lead to more website visits, and ultimately more brand awareness and of course, more sales.


Enhanced Business Reputation: There is always a possibility that clients will have a bad experience with your business however, in the digital age, you are able to deal with these complaints as soon as possible and amend them in real-time. According to statistics by Marketing Charts, 50% of consumers say that they are likely to publish a negative review on social media if they have had a bad experience - compared to the 30% who have had a good experience. So social media is the place for brand reputation management - and this is why it is the ideal place for Digital PR. As customers leave reviews on your social platforms you are able to respond to them immediately, and publically fix any issues that may have occurred. This allows for hands on PR management and also allows the PR team to see what issues the clients are currently dealing with, which allows them to make sure this is seen to immediately by the business. Crisis management has actually never been easier than it has been thanks to social media and digital PR.
Digital PR is vital for any brand as it introduces an organisation / brand / individual to a greater and high quality target audience, through editorial articles, search engine result pages or social media platforms.
This online PR tactic is designed to build your brand identity by creating regular content by your company, that your target audience and customers will find online through the above mentioned touch points.
By consistently delivering high quality and informative content that helps your audience, your brand will soon be viewed as an industry thought leader - molding your business into the authoritative and trusted voice of your industry.
In Conclusion
If you'd like advice regarding your Digital PR strategy, then do not hesitate to get in touch with Nexa by filling out the form below – our digital PR experts are here to help your brand grow to greater heights.