At Nexa, we're often asked whether Search Engine Optimisation (SEO) or Social Media is the best way to improve a client's digital presence. The answer isn't simple but in many cases, we recommend that our clients implement both as they serve very different purposes at slightly different stages of the buyer journey. In this article, we'll assess the merits of both activities and hope that it helps you if you're considering either SEO or Social Media marketing for your business.
Many people are questioning whether or not social media is the new SEO. Businesses want to know which tool is better to get you noticed online because they want to know where they should invest their resources.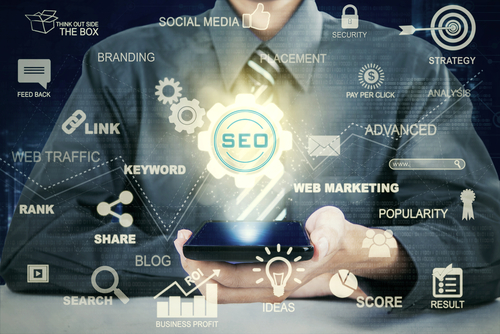 So, which digital marketing option works best?
The truth is, if you want a powerful online presence, you are going to need both. But let's assess each digital marketing option in more detail.
Social Media Marketing
Social media marketing refers to the use of social media platforms as a way to promote your website, products and services. We all know that social media platforms play an important role in our private and personal lives, but they are also a powerful selling tool for marketers.
What is the process of social media marketing?
Social media marketing involves building your brand reputation on social networks such as Facebook and LinkedIn, by developing a group of followers who are interested in your business and what you offer as a brand. To ensure a successful social media presence, you need to identify your target market and connect with them through well designed, strategic content and social media campaigns. Essentially, you need to make sure that the content you post is relevant, helpful and interesting for your social media audience. Interesting, helpful and shareable posts will create a community of engagement - continuing the conversation with potential clients.
How powerful is social media marketing?
When marketers first began using social media for their marketing efforts, there were doubts about how effective a social platform could be for selling. However, as social media has evolved, these doubts have quickly disappeared.
In 2019, an ODM Group study found that 74% of consumers rely on social media for their purchasing decisions. And recent studies have also found that customers who engage with a brand on social media are likely to make purchases from that particular business.
Benefits of Social Media
Social media has become an integral part of our lives over the last 2 decades. For businesses, social media offers a way to personalise your brand message and target it to the right audience, at the right time. According to We Are Social, 3.4 billion people around the world are active on social media platforms, and that number continues to grow. With billions of people actively engaging on social platforms, it is vital that your brand be present there too,
There are a variety of benefits when it comes to using social media for business:
Customer service and quick communication:

Your customers and potential customers can contact your customer service representative immediately, thanks to social media. Through social platforms such as Facebook and LinkedIn, you are also able to receive reviews, and understand what your business is doing correctly and what needs to be amended.
By implementing a strong social media communication strategy, your customers and potential customers will feel close to your brand, and trust that you have their best interests at heart. This is a way to learn about your customers, understand what they want, their grievances and their appreciation - and use this information to better your business as a whole.
Brand Awareness:
By having a powerful presence on social media, your business has the opportunity to reach a significant amount of new potential customers. To create a strong presence you need to tell your brand's story, keep your content consistent and helpful, and engage with your audience. Social media offers a solid foundation to help build your brand and keep you front of mind.
Increase Website Traffic:
Social media offers the opportunity to expand inbound traffic to your website. Every one of your social media platforms can be a potential path to your website, and each post offers an opportunity to link your audience through to your web pages. It is these visits that can result in leads, and ultimately sales. And the more traffic your website gets, the greater your ranking on Google.
Lead Generation:
Social media is an effective tool for lead generation, helping direct your potential clients through the buying process. By making use of organic tactics as well as paid advertising campaigns via social media, you will expand your reach and attract more leads.
Search Engine Optimisation
Search Engine Optimisation, also referred to as SEO, is the process for optimising a website and webpages for search engines. It is about growing the quality and quantity of website traffic by strategically increasing your site visibility on search engine results. Search Engines have a number of rules when it comes to ranking websites and placing them in top positions on search results and the processes relating to SEO is about adhering to those rules.
How Powerful is SEO?
SEO is an incredibly powerful marketing and lead generation tool. If your potential clients can't find your website, then what is the point of having one? SEO makes sure that your website is found. SEO, when implemented correctly, will improve your search engine rankings, resulting in more targeted and qualified traffic to your website, and because of this, your sales will rise.
Benefits of SEO
In today's digital world, the opportunity for brand awareness and brand equity is enormous. The online era has provided us with a multitude of ways to achieve these goals. And SEO is one the most effective strategies in helping you achieve these organisational goals.
There are a variety of benefits when it comes to having SEO for business:
Quality Website Traffic:
One of the greatest SEO advantages is that it is part of an inbound marketing strategy. This means that you make it easier for your audience to find you when they are looking for information related to your business, as opposed to outbound marketing that involves reaching out to your consumers whether they want to hear from you or not.
Because SEO reaches the consumer when they are actively searching for your product or service, you will gain more qualified leads for your business. In fact, according to HubSpot, 59% of marketers reported that inbound marketing provides them the highest quality leads out of all their marketing efforts.
Build Brand Awareness and Consumer Trust:
By ranking in first, second or third place on the Google search results, users will immediately assume that you are a top player in your industry. This also shows them that you are a popular and trusted business as many other users have reached your website too. By building your place in the Google ranks, your brand will grow and be front of mind when the consumer thinks about your industry.
Long Term Investment:
Your ranking on Google is based on what the algorithm determines is the best result for the user query. And once you have created an optimised website, you will attract traffic to your site for months and years to come. Of course, optimising your website with quality content and technical SEO does take time and resources, but that initial investment delivers long-term results. This is a major benefit, as paid advertisements on Google such as PPC, involve a cost every time a user clicks on your website.
Has SEO been Replaced by Social Media?
Social media cannot replace SEO because SEO is still about optimising your website and your website content for search engines and SEO helps you rank in the long term. Despite the rise in importance of Social Media, the average customer will still always turn to a search engine such as Google whenever they have an immediate requirement for a product or service or are in the process of researching their next supplier. It's therefore important for your business to be visible at the very moment a potential customer is searching for a business such as yours.
However, social media does have a direct impact on your SEO.
What is popular on social media will also be popular on search engines, but this is not the rule and is not always the case. Social signals alone cannot completely influence your search engine rankings. Google has come out and said that social signals are not used in their algorithms. However, many studies have shown that pages that do well on social media, do rank higher on Google.
But if social signals and social media popularity do not affect rankings, why is social media important and why do search engines display popular social media posts in their results?
The answer can be summarised in two points:
Your business needs a social media presence because it offers another source of traffic to your website and is a powerful sales tool.

Social sharing is important because it means that more people will view your content, which increases the chances of boosting your SEO.
Social media and SEO work hand in hand, and social media indirectly helps your SEO endeavours as it directs more traffic to your website. And the more traffic you gain, the higher you rank on Google.
In Conclusion:
Your digital marketing campaign should include both social media and SEO. It is not about using one or the other as both can help your business gain more traffic and ultimately help you make more sales.
By implementing a strong SEO strategy, you will make sure that your content is read by search engines, while social media will help get your content to more people at a faster rate. And the more people view a page, the more chances of it gaining search engine authority.
If you are looking to rise up the Google ranks and you want to build a powerful social media presence alongside it, speak to Nexa today.