The city of Dubai is known for its luxury, cosmopolitan lifestyle and it never fails to astonish tourists, residents and business people alike. The city has flourished and is quickly becoming one of the most innovative tech hubs in the world, with some of the world's top creative minds and business thinkers taking residence in the city. With all eyes on Dubai, businesses in the city have quickly adapted to the latest tech innovations and continue to invest in the best software and platforms available to ensure business success. For the purpose of this article, we focus our attention on CRM platforms and identify the best CRM platforms for Dubai businesses in 2022.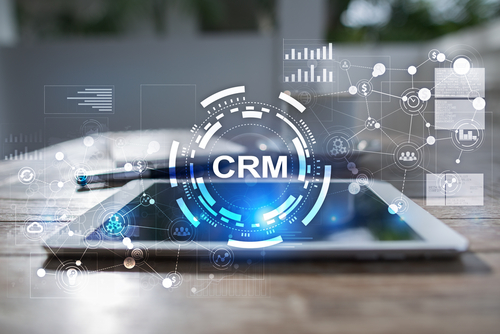 Today, Customer Relationship Management (or CRM as it's more commonly known today) platforms have become the most sought-after technology in the business and marketing world as this advanced software aligns both sales and marketing effortlessly in a single place.
With a strong CRM, businesses are able to expand their marketing reach, reach their target audience, acquire quality leads and make more sales. This kind of advanced technology is vital for any business wanting to grow and thrive, especially as we head into the new normal.
So, how does CRM software work and how can it benefit Dubai businesses in 2022?
What is Customer Relationship Management Software ?
A Customer Relationship Management (CRM) system is a combination of processes, strategies and technologies that businesses use to manage, measure and analyze their prospective and current customer interactions and data throughout the buyer and customer lifecycle. The goal of this software is to improve marketing, nurture potential and current customer relationships, and drive sales growth.
A strong CRM compiles in-depth customer data from a variety of channels, or points of contact, between the lead/customer and the business. A powerful CRM can compile this lead information from various touch points including a company's website, live chat, email, marketing materials, social networks and telephonic conversations.
The Benefits of a strong CRM for Dubai businesses in 2022:
Data Collection: A strong CRM compiles and stores in-depth customer data from a variety of channels, or points of contact, between the lead/customer and a business. A powerful CRM can compile this lead information from a variety of touch points including a company's website, live chat, email, marketing materials, social networks and telephonic conversations.

Understanding the Buying Cycle: Having in depth customer information such as data regarding past purchases and online interactions, helps customer support representatives provide greater service, and helps the sales team understand buyer intent.

Marketing and Sales Alignment: A CRM is also able to launch and analyze marketing campaigns, and provide greater insight into audience behaviour and trends through reporting features. This helps marketing and sales teams better understand what the audience is looking for, what is working and what messaging best suits a specific lead.

Marketing Automation: A CRM provides sales and marketing automation software that ensures your leads receive communication from your business that is triggered based on specific actions. This tactic cultivates personalized relationships with high quality leads and has the power to convert them into clients.

Data Driven Sales Insights: As a CRM stores all the data your marketing and sales team will need, it streamlines all processes from a single place - making for greater sales and business growth.
In essence, a CRM helps businesses create and highlight their highest quality leads, manages marketing and sales efforts, monitors the buyer's journey and offers in-depth analytics and reporting to drive business growth.
The marketing world is filled with a variety of inbound marketing and sales software, all of which promise to help your business acquire and convert leads. However, many of these platforms are outdated or do not offer a full Customer Relationship Management (CRM) service that is scalable, easily customisable and easy to use.
So, with a variety of CRMs available, which is the best for Dubai businesses in 2022?
More and more Dubai businesses are turning to HubSpot for their CRM and Marketing Requirements. HubSpot is user-friendly, cost-effective (even has a Free version) and is scalable meaning it can grow with your business.
Introducing HubSpot CRM
HubSpot is an inbound marketing and sales software designed to assist businesses in attracting potential clients, converting leads, closing deals and nurturing client relationships. HubSpot provides a full CRM solution that is fully integrated with your marketing and sales platforms, ensuring you receive the best value for money and a return on your investment.
Let's take a look at the benefits of HubSpot and see why you should use HubSpot for your company.
Digital Marketing Integration
You are able to implement and manage all your digital marketing efforts through the HubSpot platform. HubSpot is a platform designed for all your online marketing, from social media and email marketing to website development, landing pages and content creation. As your business is dependent on its website, you are able to change anything on your site through the platform - swiftly and efficiently.
HubSpot also comes with an integrated Search Engine Optimisation tool that allows you to completely optimize your content for the search engines. What sets HubSpot apart is that it has made its SEO tool easy to use, and puts all your marketing efforts in one place.
The email offerings on HubSpot are designed to give you greater insight into your prospects and current clients and through the platform, you are able to send the right information to the right prospect at the right time.
Email templates are also pre-designed so that your sales team does not have to waste time typing out repetitive mails. HubSpot offers email automation but also personalized emails to ensure your customer receives communication and marketing material that specifically speaks to them and where they are in the buyer's journey.
With all the digital marketing integration tools available through HubSpot your marketing team is able to use advanced audience building techniques to ensure all social campaigns reach the correct audience, leverage off intent based search marketing and nurture leads and relationships through personalized email marketing.
Marketing Automation
HubSpot is designed to effectively automate all your communications. For example: if a lead takes a specific action, whether it be downloading an e-book from a landing page or filling out a leads form, the system will send personalized communication to the lead based on their action.
By understanding where the lead is in the customer journey, this kind of tailored communication is ideal for lead nurturing and building trust. While this automation takes place, your sales and marketing team are able to focus on their tasks, knowing that this time consuming task has been taken care of.
Through this platform you are also able to strategically plan what communication or content your contacts receive based on how they have interacted with earlier communications, this is what is known as Workflow, and it is one of the most valuable parts of the HubSpot system for any business.
Data Listing and Lead Segmentation
Any marketing and sales team will appreciate this HubSpot offering because even though your team can put together in-depth buyer persona's, they also need to remember that each contact is an individual - and each contact is different.
While some contacts may be more receptive to email marketing communication, another contact may prefer other means of communication. And HubSpot segmentation identifies this and ensures your business delivers the correct information to your contacts, in the right place - at the right time.
From location to gender, industry to responsiveness, there are a variety of ways for you to segment your contacts. This is an advanced way of marketing and ensures you do not waste time on contacts that are not interested in certain marketing tactics.
This feature is designed to optimize sales processes and ensures greater lead nurturing, increased sales and significant business growth.
Lead Tracking
All of the above results in greater lead generation and through the platform you are able to organise all your contacts in a centralized and easily accessible database, create segmented lists, generate score leads and prioritize outreach with your sales team.
With such great insight into the sales pipeline, your sales team gains knowledge and is empowered to interact with potential clients at the right time in the buyer's journey.
This close attention to detail improves relationships with leads and current clients and gives your sales team a structured platform from which to manage all their sales activities.
In Summary
HubSpot CRM provides a variety of tools and tactics that empower your business by boosting the efficiency of your marketing, sales and customer service teams - helping you achieve business growth as we head into 2022.
If you have a Dubai based business and are looking at ways to streamline and measure your sales and marketing activity, you need a modern and user-friendly CRM. A good CRM will also streamline processes, save time and money, and help your marketing, sales, and service teams reach their targets and objectives effectively.
Nexa is proud to be a Diamond-tiered HubSpot Partner and this places us in the top 2% of HubSpot Partners globally.
If you are interested in implementing HubSpot for your business, our HubSpot development team has experience integrating HubSpot's CRM with a number of platforms that can increase the efficiency and data access for your business. Contact Nexa today or fill in the form below, and begin your CRM journey.