CRM or "Customer Relationship Management" is one of the most widely used terms in business at the moment, but what is it and why is it important to have a CRM in the UAE? This article explores the reasons why we believe every business needs a CRM and offer some easy to use CRM suggestions for businesses in the UAE.
A CRM platform helps manage a business's customer data, supports sales management, delivers actionable and measurable insights, integrates with social media, digital marketing and facilitates communication across teams. This kind of technology saves businesses time and money, ensuring the smoothest customer service and streamlined marketing, all of which leads to more sales and a improved bottom line.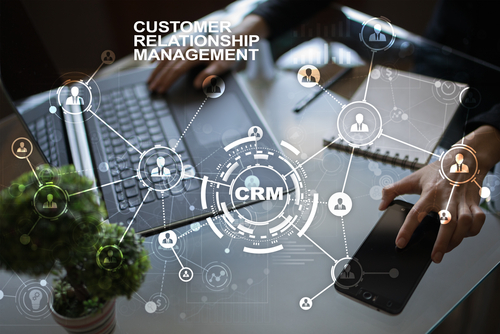 CRMs have become popular and necessary the world over, and many businesses in the UAE have started implementing CRMs into their business strategy. We live in a digital world, with most of us working from home due to the current worldwide pandemic, and to have all marketing and customer data accessible in one place is the best way to maintain, develop and grow a business. But many business owners in the UAE and throughout the world are concerned about the adjustment period, and how their teams will take to working with a CRM.
Some CRM platforms that are available are complex and take time to learn and understand, while others are designed to be user friendly, and effective. The CRM that stands out the most in terms of its ease of use, and fully rounded offerings, is HubSpot.
About HubSpot
HubSpot offers its users a full range of software for marketing, sales and customer service, with a free CRM at its core. On its own, each feature is powerful, but when the features work together this power is amplified.
HubSpot itself is known to be one of the most powerful Inbound Marketing tools in the world, and Inbound marketing has proven itself to be the most effective marketing tactic for any business in the modern age.
However, many businesses including those in the UAE may be hesitant when it comes to inbound marketing as a lot of work goes into creating these campaigns. These businesses may know that CRMs are designed to alleviate some of the tasks associated with Inbound Marketing campaigns, but may be fearful about how quickly their teams will be able to adjust to a new platform. And this is where HubSpot has found its niche, not only is it a powerful CRM that provides top class Inbound Marketing solutions, it is designed for simplicity and ease of use.
Why HubSpot is the easiest and best CRM to use in the UAE
HubSpot is easy for UAE businesses to set up
The last thing any business wants is to waste time training and learning a new platform, but HubSpot, as stated previously, has been designed for ease of use. Signing up to HubSpot is simple, but you may feel overwhelmed when it comes to getting the software going. Here is the good news - no matter what HubSpot account you choose to use, you will have full access to a menu at the top of your screen that will help you navigate your way through all you need to know.
The menu itself is intuitive, which makes it easy to use, however you may need an hour or so to figure out how to fully use HubSpot within your organisation. As opposed to other CRMs on the market that are difficult to use and require hours, if not days of training, HubSpot is ideal. The software is easy to figure out on your own, but HubSpot doesn't stop there, it offers a variety of free training options that will get your team on top of their game when it comes to utilising the software to the best of its ability.
From HubSpot Academy videos to HubSpot training materials and the HubSpot learning centre, you will be able to learn the ins and outs of the software quickly and seamlessly. Alternatively, you can always hire a HubSpot expert who will take you through the process of using the software quickly and efficiently.
As with all new technologies and software, there will be a learning curve, but it is slight compared to all the other CRMs on the marketplace. Your business can have HubSpot up and running in just a few hours - saving your business time, money and increasing your bottom line and productivity.
HubSpot is a all-in-one, centralised marketing solution for UAE businesses
No matter what department you work in, be it sales, marketing, management or customer service, you will find yourself logging in and out of different software and tools at any given moment. If you look at your computer screen right now, you probably have multiple tabs open, and you have probably been jumping from window to window to find what you need. Well, HubSpot is a single platform that gives you access to all the data and information you need in one place.
Everything from your email and landing pages through to your blogs and lead forms can be stored within the HubSpot software, and it even comes with reporting tools as well as an SEO view, social inbox syncs and various social media integrations. So, whatever you need when it comes to your inbound marketing and marketing management, you can access it all in one place.
Think about it in terms of time management, for example, your social media team will not have to log in and out of separate social platforms in order to complete tasks. All they have to do is log in to HubSpot, and they have full access to all social media accounts in a single place.
Other HubSpot Platform Tools include:
Website content management systems
Blogging platforms
Social Media platforms
Analytics and reporting
Email Marketing platform and automation
CRM
Landing pages and Call to Actions
Excel or Google Sheets
With HubSpot you can access and use all of the above tools in one place and with ease, saving your business time and money.
Easy to Use Automation Software
We only have so many hours in a day, and automating tasks is not only useful, it is a necessity for any business looking to grow and thrive. HubSpot is designed for automating tasks, ensuring your teams spend their time doing what they do best instead of wasting precious time on menial tasks.
For example, HubSpot's marketing automation application known as "Workflows" basically automates as much or as little of your marketing efforts as you would like, in both a measurable and contextual manner. Workflow is a powerful tool as it taps into HubSpot's entire system, which allows for the creation of email lists to be automatically built based on specific criteria, from customer lead scores to buyer persona. HubSpot is also able to send emails at the optimal time, while keeping the sales funnel in mind at all times.
Other HubSpot Automation Tools Include:
Automating emails sent to leads' owners once a lead becomes sales qualified
Automating tasks
Updating contact properties
Setting up automated tasks in not difficult, and once everything has been put in place, your team can do what they do best, and not worry about the smaller tasks at hand.
Seamless Customer Relationship Management
CRMs are a must have when it comes to marketing, and with HubSpot, your CRM is completely free.
The CRM is located within the same platform where you pull your contact information, helping your sales and marketing team know exactly how your leads are interacting with your marketing efforts.
And personalisation is the name of the game when it comes to HubSpot's CRM, as the software takes as much information as it is able to, and will piece together information on a lead and present this lead as a profile for your sales team to act on, from following up to check-ins to pursuing hot leads.
Some of the HubSpot CRM benefits for UAE businesses include:
Integrates with HubSpot database seamlessly
Timeline features allow you to stay organised, manage data and arrange your day
Recording calls and logging of emails
Arabic language flexibility
Alongside the CRM HubSpot tool, you will find HubSpot Sales. This is an option that comes in 2 versions, one being free and the other at a cost. This feature is similar to having a personal assistant that helps manage all your sales and emails, ensuring you know who your leads and potential buyers are - and you contact them.
Some of the HubSpot Sales benefits for UAE businesses include:
Email and browser insights
Notified when an email is read
Scheduling emails
Arabic language flexibility
In Conclusion
HubSpot has a lot to offer as a CRM and marketing platform, and not only is the software easy to set up, it is easy to navigate, understand and optimise to suit your business goals and objectives. If you are a business in the UAE looking for an advanced and easy to use CRM and marketing tool, than HubSpot is the software for you.
HubSpot is designed to make your team's life easier, saving them time and saving your business unnecessary costs.
If you are looking for a CRM to help your business, Nexa is here to help. We'll work with you to understand the needs of your business, your goals, objectives and pain-points.
With this information, we'll recommend the best solution and software implementation for your business, while working with your sales and marketing teams to ensure that they are able to use the systems effectively to produce positive results for your business. Talk to us today.
Contact us today and begin your Customer Relationship Management journey.