Max Levchin, the co-founder of PayPal said, "The world is now awash in data and we can see consumers in a lot clearer ways." You see, today, marketers have plenty of data to choose from, whether online and offline or transactional and operational. Every kind of data has its benefits and its disadvantages but one thing is for certain - it is valuable.
But data is only valuable when it gives marketers a clear picture of their individual leads and customers and this is where first party data comes into play.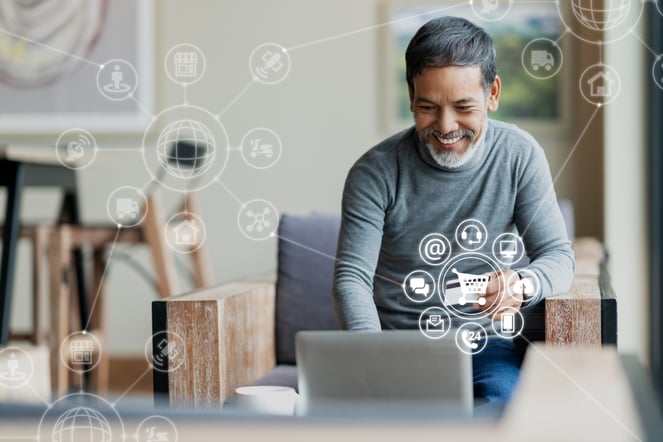 What is First Party Data?
First Party data refers to the information that a business collects directly from its leads and customers. This information is given out through online customer interactions, website visits, app downloads, landing page forms, product views and website queries.
First party data can be collected by a variety of offline channels too including: sales calls, in-person events and coupon redemptions that take place in store.
All of the above sources will provide lead and customer information such as account information, demographics and purchase history.
The data collected via all the above channels needs to be stored, tracked and analyzed digitally and this is where Customer Relationship Management (CRMs) systems and Customer Data Platforms (CDPs) become important. These kinds of online platforms allow marketers to merge data in a single place and then the platform segments this data to create highly personalized marketing campaigns for leads and customers. These marketing campaigns are then targeted to leads and customers through a variety of online channels.
What makes this kind of data so valuable is that it is collected directly from a company's customers and leads. This means that every campaign reaches a high-quality audience that has already shown interest in the business offering - making for greater sales.
So, what makes first party data more valuable than second or third party data? Let's take a look.
The Benefits of First Party Data for Businesses
The below points highlight the benefits of first-party data and why it is vital that your business focuses on building first-party data for lead generation.
Privacy Regulations and Compliance
Operating on first-party data ensures you are in compliance with the global data protection laws. This is because unlike third-party data, first-party data stays with those who collected it themselves, which allows for more transparency and control over what happens to the information.
This protects brands and consumers as consumers have given permission for the company to use their data. When customers and leads provide you with their data they are consenting to have you use their information for personalization and retargeting campaigns, which gives your company full control of the data usage process.
Pricing
Buying third party data is an expensive undertaking and first party data essentially costs nothing. It may require more effort, strategy and time to collect, but it is well worth it because you collect valuable information regarding buyers who are genuinely interested in your business offering.
The spend is significantly different and first party data absolutely saves you money while providing greater opportunity for sales and business growth.
Accuracy
This is where the magic of first party data comes in. This kind of data is obtained directly from your target audience and ensures your marketing team and sales team are in contact with individuals who have shown genuine interest in your business. This means that the data is more relevant to your business and will ultimately lead to business growth.
By obtaining this kind of data, you are able to understand your target audience more than ever before. You will be able to see where each lead is within the buying cycle and identify what products or services they are interested in, which helps you build the most highly targeted marketing and sales campaigns - reaching the right audience, at the right time, with the right message.
Personalization
As first party data is provided by your audience, it automatically becomes more effective and allows for greater personalization when it comes to marketing campaigns.
As the data can be analyzed and segmented, you can lead a prospect through the buying cycle with ease. Once you know what your specific audience wants you can create and distribute personalized remarketing campaigns directly to them including:
Google Ads campaigns based on a users search queries

Ads on Facebook based on geolocation

Display ads based on what website pages the user spent time on
This data also takes campaigning to another level by creating single customer views also known as a unified customer view.
This kind of view allows you to:
Calculate and measure the lifetime value of a customer. This begins by understanding the touch points that led to customer conversion.

Understand a customer's position in the buying cycle. With this data you are able to suggest relevant products to specific customers based on their interests.

Optimize your costs by focusing only on high-quality customers.
All the above benefits have one thing in common - they lead to business growth. If you want your business to soar in 2021, it is vital you focus your lead generation efforts around first-party data collection.
The Wrap Up
By collecting First-party data you are collecting unique and important information about your prospects and customers. This kind of information leads to a greater understanding of customers which in turn allows for greater personalization and accuracy when it comes to marketing campaigns and guiding leads through the buying cycle.
Do you need a regular flow of qualified sales leads and relevant customer data?
If so, we can help. Nexa has been generating highly qualified sales leads for businesses of all types for almost a decade. We have both the experience and track record to help businesses in all industries generate highly-qualified sales leads.
Contact Nexa for all your first party data collection and lead generation needs here.