You may recently have come across the term "Account Based Marketing" (ABM) and wondered what it was. Alternatively, you may already have mastered the dark arts of ABM and wondered why other businesses weren't using it. Finally, you may be in the camp that most were at a recently hosted Nexa event in Dubai, where we discussed ABM to an audience that in the main had never heard of it. Whichever group you fit in, one thing's for sure. If you run or market a B2B focused business, you need to understand what ABM is and how your business can potentially benefit from this approach quickly and without breaking the bank.
Sounds too good to be true? Read on.
What is Account Based Marketing?
If you're familiar with Nexa, you'll know that we have a serious tech-crush on HubSpot, after all we're a Diamond-tiered partner. For close to a decade, we've taken note of many of HubSpot's teachings when it comes to marketing and separating yourself from a crowded competitive set - and it's served us really well to date. Anyway, HubSpot first spoke about Account Based Marketing back in 2017. The article introduced ABM as a concept and how the HubSpot platform could help implement an ABM strategy effectively. While the article demonstrates how ABM could be used in B2B marketing and sales, it wasn't until later that HubSpot created a fuller piece that provided a clearer definition of ABM:
Account-based marketing, or ABM, is a targeted approach to B2B enterprise marketing -- one that involves honing in on key accounts, creating hyper-targeted content and campaigns, and delivering a personalized experience to the companies that matter most.
Here's a quick 3-minute video on Account Based Marketing to help you understand how ABM works: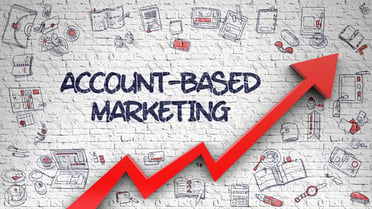 I quite like that definition of ABM. It focuses on 3 key components: focus on key accounts, creation of personalised content and campaigns and delivery of that content to the key accounts identified. With this hyper-targeted approach, in many ways, ABM can be described as a close descendent of old-school (or traditional), outbound sales calls. But when you look closely, despite the similarities, ABM is very different.
I've often referred to ABM as a hybrid approach to Inbound and Outbound marketing - and whether that's 100% accurate or not, there's a justification to this. In my eyes, ABM takes the best parts of traditional outbound sales which include the ability to:
identify specific target audiences or key people
reach these audiences (typically via telephone but also via email as well)
tailor a elevator pitch that attempts to relate to that person
generate an outcome from this activity (face to face meeting or follow up call)
ABM also takes some of the best parts of both the inbound philosophy and marketing automation software tools such as:
the creation and publishing of high-quality, informative and helpful content
the ability to track views, visits and engagement on a personal / company-wide level
the ability to automate further rounds of engagement based on the actions / responses / results of previous communication
the ability to personalise all communication
When you combine the best parts of both the Outbound and Inbound philosophies, you're left with something extremely powerful when executed correctly. The co-founder of Marketo (a competitive product to HubSpot owned by Adobe), Jon Miller described ABM as "marketing with a spear and not a net".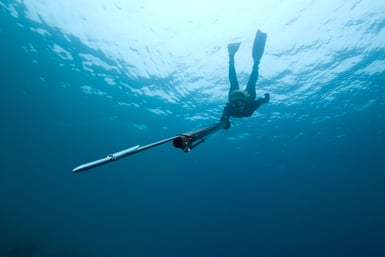 This analogy not only suggests that the ABM approach focuses on very specific audiences, but also suggests that this may be a more cost effective way to market a product or service. Having run a number of ABM campaigns for a diverse range of clients, we've found that not only is ABM a much more cost effective fork of marketing, but it's also faster. Much faster. If we consider the age old adage initially penned by Benjamin Franklin that "time is money", then the savings could be argued to be considerably more.
How does Account Based Marketing work?
For Account Based Marketing to be successful, it must be executed well and with considerable thought.
Are your content assets in place and ready to deploy?
Before you begin, you need to consider the type of content that would relate well to your target audience. Easy to digest content such as videos (animated explainer videos and case studies) and infographics work well. These need to be either hosted or attach-able (hosted will allow you to track views) and then crafted into your ABM strategy. By using the word 'crafted', I intentionally mean that however you choose to communicate with your target audience, it's critical to ensure that your content pieces are seamlessly integrated and in context. Purchasers aren't stupid and will easily notice if you try to unnaturally force content upon them.
Identify your target (key) accounts
If you've created the correct type of content, the next step will be target the key accounts that you want to do business with. Traditionally, outbound marketers and sales teams may identify the key stakeholder or decision maker within an organisation and focus all efforts on reaching and engaging that person. If this failed, they'd move onto the next key account and so on. With ABM, once you identify a key account, your sales team should help you identify a list of stakeholders or internal influencers that could impact the decision making process. This isn't as easy as it seems, as there may be a number of influencers hiding behind the scenes and who are never present at meetings. These could be Procurement Officers for example. Either way, if you or your sales team believe that there are specific influencers within an organisation, it makes sense to include them for targeting.
Find the stakeholders
Once you know who you're looking to target within an organisation, you need to identify how you can reach them and set up measuring mechanisms to see how they engage with your communication, messaging and content.
As obvious as it sounds, ensuring that your content and communication tactics reach the desired audience is absolutely essential if your ABM campaign is to be a success. You'd be surprised as to how many clients will spend a fortune on creating world-class content and then have no budget for content distribution.
When searching for your audience, sources like LinkedIn, Facebook and Instagram might be a good place to start. Also consider other sources such as a corporate blog and data providers (we can help here) who can provide you with specific contact data for individuals. Be aware of data protection legislation (such as GDPR) throughout this approach.
Once you have your distribution channels ready, double check the following:
Is your messaging correct and on point to each specific audience member?
Is your content relatable?
Is your content shareable?
Do you have tracking mechanisms in place for each touchpoint?
Do you have automated triggers in place dependent on the responses of each audience member?
Do you have a follow up procedure in place? Automated or manual?
Have you made it easy for the audience to get in touch with you?
It's hugely important that the above checks have been made as these will drastically impact success.
Any pitfalls to ABM to be aware of?
As with anything that sounds almost too good to be true, there are some pitfalls that you need to avoid. The first of these is to make sure that your audience will understand your message and be able to relate to it properly. If they're confused, there's a good chance that they'll not look at you or your company positively, which may also hinder or impact future sales possibilities.
Second, make sure your follow-ups are clear and concise. Don't make it complicated for prospects to get in touch with you and if they ask for more information, make sure you have content ready that can be shared immediately. Don't try and force a meeting if that's not what the prospect has asked as again, this may impact your reputation negatively.
Where does ABM work?
I've got a clear opinion on this and much of this is down to us having the ability to measure and analyse a number of ABM campaigns that have been run by my team at Nexa.
Based on this, and if you're considering whether to try ABM for your business, here's my checklist for where this approach really works:
ABM works well if:
You target companies with niche audiences / decision makers or those in niche industries
You target companies where the buyers or decision makers aren't typically on social media platforms
You target companies where buyers aren't searching for your business, product or service on Google
Your target companies who's buyers don't know that your product or service even exists
Your business has long lead generation / sales cycles
You business wants to fast-track lead generation and sales growth
Your business is seeking sales and marketing efficiencies
Your business has a limited marketing budget but a high ticket value product / service
Your target customers in small markets such as the UAE (Dubai or Abu Dhabi) or specific cities.
How much does Account Based Marketing cost?
As previously mentioned, ABM is extremely cost effective when compared to wider marketing campaigns. The main reason for this is that much of your budget will be spent on content creation instead of media buying, which is typically the case for other types of marketing. If you're new to ABM and want to know how much it would cost, here's an example of what your budget should look like if you were looking to target 500 key stakeholders or influencers within 100 key target accounts:
Content Creation:

Brochure, Animated Video, Case Study, 5 Emails = $10,000

Content Distribution / Data Sourcing:

LinkedIn InMail Campaign + Automated Emails to 500 contacts: $3,500
Sourcing of additional 2nd party data - Nexa has direct access to over 500 million professional records across the world!!

Tracking and Automation Software for 2 months:
Total Cost: $15,000
Expected return: 5 Key accounts based on a nominal 5% return
If the average sale is worth just $50,000, your return on investment from $15,000 will be $250,000
How long does ABM take to run?
A typical ABM project will normally last for just 2 months. The first month would typically be used the create the content required for the campaign with the last month spent on content distribution and follow-ups.
We'd also suggest running your first ABM campaign to a smaller test audience in order for you to analyse results and then optimise the campaign before targeting higher volumes of audiences.
Getting started with ABM
As with anything, it's always easier when you know how. At Nexa, we've been running ABM campaigns for clients for quite a while. While the majority of campaigns have been highly successful, there have been a few where our analysis identified areas of improvement and optimisation. By working with Nexa, you'll be able to take advantage of our experience and expertise when it comes to Account Based Marketing and how it can impact your business' growth journey.
To get started, simply fill out the form on this page and our team will be in touch.