Digital marketing for the hospitality and hotel industry has never been easy, and now with the COVID-19 pandemic having affected every sector across the globe, the hotel industry has become one of the hardest hit, making the role of hotel digital marketing more crucial and challenging than ever before.
As lockdowns are slowly being lifted the world over, hotel bookings are beginning to pick up, and despite the COVID concerns, people are keen to venture out after being stuck inside for months - as long as their travels are managed responsibly and have the correct preventative measures in place.
In fact, a survey conducted by Revinate found that 73% of global respondents are planning to travel in the coming year, with 70% wanting to begin with domestic travel first.
This is good news for hotels and the hospitality industry as a whole, and lodging operators can now begin to plan and increase their occupancy rates. However, strong hotel digital marketing tactics are required in order to provide travelers with peace of mind, and encourage them to trust in your hotel services during this trying time.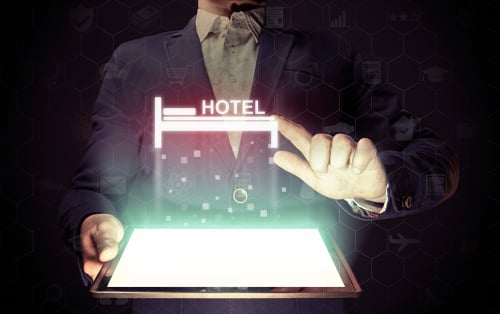 Essentially, a hotel's success during the COVID-19 recovery phase depends on the ability to stay visible and relevant as the situation shifts - and all of this can be done through smart marketing tactics and a transparent and insightful digital presence.
With over 15 years of hotel digital marketing experience with hotels across the world, Nexa feels that it is the right time to share some of the tools and tactics that have been successful for our clients during this time.
1. Target Domestic Travelers
There are still a few restrictions in place when it comes to international travel, and these restrictions can shift and change at any moment, therefore the pool of travel consumers has become significantly smaller. With this in a mind, a hotel's success during the recovery phase will depend on its ability to attract the domestic market.
As travelers seek to escape the pressures associated with the pandemic, they will search for a hotel that makes them feel safe so that they can sit back and relax in new surroundings - but how do you reach these specific and highly targeted travelers and prospective clients?
The answer is social media advertising.
2. Paid Social Media Marketing
In January 2019 Mark Zuckerberg made it known that Facebook users will see less business content in their newsfeeds, and will see more content from their friends and families - and this has continued into 2020, and should continue into 2021. This has significant impact on your hotel marketing strategy. Because of this tactic, hotels need to rethink their social media posting strategies on platforms such as Instagram and Facebook as they can no longer simply rely on organic posts.
Paid social media posts are ideal at this complicated time as they can be strategically implemented to reach a specific audience based on location, demographics, behaviours and more.
When it comes to hotel digital marketing, paid advertising on social media is completely different to organic posting because it requires a lot of in-depth targeting, strategy, tracking and data collection. When it comes to creating a paid ad campaign on social media, an advertising agency will need to conceptualize and create your campaigns, define your target audience, test a variety of ad options, set up conversion tracking and scale campaigns out.
To support your hotel digital marketing strategy, it is vital that hotel marketers create higher quality content that puts the travelers mind at ease, coupled with content that can be sponsored for greater commercial impact and demonstrative return on investment.
3. Budget Allocation
Of course, the marketing budget for hotels is an ever changing beast and over the last decade most hotels have made massive shifts in their budget, as offline marketing channels such as print and radio have faded, with online marketing channels becoming more popular, cost-effective and measurable than their traditional counterparts.
As the hotel industry was forced to deal with great loss in 2020, the marketing budget for hotels is obviously going to play an even more important role going forward - with hotels needing to track and measure the return on their marketing campaigns in greater detail than ever before.
With this in mind, it is vital that marketers unpack all of the hotel digital marketing options available in order to discover which options will work best for the hotel moving forward.
The major hotel digital marketing options available today are:
Social Media Marketing: Facebook, Instagram, Snapchat, Twitter, LinkedIn
Email Marketing: Own and 3rd party databases.
Search Engine Marketing: Google Adwords or Display networks
Publisher Networks: Direct advertising campaigns on specific websites
Programmatic Networks: Using user-intent and contextual marketing targeting travellers
Review websites: Sponsored content and advertising banners on platforms such as TripAdvisor
The challenge for most hotel digital marketers is budget dilution across the available digital channels, which is a huge problem for hotels that do not have a limitless budget. Budget dilution can manifest when a marketer attempts to use small amounts across a large number of channels rather than higher, more impactful budgets across carefully chosen and strategically thought-out channels.
Going into 2021, hotels will have less budget and more digital marketing channels available, therefore marketers need to be disciplined and strategic when it comes to allocating budgets for 2021. This is why we suggest that hotels begin building their own marketing assets that include customer email databases, and online lifestyle or thought leadership blogs that have the ability to generate a large following.
Once you begin to develop hotel marketing strategies that are more of an asset as opposed to a "spend" - you will begin to see a great return on investment and will soon be able to invest in even more marketing channels moving forward.
4. Email Marketing
Email marketing is an incredibly powerful hotel digital marketing tool when used correctly, even though many consider the tactic quite quaint compared to the advanced online systems we engage with these days. However, email marketing has become more relevant in the wake of COVID-19, with email users reaching an incredible 2.9 billion - a third of the world's population. In fact, statistics released at Inbound, HubSpot's annual marketing conference held in September 2020, reveal just how important email marketing has been since COVID-19. For more insight, take a look at the statistics and figures revealed at the conference, here.
Email Marketing as a part of your hotel digital marketing strategy
The statistics speak for themselves, however in order to achieve success through email marketing, your efforts will require strategy, personalisation and automation to receive the best possible results. You see, for many years email has been over-used and significantly abused by marketers who have used the medium to spam mass markets, and a consequence of this is that email open rates began to decline, but this does not mean that email can't be used effectively by hotel marketers. After all, a third of the world's population rely on emails as a way of communicating. Therefore, if your marketing email is professionally written, designed and distributed with highly relevant and strategic content, personalised to each individual recipient, you will have a greater chance of email marketing success.
To give this some perspective, email recipients only want to receive emails that are relevant to them and their specific needs, and they expect businesses to understand the difference between content that is genuine and has meaning as opposed to content that is irrelevant, overly generalised and "spammy." Hotels need to take all of this into consideration and understand the needs of their customers, and be able to categorise this and segment data so that it is usable for marketing purposes.
For example, Nexa worked with a well-known 5-star hotel brand in Dubai to assist them with their hotel digital marketing strategy by making better sense of their data and by doing so, gave them a much greater understanding of their guests' needs. This kind of strategy and service involved the implementation of Customer Relationship Management software and tracking systems that linked all digital touch-points for guests. The immediate impact of this was streamlined online marketing effort, increased volumes of customer data collected and the ability to draw a straight line between marketing activity and direct revenue generated from this activity.
5. Hotel Direct Bookings v Online Travel Agencies
Most of the hotels we speak to want to decrease their reliance on online travel agencies or OTA's and increase their direct bookings and hotel digital marketing is the obvious route to achieving this. This makes sense as direct bookings ultimately mean more revenue for hotels, and 2020 made this an even more dire need than before. The challenge for most hotels is that they do not have the budgets, resources or online marketing expertise that OTAs have at their disposal, which is why these agencies continue to grow revenues at the expense of hotels that have to pay commission to ensure their rooms are occupied.
Now, as the hotel industry recovers from the knock it took in 2020, is there even a solution? Well, it is actually not too difficult to accomplish this in a cost-effective way.
Below is an example of marketing workflow that the OTAs use to get users to make a booking: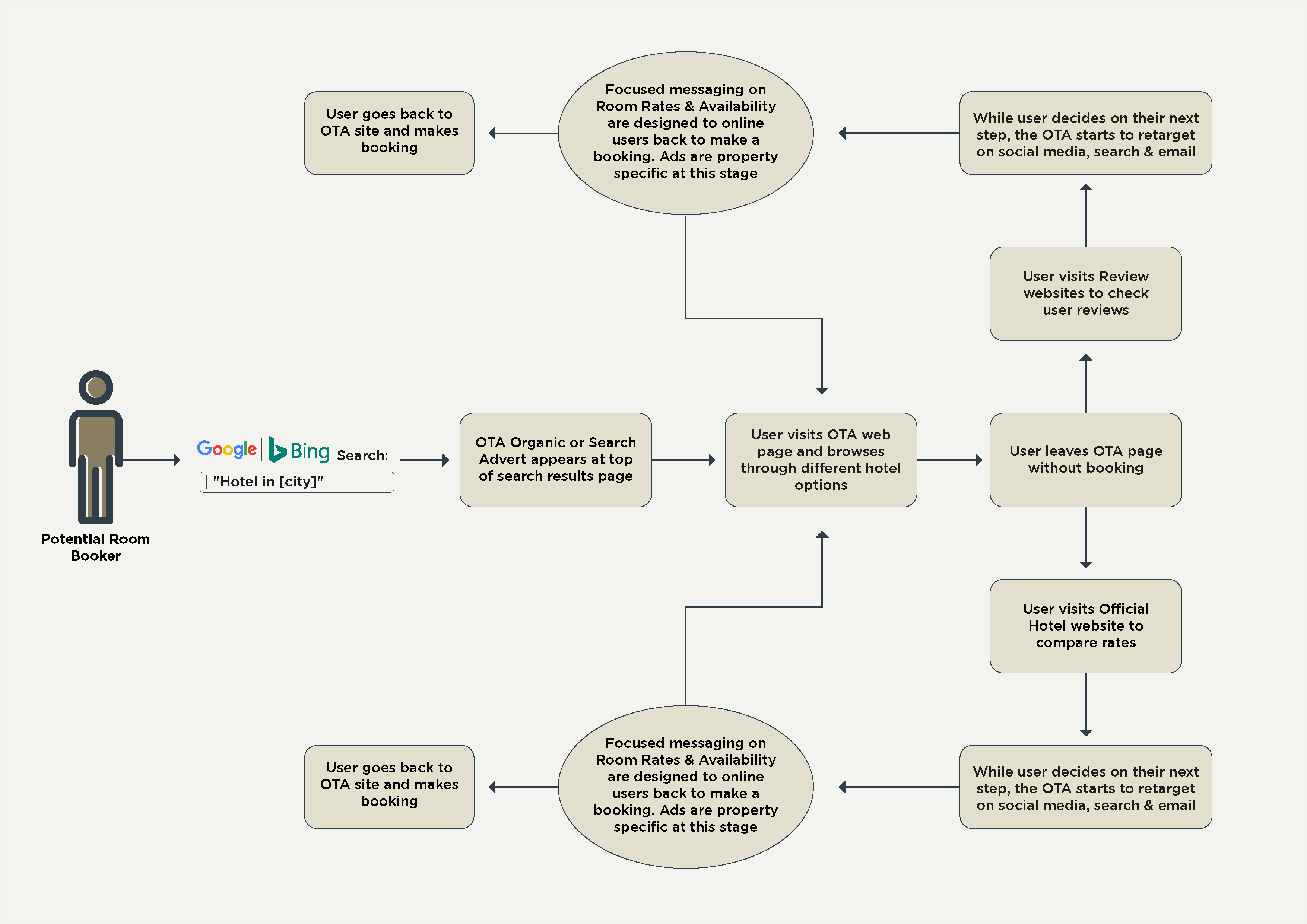 The above is simplistic in its approach and a large percentage of bookings taken by OTAs will actually follow this approach but the above helps us understand and identify potential hotel digital marketing opportunities to disrupt the OTA booking process. Yes, it can be difficult for hotels to play a role in the booking process unless they know if a person is looking to make a booking. With that in mind, we have highlighted two areas where hotels have the ability to influence the booking process: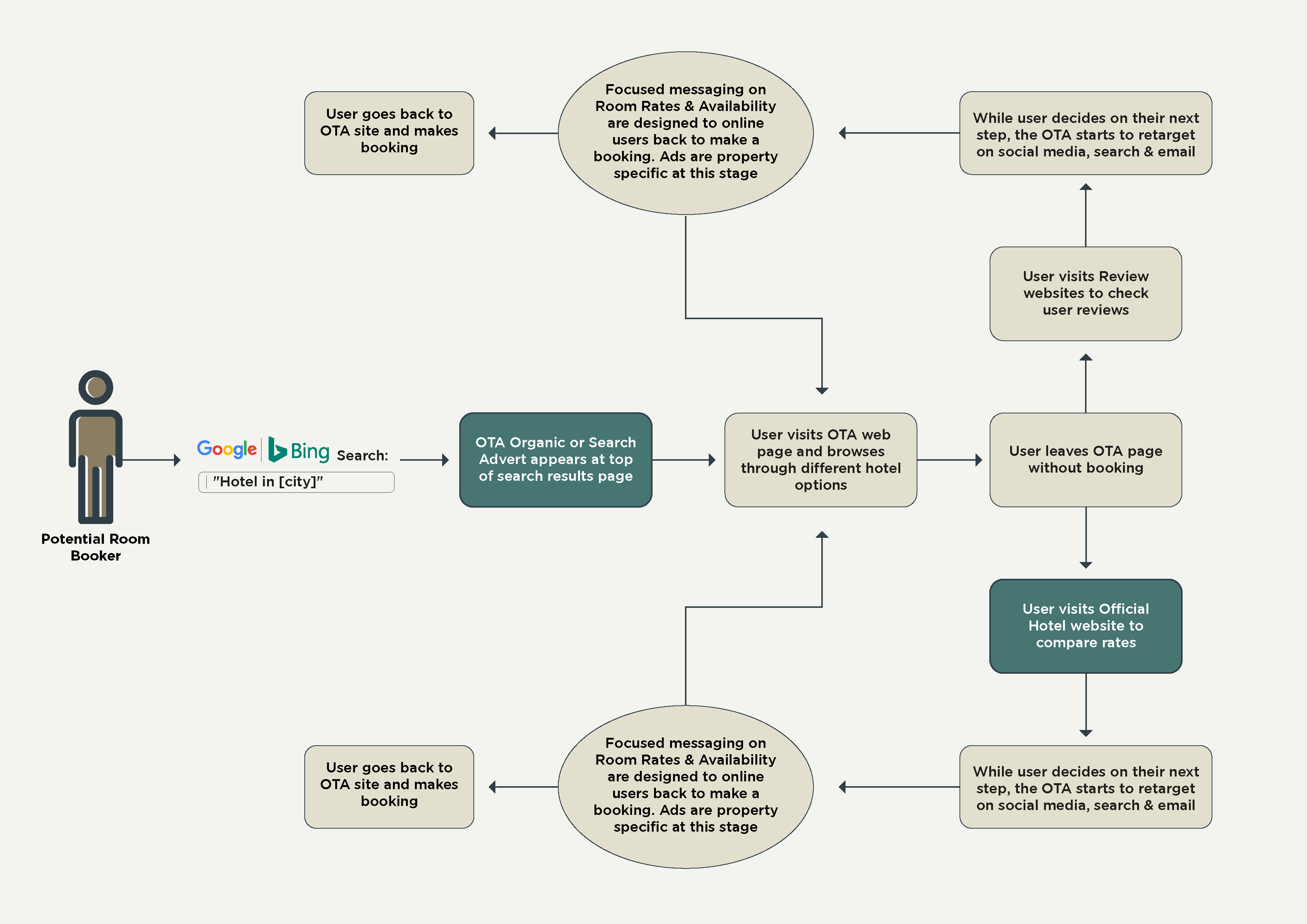 Now, if a hotel manager is able to get a potential guest to the hotel website during any of the two stages mentioned above, the hotel can begin to deploy its very own user journey or booking workflow that can be similar to the below example: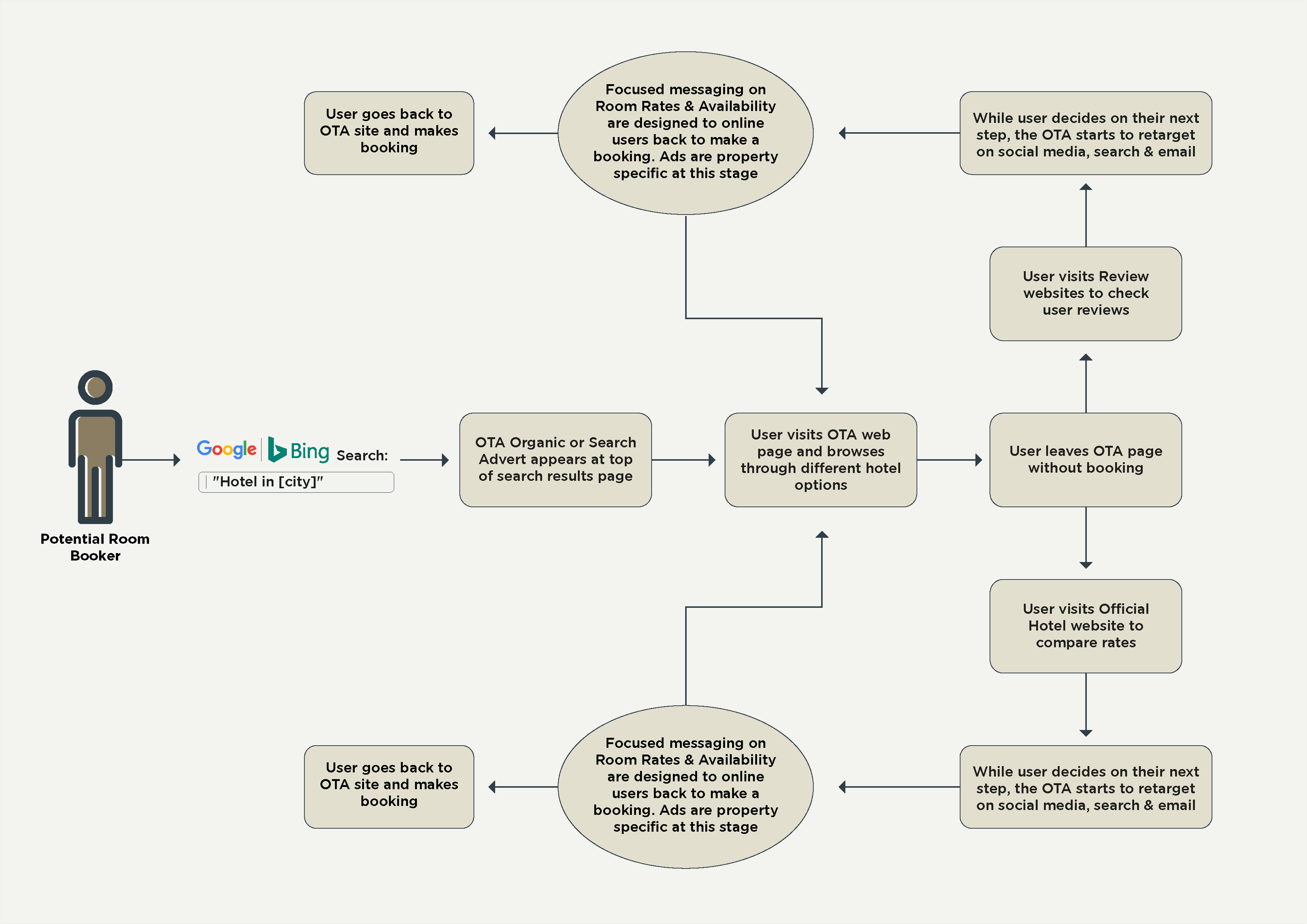 The above image shows how a guest's search and booking intent ties in with hotel digital marketing opportunities that include: email, social media, and search. But there is still one major advantage that OTAs have over hotels. The way that OTAs are able to track the behaviour of those in their database takes advantage of the latest technology and provides real insight into how the average traveler searches for and finds hotels.
But, how is this possible?
If a user exists on the OTAs database, it is likely that every action that the user takes (including website visits, email (open rate and click-through rate), and searches (locations and dates) are monitored and tracked with a sophisticated Customer Relationship Management (CRM) tool. The user data is then analysed and this information offers greater insight into the users behavior, ensuring timely messages to each guest can be communicated at the right time - to drive revenue.
And this system is the advantage that OTAs have over most hotels. You see, hotels generally don't have databases of this size and magnitude, let alone the tracking capabilities to automate this type of mass, yet-personalised, communication.
So, how can hotel digital marketing help hotels to not just keep up with OTAs but beat them at their own game in 2021?
There are two proven ways you can keep up with OTAs without breaking the bank in 2021:
License a marketing automation platform that will allow your hotel to begin tracking and behaving like an OTA when targeting guest bookings, such as HubSpot.

Invest in data collection opportunities.
6. Content, content and more content
When it comes to hotel digital marketing, one thing is for sure and that is that today's traveler needs information - especially when it comes to deciding to take some time away from the safety of home. And this is why content is king. That saying may seem overused and overdone, but it has its place and should never be ignored. But what is content and why do hotels need it?
Today, we refer to content as website text, images, blogs, videos, social media posts, and more, but content needs to be clearly classified and understood in order for hotels and other businesses to use it to their advantage.
Social media, blogging and website pages allow hotels to share up to the minute information with their followers and this is vital during a pandemic as every day brings about new change and new protocols. One of the most important things travelers will look for in the new year is "information" and blogging and social media content offers the ideal way to keep customers informed of the travel climate. Because of this, you have the ability to post information on your social platforms and blogs whenever you choose, giving your marketing team the ability to share authentic information and by doing so, create stronger relationships with potential and current guests.
As an example, let's take a look at the hotel room booking process. When you or a potential guest visits a hotel website, the following options are usually made available:
Book now / check availability
Watch a video / view an image gallery
Browse other pages of the website (leisure/rooms/about us)
Subscribe to a newsletter
The majority of hotel websites do not offer a visitor any more than the above. So aside from making a booking, what value does a hotel website offer to guests (assuming that the guest has no interest in subscribing to a newsletter?
The answer is none. For website visitors, this is a genuine 'take it or leave it' offer and this is a significant marketing and sales miss.
Going into 2021, every hotel should aim to build relationships with every website visitor because as we know, most visitors will not make a booking the first time they visit a website. Today's guest has more options and has the time to do research on a variety of hotel options, so guests will almost exclusively search for more information before making a real commitment. So, how can hotel digital marketing bridge this gap in 2021?
Create content that offers value!
Hotels need to take the initiative to move away from the "take it or leave it" offering that is usually in place on the website. For example: if a potential guest visits your website for the first time, and does not make a booking as of yet, you can offer the guest something of value instead. For example: a Tourist Guide that can help them plan their getaway. Many travelers would appreciate a guide like this and download it - especially for free - and more importantly, they would be happy to get this guide in exchange for their email address.
Once you have their email address - many opportunities open up for your marketing and sales departments. For example: personalised email communication can now be put in place, which will help strengthen the relationship between your hotel and a possible guest. In addition, the email address can be used to market directly to the guest using platforms such as Social Media and Gmail via list marketing opportunities.
This can become even more strategic and successful when combined with marketing automation tools such as HubSpot, which can be used to unlock revenue opportunities that would otherwise go unnoticed.
7. Online Lead Nurturing is Key
If we are all honest with ourselves, we can admit that we have experienced some sort of marketing nurturing or brand nurturing online. That is, we have all received automated follow up emails, retargeted messaging (those banners you see on Facebook) or any other branded response to an initial action by a user such as a website visit.
You see, in today's digital climate, marketers can use technology to manipulate actions and decisions using what is known as nurturing workflows. Most e-commerce websites deploy these tactics - but not many hotels do the same, and neither do OTAs - and hotels should take advantage of this gap in the market.
How does this work?
Nurturing is an essential part of the modern hotel digital marketing strategy, so it is important that we define what nurturing actually means to a hotel and a potential guest. In our minds, nurturing is the process that gives hotels the opportunity to maintain contact and communication with a potential guest during the stages from initial search to final booking. Above we have already gone through the numerous stages of the booking process, but how does a hotel influence a decision during this time? The reality is that most hotels don't do much and this is why it is important to create a strategy that tackles nurturing effectively - this is something your competitors won't be doing, so it is the perfect opportunity to get ahead of the competition!
There are a variety of tools you can use for nurturing, examples include:
A Website that includes a Loyalty Program: This can be a program that users sign up for and it informs them about additional promotions and offers. This also gives your hotel the opportunity to collect more lead data.

Social Media Retargeting Campaigns: This kind of strategy allows you to remind your website visitors about your hotel and will keep you front of mind at all times.

Extensive Email Marketing Automation Campaigns: Personalised email campaigns can be sent out to your website visitors once they have submitted their information. These emails can be used to continue a conversation, nurture a relationship and in turn, lead to a booking.
The above is not difficult to implement however it does require investment in technology. But what makes this strategy so effective is that the return on investment is clearly trackable and creates assets in the form of customer data and insights on booking behaviours.
8. Data, data and more data!
They say Content is King but data is just as important, as reflected in most of the points above. We live in the age of instant information and as a consequence, we have access to more data than ever before. Therefore, it is becoming increasingly important that hotel owners recognise this and market their hotels to the data driven generation.
The problem is that many hotels are still stuck in their ways, but the digital age has moved on from this. This is why we have continually stressed the importance of data collection and tracking, and this is why it deserves a point all on its own.
As most hotels have stuck to traditional marketing or even primitive or outdated hotel digital marketing tactics, it is likely that many of the hotels within your competitive set are still using these tactics, which presents a better opportunity at a lower cost for you and your hotel - by investing in data collection technology such as HubSpot, you will quickly gain a distinct advantage over your competitors.
9. Personalised Communication with Guests
As technology advances, the line between the offline and online world is blurring more and more and hoteliers need to recognise this change. Guests today spend an large amount of time online, and hotels need to hone into the art of hospitality in terms of how to greet guests and make them feel comfortable and special - online as well as offline.
If a hotel wants to be successful, they need to have real digital ambitions and goals because guests nowadays have a higher expectation when it comes to interacting with brands. The days of sending generic emails are over, and guests need to be addressed personally if you want to grab their attention. It is also important that you send guests information or content that is relevant to them and this is not just limited to email communication. This means that a degree of personalisation needs to be considered in every single customer touch point.
In order for hotels to do this properly, they need to have a real understanding of all interaction points and map these points with rich customer data. The problem is that many hotels don't collect data about their customers and this restricts their communication. Now, if a hotel invests in a CRM system that allows data inputs from spas, restaurants and reservations where specific guest information can be collected - this presents many communication and marketing opportunities. By using this kind of technology you are able to understand each guest, what it is they enjoy, and you will be able to engage with them on a more personal level than ever before.
10. The Influencer Debate
An infamous drama unfolded between the White Moose Hotel in Dublin after the owner received a request by an Instagram influencer. The influencer in question requested to stay at the hotel for free, in exchange for influencer marketing. The hotelier did not take kindly to this offer, and posted the influencers request to his hotels Facebook page, lambasting the influencer. Obviously this created quite the controversy, and people had strong opinions about this. Both the influencer and the hotel received a lot of hate. People were either for influencer marketing - or strongly against it.
You see, depending who you speak to, there is either a fast rise or fast decline of influencer marketing and this clearly presents a challenge for hotels when trying to determine whether or not influencer marketing can increase a hotels brand and lead to more sales and revenue. Every
Every algorithm-update by social media companies such as Facebook brings out new theories in terms of how influencer content will be impacted and it's therefore difficult to predict future influencer marketing trends especially when many influencers have built their entire following on a platform that they don't control the destiny to. Take James Charles for example, the YouTube and Instagram beauty influencer recently posted an angry Instagram story about how his Instagram engagement has plummeted over the last few months due to an algorithm change.
This kind of algorithm change happens frequently and it is difficult to predict whether or not an influencer campaign will be successful in the long-term.
Influencer Marketing as a part of your hotel digital marketing strategy
Here's what we already know. Influencer marketing can positively impact a brand if the objectives of the business are fully aligned with the execution, storytelling and distribution or reach provided by the influencer and should therefore be considered for use within your hotel digital marketing strategy. Many brands and influencers talk about the need for content to be genuine, but it can be argued that this is contradictory especially if the content is created on the back of an incentive, whether financial or otherwise.
Many of the hotels that we work with are consistently flooded with influencer proposals, and while the number of requests are increasing, the phenomenon is not new. Most hotels have a budget or allocation for complimentary rooms when it comes to higher-profile guests and many marketing and PR managers within hotels have defined Key Performance Indicators (KPIs) set within their performance criteria and these are linked to the additional exposure that influencers bring for their hotel.
So, clearly influencers have a role to play in raising awareness for hotel brands and other amenities associated with the hotel including the hotel's restaurant and spa offerings, as well as specific rooms.
If you feel that your hotel will work well alongside an influencer, it is important you take the following steps:
Identify the right type of influencer for your brand, an influencer whose online following and profile are perfectly aligned to your target audience.

Discuss with the influencer what type of content you want to be created, and how the audience will engage with this content.
Agree on a clear set of deliverables as well as reporting framework for the activities of your influencer aligned campaign.

Determine performance metrics that are linked to revenue, wherever possible.
11. Contextual Marketing
Over the last 4 years there has been a significant rise in Programmatic Advertising channels, and this tactic has provided hotels with new customer targeting opportunities. Many of the worlds biggest hotels and hotel groups use this tactic and receive great results, but there are many hotels who have yet to explore the benefit of this.
As we head into 2021, contextual marketing will rise as hotels need to reach individuals who are actively seeking their services - more so than before as travel has been largely affected by the pandemic of 2020 and if hotels are able to reach a niche or smaller audience who are actively seeking their services, they need to do whatever it takes to do so.
What is Contextual Programmatic Advertising?
Contextual advertising, as the name suggests, is about "context" and this kind of marketing looks at what the user is viewing on web pages (such as keywords, topics, and other content) and matches advertising that is related to that content. By using what is known as programmatic purchasing, this can be done in real-time and on-demand by tapping into large advertising networks that have massive advertising banner inventories across the world. In addition to the on-page contextual opportunities that are available, programmatic advertising has the ability to tap into various data sources, and uses browsing history to match adverts with even more precision.
Other data sources can even include information about the weather, location data, wealth, income, and a vast array of user interests that are available. An example of how this can work as a part of your hotel digital marketing strategy would be if your (non UK) hotel is looking to entice guests from the UK, showing adverts when the weather is cold and wet in the UK to frequent travelers who have the type of income or wealth levels to afford such a holiday and who live within 1 hour of an international airport could be a sensible target audience to attract for a long weekend away.
In Summary
2021 promises to be a challenging yet interesting year for hotel and hospitality marketers. But for the digital savvy among us, and with a variety of new opportunities and technologies available, the process of implementing a strong hotel digital marketing campaign and targeting the right audience is made that much easier through strategy, data and planning.
As we head into the new normal, it is important for hotels to adapt to the current climate, stand up once more, innovate through technology and change the game by taking on the OTAs.
Here's our approach to how Hotel Digital Marketing can beat the OTAs:
Nexa, digital marketing and the hotel and hospitality industry
A hotel digital marketing agency since 2005, Nexa has worked with independent hotels and large groups providing an extensive range of digital marketing products, services and expertise.
Our work includes website creation, management and optimisation, email and social media solutions, performance management, campaigns management and overall digital marketing strategy creation and implementation. Nexa hotel and hospitality clients include Hilton Worldwide, Oberoi Hotels & Resorts, Viceroy Hotels & Resorts, One & Only Hotels and Resorts, Jumeirah Group, Premier Inn and Wyndham.
For more information on how we can help your hotel achieve more with hotel digital marketing opportunities and grow direct revenue, please complete the form on this page.