Every medical equipment company, whether a small medical device company or a large firm, needs a B2B marketing strategy to gain leads and convert them into customers. A B2B medical equipment strategy should consist of recognising who the target market is, targeting key accounts, thought leadership content, email marketing for lead nurturing and customer retention, social media marketing and of course, Search Engine Optimisation.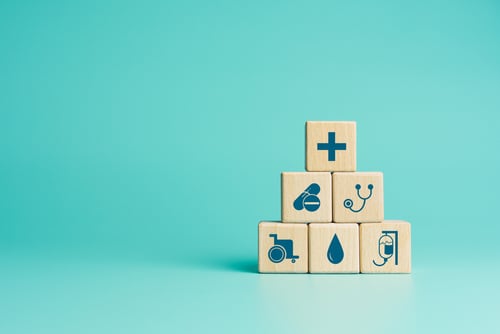 Below, we outline some of the most powerful digital marketing tactics for your medical equipment company so that you can drive website traffic, gain leads and turn those leads into customers.
B2B Medical Equipment Marketing Tips
Develop Precise Buyer Personas
Before you begin reaching out to your key accounts and target audience, you need to understand your target audience, their needs and what kind of messaging they require from your brand. In order to do this, your marketing team needs to create in-depth buyer personas. That is: an outline of your ideal customer - where they are online, what they like, their needs, location, job titles, and interests.) Your buyer personas (there will be more than one kind of target audience) will have different objectives and unique requirements.
This is why it is important to specify each of your buyer personas and this will allow you to develop the right kind of content and marketing campaigns for each persona.
Understand the Buyer Journey
Once you have created your buyer personas, you need to understand how you can drive each lead to your website, and convert them into paying customers. In order to understand the process, you should speak with current customers or potential consumers who fit your buyer persona and ask them what objectives, obligations and obstacles they had before purchasing your product. There are also powerful Customer Relationship Management tools that are able to create the buyer journey for you by analysing your leads and the way they interact with your business. One of the most effective Customer Relationship Management platforms available today is HubSpot. According to the experts at HubSpot there are three primary phases that you need to understand when it comes to the buyer journey and those are:
The Awareness Phase
The Consideration Phase
The Decision Phase
A CRM will help you identify what stage a lead is in, which will allow you to create a marketing campaign specifically for that lead and the segment they fall under. If you do not have a CRM you are able to understand your leads through web analytics, social media analytics and website reporting. By understanding the journey you are able to tailor all your marketing messages to help drive the consumer through the sales funnel.
Identify your Marketing Goals
Establish what it is you want to achieve with your B2B marketing, that is: when you expect to achieve a Return on Investment, how many leads you would like to gain in a specific amount of time etc. It is important to make sure that your goals are measurable and achievable. Some of the key performance indicators you should look when it comes to your digital marketing include:
The source of your website traffic (did a user find you on social media, in the search results, or through a specific marketing campaign etc.)
The number of inbound leads
Your visitor to lead conversion rate
Your lead to customer conversion rate
There are a number of measuring tools you can use to make this an easier process to analyse with the most powerful being a Customer Relationship Management tool such as HubSpot.
Develop a Content Marketing Strategy
As stated previously there are three phases to the buying journey, and it is important you create content relevant to every stage. Your content needs to answer your prospects questions, provide helpful information, and build trust - this will drive them through the buying cycle. When we refer to content marketing, we are referring to a variety of digital tactics, from social media content, to blog posts, thought leadership articles, newsletters, e-books and email campaigns.
Let's take a look at what kind of content works best for each phase of the buyer journey and how you can apply this to your medical equipment B2B marketing campaign.
Awareness: This is when your buyer is looking for specific information to help them fix a problem. This means that the content designed for this phase is not about blatantly selling a product, it is about providing insight into something the user is looking to solve. Essentially, your content at this phase should establish you as a thought leader in the medical equipment industry - which in turn, builds trust. Some of the best content to use at this stage includes blogs, videos and infographics that can be shared on your website and across your social platforms. LinkedIn is where you would want to focus your efforts when it comes to social media as you are targeted thought leaders and decision makers in the medical industry. Learn more about LinkedIn marketing for lead generation, here.
Consideration: This is when your potential customers have completed their research into how they can solve their specific problem and what solution they require to this problem. At this stage you need to have content that builds trust with your audience and shows them how you are able to provide the solution they require. At this point you can create free e-books or e-guides that show your expertise and at the same time, you are able to gain lead contact details. Your leads will have to fill out a lead form in order to access your free content - with this information you are able to further direct the lead through the buying cycle with email marketing campaigns and retargeting campaigns.
Decision: At this stage your leads are ready to make a decision to purchase from your business. At this phase you are able to get your sales team to contact the lead or you can chat to your leads about your medical equipment and how it will benefit them. At this stage you can provide demo videos, set up meetings and offer spec sheets to advertise your brand and your offering.
Content is king when it comes to medical equipment B2B marketing as you need to develop a trusted relationship with your potential customers in order to direct them through the buying journey and convert them into paying customers.
Account Based Marketing
The sales process for the medical industry is a long process - the medical industry is complex and comes with very high stakes and people have to be incredibly careful when making the choice to invest in medical equipment. However Account Based Marketing does make this process much more efficient. Account Based Marketing, also referred to as ABM, is a B2B marketing strategy that focuses its resources on a set of key accounts within an industry.
This strategy is made up of personalised campaigns that are designed to engage with each individual account, basing the marketing message on the specific needs of the particular account. For businesses in the medical equipment industry (and healthcare industry in general) that target accounts with longer sales cycles and bigger deal sizes, ABM is the perfect marketing solution. Learn more about Account-based-marketing for B2B marketing, here.
Need help devising a medical equipment B2B strategy and creating quality content for your medical business?
Nexa is a growth focused agency with all of the expertise needed for your business to succeed. Contact the Nexa team today!