Businesses around the world are investing in Customer Relationship Management (CRM) solutions as this advanced software offers a streamlined and effective solution to sales, customer service and marketing management.
As Dubai is one of the fastest growing tech hubs in the world, tech savvy business owners in the cosmopolitan city are searching to find the ideal CRM to help improve sales, grow their business, and increase their bottom line in 2021.
Every business, no matter its size or sector, needs a CRM strategy in place (especially after the unprecedented pandemic of 2020 that affected countless businesses across the globe) to help them succeed and thrive as we head into the new year. However, all businesses are different, and SMBs and large enterprises will use CRM platforms in different ways as these businesses have different objectives and projections for their businesses in mind. Therefore, as a business owner or business strategist in Dubai, you need to consider your budget, goals, and team size before you implement and roll out a CRM software for your business.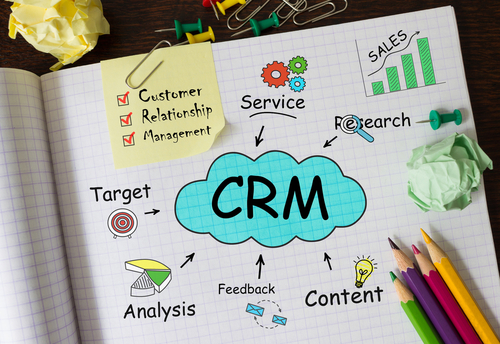 During the decision making process, your team should learn about CRM offerings, formulate a strategy and understand what it is they want to achieve from the platform - whether it be lead generation, lead data collection, in-depth customer information analysis or streamlined communications across your business - or all of the above.
So, before you choose and implement a CRM for your business in Dubai, you need to have a fully rounded understanding of what this kind of software offers, and how it can better your business and improve your bottom line.
What is a CRM and why is it important for your business in Dubai?
A Customer Relationship Management software, or CRM, is designed to help businesses manage relationships and interactions with their customers and potential customers, from an easily accessible and centralised platform. Businesses the world over are using this technology to manage customer touch points, store vital information, create personalised and automated email campaigns, guide customer service, monitor customer buying cycles and predict future sales.
What makes a CRM so powerful is its ability to manage the entire customer journey from marketing and sales to customer service. Because of this streamlined process, customers experience a personalised service, as the business is able to track and analyse their interactions with the business, and understand their preferences and intent. As a CRM provides a centralised platform that stores important customer and lead information, all teams within a business are able to stay on the same page, which reduces human error and customer service misunderstandings.
To sum it up: a CRM platform helps both businesses and customers, but in order to ensure a successful CRM implementation and company wide roll-out, you need to create a strong strategy to work alongside it.
CRM Strategy for Businesses in Dubai
As stated previously, businesses have different objectives and goals, and CRMs are not a one size fits all solution. This is why it is important to work with a CRM professional or have your team create a tailored strategy to fit your business needs.
It is important to note that if your business is of a smaller size, you can invest in CRM solutions that allow you to scale up as your business grows, so you do not need to invest in a CRM designed for 100 users, you can find a CRM that will grow as your business grows.
Steps to creating a successful CRM strategy:
Identify your Business Goals
Ask yourself what it is you want to get out of your CRM software. A CRM provides a variety of solutions and you need to identify which solutions you want to utilise. For example, if you run an e-commerce store, you may want to monitor your visitors, track how they found your website, keep tabs on their activity across your website pages, identify return visitors and create personalised email campaigns that target their personal interests and buyer intent - which will lead to increased sales and customer loyalty.
Know your Target Market
You need to know and understand your target audience and ideal customer - this is why your team should create a complete customer profile. This means you need to identify certain specifics about your target audience including where they are active online. Once you understand their online activities, you are able to tailor your marketing efforts to reach them and direct them to your website, or direct them to take a specific action (be it filling out a lead form, downloading an e-book, or signing up to a newsletter).


Understand the Entire Buyer Journey
A CRM will help you map out the entire customer journey and funnel - but it helps if you have an understanding of how your customer experiences your business before you select a CRM for your company, Ask yourself how many touch points are needed before your lead makes a purchase. Also remember that you can reach your target audience through a variety of digital channels, from social media campaigns to email campaigns - and figure out which one works best for your business. Once you invest in a CRM you will notice your business begin to grow and your touch points will expand, and be different for certain customer segments. You need to find a CRM that can integrate with these different touch points and grow with your customers and different segmentations - so keep that in mind when investigating the CRM for your business.
Establish KPIs and Processes
Introduce your team to the concept of a CRM and explain what the system can do for the business (and how it can make their lives easier through organisational tools.) Also determine the Key Performance Indicators you will be looking for while using the system - and share this with your team. Once they understand why the software is being implemented, and they understand what is being tracked and measured to identify success, they will have a clearer understanding of what is to be expected - and ultimately, use the platform accordingly. It is also important that you delegate teams, and outline who is responsible for certain elements of the system. I.e.: Who will be in charge of programming email campaigns, customer data, chatbots etc. Once your employees understand this, they will feel empowered to better use the system.

Align your Sales and Marketing Teams
When creating your strategy, remember that CRMs are designed to break down department barriers, improve team communication and have the power to connect your departments to ensure customer satisfaction. Because CRMs offer a centralised place for customer data and marketing management, you can build autonomy between departments, ensuring everyone has a complete picture of what is happening within the business and with each customer. Also make sure to include plans for employee training when it comes to implementing your CRM for your business - you want them to be well versed in the tools, processes and analytics that the software provides before rolling it out across your business.
Before selecting and implementing a CRM for your business, it is vital you identify your goals, target market, buyer's journey and KPIs - and inform your teams about how and why you have chosen to use a CRM. With this information, you are able to identify the right CRM for your business, and roll it out successfully across your company. Through a CRM you will be able to discover new marketing and sales opportunities, create streamlined workflows across departments and help your business reach its full potential.
HubSpot CRM for Businesses in Dubai
It is important that you understand how a CRM software works and how it can benefit your business. Once you have an understanding of your strategy, you will be able to identify the correct CRM for your business. It is important that you choose a CRM that is scalable and can grow with your company - and this is why HubSpot is one of the most successful and sought after CRM systems available today.
HubSpot is an inbound marketing and sales software designed to assist businesses in attracting potential clients, converting leads, closing deals and nurturing client relationships.
The marketing world is filled to the brim with a variety of inbound marketing software, all of which promise to help your business acquire and convert leads. However, many of these platforms are outdated or do not offer a full Customer Relationship Management (CRM) service that is scalable, easily customisable and offers a great user experience. HubSpot has been created to provide a full CRM solution that is fully integrated with your marketing and sales platforms, ensuring you receive the best value for money and a return on your investment.
In Conclusion
If you want to streamline processes, save time and money, and help your marketing, sales, and service teams reach their targets and objectives effectively, then HubSpot is the software for you.
Nexa is proud to be a Diamond-tiered HubSpot Partner and this places us in the top 2% of HubSpot Partners globally.
If you are interested in implementing HubSpot for your business, our HubSpot development team has experience integrating HubSpot's CRM with a number of platforms that can increase the efficiency and data access for your business.
Contact Nexa today or fill in the form below and begin your CRM journey.