In March 2020 the world was forever changed as the COVID-19 pandemic spread quickly and without warning across the globe. Hospitals were at the forefront of the global pandemic response, and we were inundated with news articles that used words such as "at capacity" and "ventilator shortages" on repeat.
The preparedness and response of hospitals to the outbreak garnered monumental press, some positive and some exceptionally negative. This media coverage, combined with concern around new hospital procedures and care, has had a significant impact on the patient experience.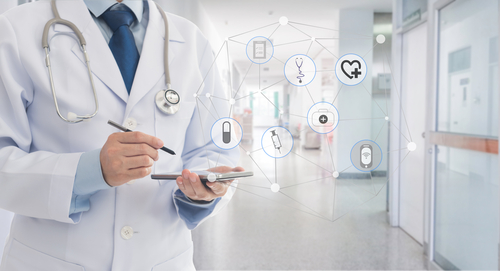 As hospitals were thrust into the spotlight, we have seen a renewed focus on PR, brand management and communication - and all of these efforts have placed strong focus on the patient experience and this has been a theme since 2020 and 2021. And as we head into 2022, this is not going to change anytime soon - COVID-19 is still a part of our lives and hospital marketers have to remember this as they put together their strategies for the new year.
To be blunt, healthcare marketers have plenty of challenges to face and overcome in 2022 however, they have always had to adapt to change, and they will do the same in the coming year.
Here, we take a look at the most promising trends and tactics to use for healthcare marketing in the coming year, and we provide some thoughts on the future of hospital marketing as we head into the new normal.
Communication is Key for Hospitals
The way the public uses hospital facilities has changed dramatically over the last few months and routine visits have become vastly different - and this is why patients need information.
While proactive and authoritative information and communication has always been a part of healthcare marketing, today the focus has had to shift toward safety protocols and practical information. You see, people need facts and they expect information on prevention, testing, symptoms and treatment. It is up to the healthcare marketing team to meet this demand head on, and by doing so they will nurture patient relationships and build trust.
Where do hospital marketers begin?
This may sound like an overwhelming task, but it is actually the perfect opportunity for brand building as marketers are now able to humanize their communication strategies. A study conducted in the US by Forrester stated that 52% of online adults prefer to purchase from businesses that explain how they are protecting their clients from the thread of the virus - and this needs to be applied to hospital and health care environments too (if not, more so).
So, it is vital that every piece of marketing communication, from social media and blog posts, to print media, resonate with a sense of compassion, trustworthiness and usefulness.
Marketers need to make sure they source verified and factual information from experts within their healthcare organisation and must make this informative content available to their patient communities through various marketing and communication channels - from email campaigns to social media updates and blog posts.
Patients are the Priority
During the pandemic, have you visited a private healthcare facility? It is not as easy as it used to be, now you have to make an appointment well in advance, go through various check in points and procedures before you can even walk into your doctor or health care professional's rooms.
Hospitals need to realise that it is not the job of the patient to figure this all out but rather it is up to the hospital itself to audit every touch point across the patients journey in order to enhance the interaction so that the patient feels secure and confident in their level of safety.
Where do marketers begin?
Mobile Apps: Marketers need to try and optimise the entire patient experience. There are a variety of mobile and online apps such as MyChart that provide excellent user experiences that can help patients and healthcare workers alike.

Website Content: Update your website content as well as your site navigation to make COVID-19 information available and impossible to miss. A dedicated COVID-19 related page should be added to the website that includes Frequently Asked Questions, informative links and Call to Actions that make booking an appointment or scheduling a procedure as easy as possible.

Automated Communication Systems: Take another look at your communication systems, including your phone system, call routing and email communication. Make sure that all your automation systems include information related to COVID-19 and safety procedures. This ensures that your patients receive the information they require without having to have a live phone interaction.

Business Listing Updates: Something many marketers may forget about is their business listings. Most people use Google Maps or the likes to search for healthcare providers in their vicinity especially when it comes to urgent care. Make sure that your Business Listings are updated so that your potential patients are able to find you as soon as possible. Also make sure to include health and safety information so that your patients know what to expect.
Brand Management and Brand Reputation for Hospitals
One thing all healthcare marketers need to focus on is people before profit - especially during a pandemic. According to research from Edelman, 71% of people lose trust in a business or brand if they feel like this is what is happening (and rightfully so). Remember that what your brand says and does during this time has more visibility than before - and this is especially true when it comes to the healthcare industry at the moment.
The same study by Edelman stated that 85% of people will use brands that put in the effort to educate consumers, and this is a great opportunity for hospitals as consumers believe medical doctors to be the most credible source at this time - so take advantage of this and use your doctors insights to help patients and keep them informed.
What do hospital marketers need to implement without delay?
Be Transparent:

Do not omit details in any way. For example: if your hospital or practice has had to cut down on staff or operations, make your audience aware of these changes. This kind of transparency also increases workflow and makes the check-in process for patients that much easier - the more transparent the better.
Be an Authority:

As a medical facility, patients will look to you for credible and trusted information about their health in general, and about their health during the pandemic. Make sure to distribute physician sourced information on your communication and marketing channels. This kind of commitment to content creation will establish your hospital as an expert in the field. Think about it like this: if you are constantly updating your website with helpful information, your page will rise up the Google ranks and potential patients will come across your information before they come across any other data. This is done through Search Engine Optimisation and content creation tactics that are vital at this time.
Reputation Management:

Make sure you have a strong review program in place. That is: your patients are able to leave reviews about their experience in your hospital - this is a great form of digital reputation management and is also an opportunity to learn about what your patients expect from your hospital - helping you improve your services and patient experience.
Speak to your Community:

As we have continually stated, people are turning to medical professionals for credible and authoritative information. This is why your social media platforms need to be moderated and used correctly and professionally. Through your social platforms you have a chance to answer questions in real time, build brand awareness and push engagement.
High quality, trust building content is vital for hospitals
Content marketing and Search Engine Optimisation (SEO) are vital for digital marketing in the medical industry today. As stated previously, patients want information, and helpful information at that.
In order to find the data they are looking for, patients will turn to search engines and this is why your Search Engine Optimisation and content creation tactics need to be in place for 2022. Organic search has not stopped in the wake of the pandemic and it is a mistake to disregard this tactic as you head into the new year.
Content Marketing for Hospitals - how to get started:
Budget: Make sure to use your budget wisely and keep room for quality content creation and SEO tactics. This is an investment and asset as opposed to a spend. Getting your hospital website to rank higher than your competitors ensures you receive more patients or more queries than they will. Also remember that SEO is a long term strategy and will serve your well in the future.

Local SEO: As people are still scared to venture out of their comfort zone, and this doesn't seem to be changing anytime soon, it is important that you place emphasis on your local SEO. Therefore you need to optimise your content creation and listings for your local target market.

Content Creation: Information is needed at this time, and as a hospital you are a medical authority that is able to provide the content that individuals are searching for. Put together rich content such as guides to helping people stay safe at university or in schools, or create a COVID-19 safety checklist that people and patients can download from your website. Not only are you able to collect lead details through this kind of tactic, you are providing your patients with something that they NEED and will appreciate during this time.
In Summary
Patients before profit!
A theme across all the above points is that healthcare marketing should be aimed at guiding the patient experience and making it as streamlined and secure as possible. 2022 goes beyond simple marketing tactics and comes down to using your platforms such as your social media, email communications and website, as a way to keep your audience informed.
COVID-19 is not going anywhere anytime soon, and when it does, communication on this kind of level will still be vital.
With goals in place and planned content, your strategy will be effective and beneficial, not only to your business but to society as well, providing valuable information that is powerful and necessary.
Need help devising a marketing strategy and creating effective content for your healthcare business? Fill in the form below and chat to the Nexa experts today.