If someone had told you as little as 10 years ago that social media would become one of the top ways for HR managers and recruiters to source and hire top talent, you'd probably have a good laugh at the thought. And who could blame you?
Social media platforms were never intended or invented for anything more than enabling users to create and share content or participate in social networking with friends, family and acquaintances.
So, how did it become one of the best recruiting tools of the modern age?
Well, today we'll explore exactly that. Read on to find out how social media became the new way to recruit top talent.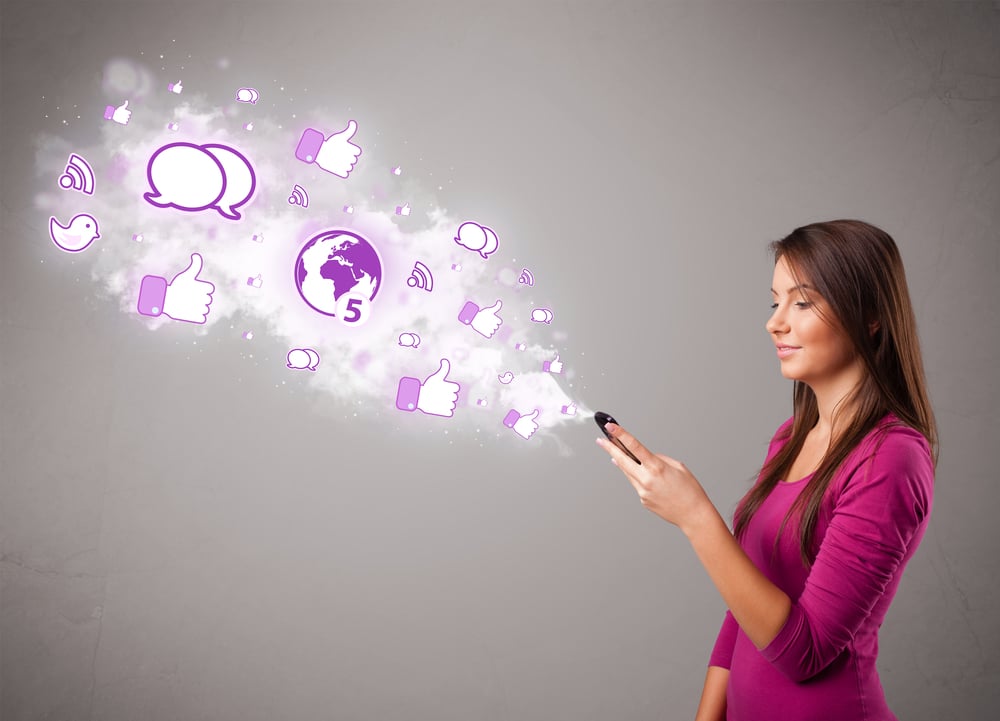 Eat, sleep, breathe online
Technology and digital tools are everywhere. They have slowly become a part of everyday functions and routines to the point where most of our lives are carried out online. Think about it – you can do almost everything with the touch of a button.
Whether it's grocery shopping, finding a new dress for your dinner date, booking dentist appointments, scheduling important meetings with colleagues halfway across the globe or even remotely control your car by using an app on your iPhone (yes, we're looking at you Tesla!), there's no shortage of errands or tasks you can't accomplish from your phone, laptop or computer – so why not use it to find your next employee?
The evolution of social media
Social media has become an integral part of our daily lives. Think about the last time you went a full day without checking Facebook, WhatsApp, Twitter, LinkedIn or Instagram at least once.
Struggling to find an answer? Don't worry, there's no shame in it because the average person spends at least 2 hours and 24 minutes per day on social media – so you're not alone. What's more, there are approximately 3.196 billion individuals actively using social networks. That's a lot of people spending a lot of time on these platforms.
But how does this tie into recruitment?
Well, as times have changed and evolved so has recruitment strategies and processes. Traditional recruiting methods are now too slow and expensive to acquire the cream of the crop. It is no longer sufficient to take the passive approach of putting out a job listing and wait for viable applicants to contact you – especially now that the dynamic between employer and candidate.
Today, businesses need to be more proactive in their recruitment efforts as candidates now hold all the cards. Top talent has endless opportunities available to them and has their pick of companies vying for their attention, and they are using social media as a tool to research each and every organisation to ensure that they make the right decision.
Social media as a recruitment tool
Did you know that 73% of millennials found their last job on a social network?
However, social media does not only benefit the job seeker. It can be used as an effective and efficient recruitment tool to source and hire the most suitable candidate for the role – whether they be an active or passive job seeker.
According to Adweek, 92% of companies use social media for recruitment, as it allows them to attract active and passive candidates, target specific and ideal talent pools, boost their employer brand and company culture, and save on recruiting costs.
Furthermore, 82% of companies attract passive candidates by recruiting through social media, while companies who actively use social media as a recruiting tool reported a 50% increase in the quality of candidates that were applying for vacancies.
And with so many businesses turning to social networks to find their next hire, platforms like LinkedIn and Facebook now have digital tools available for easier recruitment, allowing you to access a wide range of candidates at a low cost.
Social media is adapting to meet the ever-changing needs of its users. For instance, LinkedIn was first designed to be a career-orientated platform that connected the world's professionals in a bid to make them more productive and successful. Now, candidates mainly use the site to find the right job, while businesses use it to recruit top talent.
Put simply, HR managers and recruiters noticed that more and more passive and active jobseekers were turning to social media to find vacancies or vet companies' employer brands, and used it to their advantage.
The role of social media in recruitment
So, why are so many HR managers and recruiters turning to social media to find top talent?
Different platform attracts different candidates
You'll find that different social media platforms attract different types of people. And all you need to do is tap into the right platform to find the right talent.
In other words, once you've profiled your ideal candidate, you'll have an idea of which platform they use the most. For instance, if you're looking to fill a more creative role, then you'll have more luck on visual platforms like Instagram or even Pinterest. However, if you're looking for a copywriter or someone good with words, then Twitter is your best bet.
Share your corporate culture
Modern job seekers are increasingly using social media to conduct thorough research on potential employers and companies. They want to know where your values lie and if it aligns with their own.
And while candidates are vetting your business via your social media pages, you can use it to your advantage as well. By sharing your corporate culture and providing an inside look at what it's like to work for your organisation, you can weed out the best fit. Candidates who are unlikely to succeed in your work environment will automatically rule themselves out of the running – leaving only the strongest applicants to apply for the vacancy.
Access the vast network of individuals under your nose
The best candidates often come in the form of a referral. Each employee that works for you likely has a sizeable following on each social platform. Take advantage of their connections by asking your employees to share content and advocate for your business.
After all, candidates are more likely to trust the word of an employee or someone they know than that of the CEO or official business page.
Increase your job ad visibility
Billions of people actively use social media each day, which means that one post on Facebook, LinkedIn or Twitter will reach far more people than a paid job listing on any other career site or job board.
Attract higher quality candidates
Candidates found on social media tend to be more tech-savvy and knowledgeable about current business trends. They are also usually more productive as an employee and stay longer at a company.
Furthermore, social media is a great way to identify and connect with passive job seekers who just need the right offer to leave their current position and join your company.
Improve your brand awareness
Your employer brand refers to your company's reputation as an employer and how potential candidates view your business as a place to work. Naturally, you'll want to ensure your employer brand is positive and appealing to applicants
By advertising new and open positions on social media, you strengthen your brand and create a level of trust among potential candidates. This is because people tend to view brands with a strong social media presence as more trustworthy than those without.
Reduce your cost per hire
One of the benefits of social recruiting is that it is the more cost-effective method. However, do not take this to mean that you'll only be spending your spare change. No, social recruiting can still add up at the end of the day, but it will be a lot cheaper than traditional recruitment methods and provide much better value for money.
Better target the right fit for vacancies
Paid ads on all social media platforms allow you to target specific audiences with laser focus. For instance, LinkedIn allows you to share job postings in industry-specific groups, while Twitter lets you target particular hashtags that relate to your ideal candidate and Facebook lets you create custom audiences to target. This way, your job ad will only be shown to ideal candidates and top talent.
Screen your candidates
In the same way that candidates use social media to research potential employers, businesses can do the same with applicants. By going through applicants' social media pages, you can gain an in-depth understanding of who they might hire. You can find out more about their personality, what their ambitions are and if their values align with yours.
Shorten your hiring time
Traditional recruitment methods require more resources and time than social media recruiting. It's easier and faster to spread the word about an open position, source quality candidates and communicate with applicants through social media.
Related: You Can't Plan to Go Viral, but You Can Prepare to Go Viral
Need help? Let Nexa assist you
With over 15 years of experience in driving growth for our clients, Nexa is perfectly positioned to help your business reach new levels of success. Speak with us today to learn how we can improve your social media marketing and employer branding strategy for a more optimised, efficient and effective recruitment process.