Facebook has become a part of our daily routine, it has become so deeply embedded in our lives that we hardly notice when we click on the application and scroll through posts. This Social Media platform has integrated with our lives so seamlessly, that at this point it is difficult to imagine a world without it. From humorous memes to politics and personal lives, Facebook has made information sharing simpler than it has ever before. From interacting with our friends and sharing personal updates to engaging with businesses and collecting news, we depend on Facebook for a whole lot more than we give it credit for.
The easy communication and connection that the social media platform provides has made brands rethink their sales lead generation strategies. Facebook offers businesses the perfect platform to reach their target audience, turn them into leads, and convert these leads into loyal customers.
But before we begin, let's take a look at what "sales lead generation" means.
What is Sales Lead Generation?
Lead Generation refers to the initiation of consumer interest and inquiry into your products and services. It is a marketing process that offers a way to take your target audience from an introduction to your business, and guide them through your sales funnel, eventually converting them into loyal customers. Learn more about Sales Lead Generation, here.
So, why is Facebook a popular platform for sales lead generation?
Facebook and Sales Lead Generation
Facebook has over 1.7 billion active users per month. This opens the pool of potential clients and gives businesses the opportunity to share their products and services to a larger audience.
No matter what industry you are in, with that many active users, you can be sure that a large portion of your target market is active on the platform.
With this in mind, most digital marketing specialists know that Facebook is an important business marketing tool, for companies of all sizes and in every industry. Facebook has the ability to help businesses get found in search results, create engaging communities, promote brand-related content, and cultivate strong brand identities. Because of this, Facebook has become a powerful tool for sales lead generation campaigns.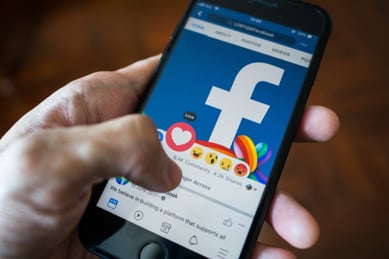 Attracting new leads using Facebook and nurturing relationships with these leads can eventually turn potential clients into paying customers.
There are a variety of ways to use Facebook for sales lead generation.
Tips to Generate Leads from your Facebook Business Page
Posting your Landing Page directly to Facebook
One of the most effective ways to boost lead generation on Facebook is by simply sending people directly to your preferred landing page for your lead-generating offers. Lead generating offers are pieces of content such as e-books, coupons, or articles, that provide value to your reader, and in order for your reader to access this content, they need to supply their contact details. This gives them access to helpful and meaningful information and provides your business with a new lead.
When you create your lead generation landing page, make sure it has a strong, visually appealing featured image. This is because when you post the link to Facebook, the featured image will be pulled alongside it. You don't want a pixelated, lacklustre image to go along with your link, so make sure it is bold and catches the eye.
Also, make sure to be clear about where the link will be sending your audience. If they believe they are simply clicking on a blog post, but find themselves needing to fill out a form, they can quickly become frustrated and lose trust in your brand. Make use of content such as "Register for your coupon today," or "Download your e-book now."
Posting Blogs Directly to Facebook
If you are investing time in creating content such as blogs, use these to generate leads via your Facebook page. Post the most helpful and popular blog content directly to your Facebook page. Make sure that the title and topic of the post motivate your audience to click on the link and read through the content.
Once they have clicked through and have started engaging with the blog post, make sure to have a clear Call To Action (CTA) within the content. Preferably, your CTA should be placed close to the top of your blog post, ensuring it cannot be lost along the way. A great way to ensure that your CTA stands out is by making use of Anchor Text CTA.
An Anchor Text CTA refers to having the Call To Action lie within the copy of your blog. These CTA's appear to be headlines within the content, and they provide a direct link to what the reader is looking for before they even scroll down the page.
Anchor Text CTAs work because many readers will not reach the end of the blog copy and strategically places anchor text links that appear toward the top of the copy are more noticeable and more likely to convert.
Learn more about the importance of Anchor Text CTA, here.
Add a CTA Button on your Facebook Page
This may sound simple enough, but adding a CTA button on your Facebook business page is a crucial lead generation step that no business should miss out on. The Call to Action button can be found on the top of your Facebook business page and helps drive more traffic from your Facebook page to your preferred landing page or website.
You may choose to keep the same CTA button at all times, but consider changing up your marketing game by switching up the button and the web page that it links to, so as to always match your marketing goals and the campaigns you are running with at the time.
Learn how to create your very own Facebook CTA button, here.
Run a Giveaway or Contest
Everyone loves a good giveaway or competition. Not only will this kind of content be exciting for your audience, but it also gives you the opportunity to gain more constructive insight into them, grow your reach, direct traffic to your website, and of course, generate leads.
If you create a contest specifically designed for lead generation, make sure that your Facebook posts include an eye-catching video or image that is compelling and links directly to your content page where your audience will be able to fill out a form.
Videos perform incredibly well in Facebook campaigns as they have the ability to humanise your brand, and help your viewer digest information easily - this is especially effective for lead generation. Facebook's algorithm has started favouring videos since the introduction of live feeds and stories to the platform. Therefore, if you are looking to increase your lead generation efforts with a giveaway or competition on the Facebook platform, you will want to look into creating videos.
Launch Targeted Facebook Ads
As stated previously, Facebook has the power to help your business reach new audiences that are likely to be interested in your service or product and the content that you provide.
Targeted Facebook Ads have been designed to find these audiences, as Facebook targeting allows you to reach people based on specific demographics, location, interests, gender, etc.
Below we outline two options for Facebook Ads: Boosted Posts and Lead Generation Ads.
A boosted post allows marketers to turn a normal Facebook post into an advert by "boosting" it. A post that isn't boosted will be seen organically by some users, but in order to gain greater reach, marketers can make use of the "boost post" button.
Facebook Boosted Posts amplify the reach of the post, making it appear to a wider range of your target market, outside of those who already follow your page.
When you boost your post, make sure to select your target audience strategically. Facebook allows you to choose your audience based on their gender, marital status, location, interests, and more.
Learn how to boost your Facebook posts, here.
Lead Generation Facebook Ads
Facebook Lead Generation adverts allow you to create campaigns using lead generation as your exclusive objective.
It allows your audience to fill out a form known as an "instant form," with their contact information. With this tool, you are also able to track lead conversions on your own website using what is known as a Facebook pixel.
Learn more about creating a successful Facebook Lead Generation ad, here.
In Conclusion:
Facebook is an incredibly effective tool for lead generation as it has become successfully integrated into our everyday lives. Your audience is more than likely active on Facebook, and making the platform a part of your sales lead generation strategy ensures you reach this audience and nurture them, eventually converting them into valuable clients.
If you are looking to gain valuable leads from Facebook, we are here to help. Contact Nexa for all your lead generation requirements.