According to Google, businesses that incorporate digital marketing strategy into their business plans, have 2.8 x higher revenue growth expectancy and have a 3.3 x probability of increasing their business and in turn, their workforce.
Essentially, if you are not making use of digital marketing, you are missing out on a huge opportunity for lead generation, conversion and increased sales. Lead generation and digital marketing go hand in hand and unlike traditional marketing, every lead generated from this activity can be traced back to the digital marketing channel it came from. Digital marketing is also more cost-effective than traditional marketing, which therefore means that your business' cost per lead is also reduced and underlines the importance of having a clear digital strategy.
In this article, we take a look at some of the top digital marketing tactics to help you increase sales in 2021.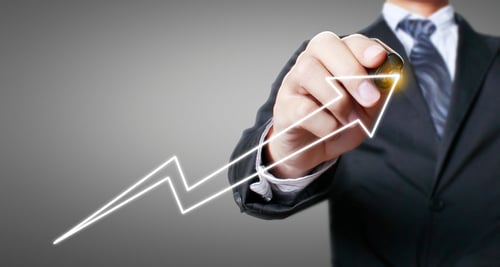 Top Digital Marketing Tactics to Increase your Sales in 2021
So, what digital marketing tactics actually contribute to lead generation and increased sales? And how do these tactics work? Let's take a look.
Keep it Personal
We live in the digital age, and with this era comes information. As marketers, we are able to access more information about our target audience and leads than we ever have before. Thanks to social media analytics, customer relationship management software such as HubSpot, and Google analytics, we are able to track user behaviour, which in turn, helps us drive them through the sales funnel. And this is where personalisation comes into play.
By storing lead data, and keeping an eye on each lead and their interaction with your business, you are able to customise your marketing efforts to suit where they are within the buying cycle. This means you can tailor your message for each customer based on their buyer intent which makes for a personalised experience with your business. This makes it less of a "sell sell sell" tactic and more of a lead nurturing tactic - which today's consumers appreciate and expect.
There are various ways in which you are able to personalise the buying experience, including:
Automated and personalised email campaigns
Tailoring your business message in your emails or remarketing campaigns to suit where they are in the buying cycle
Create quality and helpful content tailored to their specific needs and interests
By personalising the buyer journey, you make your audience feel valued and understood which in turn, helps you engage with your audience on a deeper level. Keeping your business front of mind, and creating loyal customers and an engaging online community.
Paid Online Advertising
Paid advertising tactics such as Pay Per Click advertising or social media lead generation campaigns, are a great way to reach your desired target audience - in the right place, and at the right time.
Pay-Per-Click Advertising
This is an online advertising model that is used to drive traffic to your website. This is done by publishing your advert to Google search results related to your business offerings, and you will pay every time your ad is clicked.
What makes paid advertising a successful way to generate leads quickly because you are able to target people who are actively seeking your specific services, ensuring you are focusing on leads with the highest potential for conversion.
You are also able to use PPC to capture leads who are interested in learning more about your product and services, but are further down the buying funnel. You will then be able to collect their information via forms on your landing page, and nurture those leads through personalised email campaigns and targeted social media campaigns.
Social media platforms such as Facebook, Instagram and LinkedIn offer marketers the opportunity to reach a highly targeted audience while collecting their data and gaining lead information at the same time. These ads are known as lead generation campaigns and when implemented correctly, have the power to not only grow your online community, but increase your sales substantially.
Social media advertisements are a proven way to drive sales as you are able to reach a precise audience, which means your leads are more likely to convert into paying clients. From demographics to likes and dislikes, you are able to reach the right audience with the right message - at the right time.
Chatbots
Previously we touched on the power of Customer Relationship Management (CRM) software such as HubSpot. CRM's offer businesses a variety of opportunities, from storing lead data in a single place, to tracking leads and launching marketing efforts through the platform. This platform also offers "chatbots" which can be linked to your website.
Chatbots play an important role in helping your business and sales teams communicate with customers and potential customers. Salespeople and customer service teams are always busy and this means they are not always immediately available - and Chatbots fix this problem. With Chatbots on your website, you are able to engage with your audience in real time. This means they no longer have to wait to connect with an individual within your company to get the answers they are looking for.
A Chatbot will pop up on your website and offer the user the opportunity to pose any questions they may have. By having this option available you are able to answer questions automatically through intelligent automation - which moves the lead further down the sales funnel which in turn, leads to more sales.
Local SEO
Search Engine Optimisation is the process of getting your website to rank in the search engine results pages - something all businesses need to invest in if they want to reach their target audience while they are actively seeking their services. Local SEO is also an important part of optimisation, and offers a great opportunity to grow sales in 2021.
In fact, 80% of local searches convert to a sale. So, what does local SEO consist of? This tactic involves claiming your Google My Business Listing, which will make your website appear in the search results when a user is actively looking for a local business or service/product offering in a specific area. Online users will view your listing at the top of the search engine results, and they usually use this search feature to help them find businesses close to them.
By claiming your spot, you help your business appear in the local search results which drives more quality leads to your business, resulting in greater sales.
Digital Marketing and Sales Go Hand in Hand
These are just a few of the tactics that marketers use to ensure increased sales. By investing in effective digital marketing plans, you have the power to enhance your company brand value and of course, your revenue. Every digital marketing strategy available is also easy to track and monitor, which helps you measure your actual sales results. With this kind of information available, you are able to produce a continuous flow of quality traffic which can be converted to leads.
It's also important to note that for true success, full internal sales and marketing alignment needs to be in place so to ensure that these very critical business functions are not working in silo and instead working together in order to achieve the commercial goals of the business.
Does your business want to put together a powerful digital marketing and lead generation strategy?
If so, we can help. Nexa has been generating highly qualified sales leads for businesses of all types for almost a decade. We have both the experience and track record to help businesses in all industries generate highly qualified sales leads.
Contact Nexa for all your marketing and sales requirements.