Updated 2023.
As a digital marketing agency, one of the questions we are asked is, "how long will it take for my website to rank online?" The answer is not so simple because it comes with many layers. The question is also outdated, as it is born from an understanding of Search Engine Optimisation as it once was, and not as it is today.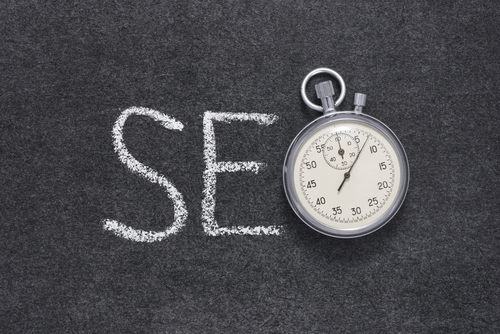 SEO Then and Now
When Search Engine Optimisation was first introduced, the strategy marketers used to get a website to rank was to identify keywords that were relevant to the business, received the most traffic and were not too competitive. Marketers would then select 5-10 keywords and focus on those to bring in traffic to a website. Content on the site would be created for keyword insertion, without much focus on content relevance or quality. Then there was link building, and as long as you built links into your content, even if these links were spammy, they would work to drive traffic to your site.
So to sum it up, it was all about keywords, content created around keywords and as many links as possible. Keyword stuffing became par for the course, and this tactic would drive irrelevant and unhelpful sites up the search engine results.
Today, Search Engines have evolved to become more intelligent and will now weed out low quality websites in favour of sites that actually answer the users query.
In regards to keywords, the focus is now placed on how a user searches for a product or service and what questions they have regarding these products or services - this is referred to as keyword intent. With this in mind, content is created to answer these questions and provide users with helpful and relevant information. And when it comes to backlinks, there is no more room for spam. Only quality links will boost the authority of a website and get your site ranking.
SEO has experienced many changes throughout the years, and with search engines becoming increasingly smarter, digital marketers have had to buckle down and create strong strategies that will build a websites authority and get it to the top of the search results organically and ethically. And this is not a quick fix, SEO takes time and effort but when implemented effectively, the rewards are incredible.
So, how long does it actually take for SEO to work? There is no simple answer, and it comes down to your industry, online competitors, and strategy. As there is no real timeline that can be promised when it comes to SEO results, it is important for businesses to understand what goes into this tactic and why it should be a marketing priority.
What goes into SEO?
Many elements impact your search engine ranking and these elements include both on-page and off-page elements.
Elements of on-page and off-page SEO:
Content Creation
Content is vital to Search Engine Optimisation and is a useful tool for both gaining authority with the search engines and helping your business develop trust with site visitors. As discussed previously, website content needs to be relevant and high quality in order for the search engines to rank you higher than your competitors and this requires strategy, planning and industry research. You see, if your content is engaging, the more time visitors will spend on your site, which in turn, will help your site rank higher in the search engine results - everything is connected.
Website content that can help your website rank in the search engines includes:
Blogs and Articles
Social Media Content
How-to Guides
Tutorials
E-books
Infographics and related visual content
When it comes to creating this kind of content you do need to take certain words or key phrases into account but it is important not to stuff your site with these keywords or key phrases. You also need to deliver fresh content and put together a content calendar that ensures new and relevant content is added to your site as much as possible. By creating consistent content you give your audience the information they want and need, and establish your business as an industry thought leader - and the search engines definitely appreciate this.
On-Page SEO
On-page SEO refers to what happens on your website and includes certain elements that you can work to improve on. This goes beyond content creation and delves into the technical aspects of your website.
A few on-page optimisation tactics that will improve your website ranking include:
Title Tag: This is the tag on each page that tells the search engine about what is on your page.
Meta Description: This goes into more detail regarding what each page is about
Headings and Subheadings: This makes your content easier to read and guides the viewer's eye and also helps in your search engine ranking because the more user friendly your site - the better.
Internal Links: Building links or hyperlinks to other pages within your site helps search engines learn more about your offerings and content.
Image and ALT-tags: Include keywords in the image name and alt tag as this helps the search engines understand what information you are presenting.
All of the above gives your site "crawlability" and allows the search engines to find your content. These are just a few of the on-page elements that go into Search Engine Optimisation. These tactics need to be implemented on every page of your website and this can take time, depending on the size and design of your site.
Off-Page SEO
Your SEO team will have complete control over the on-page elements of your site, but there are many off-page elements that will impact your search rankings and these need to be considered. Unlike on-page elements, you do not have complete control of these factors and they require a lot of work, time and strategy to implement.
Below are just some of the off-page elements that can impact your rankings:
Links: Backlinks are important when it comes to building site authority. Remember, you never want to spam sites with your links as this will quickly get your site into severe trouble with the search engines. To do this it is important to build relationships with other influencers and industry thought leaders, and get them to share your links on their sites.
Trust: This is vital when it comes to Google rankings and this is why all your content needs to be of the highest quality and engaging. You need to establish your business as a thought leader, with consistent and helpful content. In doing so, the search engines will recognise that your website can be trusted, and you will gain more authority in the search results. Another way to do this is to build quality backlinks from sites that have authority (as mentioned above).
Social: Social signals such as likes, shares and comments go a long way when it comes to your search result rankings. The more quality social media posts you publish, the more likely people will share your content - which is another way to build trust and establish yourself as a thought leader.
All these elements work together and play a role in helping your site rank above your competitors.
The Benefits of SEO
So, the question of "how long will it take my website to rank with SEO?" comes down to hard work, strategy, and implementation.
When it comes to getting your page to rank in the search results quickly, Pay-Per-click advertisements may be your best bet. However, these ads do not have longevity and will not benefit your site in the long run.
SEO will get your site to rank organically and push you above your competitors on the search engine result pages. Through this tactic you will get more traffic to your website than they will and you will receive more leads/conversions - ultimately building tangible value for your business.
SEO is not a spend, rather it is a long term business asset that should be a large part of your marketing efforts in 2023.
In Conclusion:
The average customer will always turn to a search engine such as Google whenever they have an immediate requirement for a product or service or are in the process of researching their next supplier. It's therefore important for your business to be visible at the very moment a potential customer is searching for a business such as yours. Now, ask yourself, do you want your website to be optimised for search engines? Or do you want to own the searches?
If you are looking to implement SEO for your business, and you are looking to own the search results, Nexa is here to help. Learn more about our Search Engine Ownership services, here.
Contact us today for all your Search Engine Optimisation requirements and get ranking.