If you are in the business of luxury goods or high-end products, High-net-worth individuals (HNWIs) are clearly your target audience. But HNWIs represent less than 1% of the world's population, so how do you market your brand to such an elite audience?
We live in the digital age and if you are marketing to HNWIs then you need to focus your attention on bespoke digital marketing campaigns that are designed specifically to grab attention and influence the niche consumer.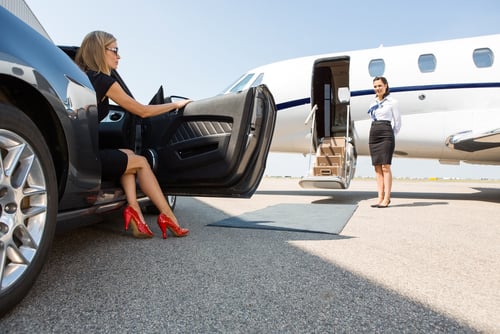 The Importance of a Well-Crafted Digital Marketing Strategy for Wealthy Consumers
A study conducted by PwC recently discovered that 98% of HNWIs access the internet daily, and this statistic isn't all that surprising. The study also found that these wealthy consumers spend up to three hours of their personal time (not work-related) online every day. With these statistics in mind it's important that luxury brands capitalise on this, find out where this niche market "hangs out" online, and create targeted campaigns to reach them at the right time, with the right message. Another important point is that HNWIs are the early adopters of emerging technology, and this is another reason why digital marketing is vital to the success of a luxury brand.
However, it is all well and good to invest in digital marketing but this tactic is only as effective as its targeted reach. And with this in mind, It is vital that marketers understand how this niche audience uses the internet.
How to reach HNWIs online
1.Optimise for Mobile
HNWIs and UHNWIs are more likely to use the internet through a mobile device and it is important you keep this in mind when creating a website. In fact, the same PwC report mentioned previously stated that 85% of these individuals use more than 3 digital devices - most being mobile.
By developing a mobile friendly website, mobile friendly email campaigns and even mobile apps, you create an easy to navigate environment that this audience has come to expect. These are good to have in general, but are incredibly important to focus on when reaching such a niche clientele. So, where do you begin?
Optimising your Digital Assets for Mobile
Responsive Website
Mobile-Responsive Emails
Mobile Advertising: According to research conducted by the BBC, mobile adverts are 4x more effective than desktop advertisements for the HNWI demographic.
2.Content Marketing: Blogging
Creating a content marketing strategy for your luxury business should consist of creating social media posts that link through to optimised landing pages, intricately targeted social advertising, engaging and shareable content and valuable blogs or articles.
Blog Content: It is important that you create a dedicated blog page on your website that can be shared through multiple digital channels, including social media and email. Your content team should create well-researched and in-depth editorial content which provides a way to tell the story of your brand, create awareness and influence the audience. Your content should be niche, industry specific, valuable, shareable and speak to your target audience.
Consider Language: HNWIs reside throughout the world and you need to consider creating content in multiple languages to ensure greater reach. Languages that fall within this demographic include Arabic, Chinese, French and Spanish - the list goes on. It is important you partner with a multilingual team who are able to assist you in creating search engine optimised content in a variety of languages - you never want to alienate your audience - especially such a niche one.
Search Engine Optimised Content: To ensure your website and related content is found when your target audience is actively seeking your offerings online, you need to optimise your website and content for the search engines. This tactic ensures that your niche audience is able to find your business when they are seeking your services or products. SEO is an online tactic that's applied to your website and content (consisting of on-page tactics such as keyword insertion and off-page optimisation) to ensure you rank high in the search engine results but in order to do this correctly your marketing team needs to consider what your audience is searching for online - a pro tip is to use keywords that consist of "expensive," "luxury," and related words.
3.Search Engine Marketing
Wealthy consumers do their research online before making any purchase decision - especially when it comes to high-value products or services. This is why it is important to invest time and effort into Search Engine Marketing (SEM). We touched on elements of search engine marketing above when we mentioned content optimisation, below we outline this in greater detail and explain how SEM can help your luxury business reach the right audience - at the right time.
Search Engine Optimisation: Ensure your website is optimised for the search engines. This means that all your on-page SEO elements need to be up to standard with high-quality content, optimised imagery and easy to navigate website elements.
Paid Search Engine Marketing: Pay-per-click is an internet advertising model used to drive traffic to websites, in which an advertiser pays a publisher when the ad is clicked. This is the ideal tactic to target your audience while they are actively seeking your product or service. Use specific keywords relevant to your business and words that your consumer will use when searching for your offering. When they search for these phrases, your website will appear at the top of the search engine results.
Retargeted Search Engine Marketing: HNWIs perform research before purchasing high-value items and by investing in retargeting ads you make sure to reach an audience who has visited your page previously (without necessarily having purchased anything - yet), driving them through the buyer's journey - and keeping you top of mind at all times.
4.Social Media Marketing
90% of HNWIs use social media however, they are selective when it comes to offering personal information to brands via social media. Essentially, they are an audience that is more guarded online than any other audience. However, there are a variety of ways to break through this issue. Instead of providing deals like regular brands, you need to attract your audience through aspirational brand content and influencer marketing that is designed to assure your audience "bragging rights" if they are associated with your brand.
Find out where your audience is online
Are you targeting business minded individuals or businesses themselves? If so, LinkedIn is a great place to connect and share insightful articles relating to your industry. Of course, platforms like Instagram and Facebook are powerful and your target audience is most probably active on both. When it comes to luxury brands, Instagram is vital (as is Pinterest) - by sharing gorgeous photos,engaging with industry influencers and showing off your product or brand through this eye-catching platform- you can quickly establish yourself as a go-to brand leader in the HNWI space.
Social Media Marketing Tips:
Share high-quality, eye-catching imagery that encourages sharing and shows off the luxury of your brand
Partner with well-known influencers as they can create desirability around your brand
Create highly targeted lead generation social media campaigns that encourage your audience to take a specific action
Social Retargeting Ads are important, because as stated previously, most HNWI will be reluctant to give out their personal information which makes the above point difficult to implement successfully. By investing in retargeted ads (that is, ads that reach users who have previously interacted with or engaged with your brand through social media) you are offering relevant messaging to affluent buyers without asking them for too much information. This tactic subtly nurtures leads , builds brand awareness, grows followers among this audience segment and increases the click-through rates to your brand website.
5. Using a Strong Customer Relationship Management (CRM) System to Drive Personalisation
Make no mistake, HNWI's value personalisation, and brands that understand how to personalise. their content and messaging that demonstrates that they understand the needs and wants of this target demographic, will ultimately have a better chance of success than those who forgo this important tactic. But in order to have personalisation capabilities within your business, it's vital that your data collection, data segmentation and data use is perfectly aligned.
So, how do we bring all of the above together in a single place? Customer Relationship Management software, of course. HubSpot is a CRM software that helps businesses grow in the areas of marketing, sales and customer service - ideal for luxury brands. With this software, you can provide an outstanding and seamless customer experience for your HNWI target audience and the system fully integrates with all your digital marketing efforts - from blogging and SEO to site building, email automation and social media.
Essentially, HubSpot puts all your marketing, sales and service efforts together under one umbrella.
When it comes to marketing for luxury brands, it is vital that you store lead data, lead communication and track digital marketing campaign success. All the tools that you require to run a great marketing campaign are available within the HubSpot software, and these tools work together to attract, engage and delight potential and current clients. With HubSpot marketing at your fingertips, your marketing team is able to create compelling content, and get it to your highly targeted and nice audience at the right time, ensuring high quality leads, and customer conversion.
As stated previously, HubSpot supports all your marketing efforts in a single place, ensuring nothing falls through the cracks - and ensures your target audience receive the hands on, personalised marketing approach they expect.
What HubSpot Marketing Hub Offers:
Email Campaigns
Landing Pages
Blogs
Search Engine Optimisation
Social Media
Analytics
Marketing Automation
The marketing tools HubSpot offers is almost endless and these are just a few of the tools and benefits that come with the software. At the end of the day, in order to both optimise and simplify your luxury digital marketing efforts, HubSpot is your one-stop solution.
In Conclusion
HNWIs raise the bar for brand owners yet but as research and experience prove, they are definitely not a target audience to be ignored or feared in the digital marketing space. If you are armed with information, insight and research, you are able to reach your target market and see a great return on your investment.
Interested in taking your luxury brand's digital presence to the next level? Book your meeting with Nexa, today.