Modern-day society is no stranger to the idea of speaking things into existence. While this blog post isn't about manifestation, it is about how speaking can help online searchers find what they are looking for. Let's take a look at the state of voice searches, how it affects SEO, and how to create content for it.
Why is Voice Search Important?
There are apps, search engines, and devices geared for voice search. By recognizing the spoken word, it can search for related information in a way that replaces typing it out. Voice recognition technology can even transcribe your words in non-search-related activities, like articles and essays. There are various platforms and search engines that have taken this feature on, which is why its becoming important to incorporate it into your digital marketing strategies.
People enjoy voice search for its ease and convenience. It is often used on mobile devices and can be a helpful tool when you're on the go or multitasking. We've also seen the expansion of voice recognition technology extending to the likes of smart apps, where if you wanted to communicate with your fridge in a completely sane way, you could.
This is by no means new technology; in fact, it's been growing since its arrival on the scene a few years ago. There are plenty of videos of the elderly becoming aquatinted with their home devices saying "Hey Alexa" and "Hi Siri" that can attest to this. While it is by no means the all-consuming future of search, it does account for a portion of online searches (we'll keep this blog post general as many of the stats online are aimed at US audiences who have adapted to this tech faster than in other parts of the world).
Another example of how voice search is becoming more widely used is YouTube's rollout of its own voice-enabled feature for Android devices. YouTube, the world's second-largest search engine, has made it possible for these viewers to ask a query beginning with "show me," or the command "play."
One of the barriers to voice search is consumer hesitancy and reluctance. There are many privacy concerns related to the ability of devices to pick up on speech. As trust increases, the capability of voice search improves. This comes down to machine learning, which gets better at providing you with the answers you seek the more you use it. It is akin to chatbots and how much they've improved in recent years. Voice search aims to be a kind of chatbot with a more interactive or humanized approach.
According to Statista, 8 billion devices will provide voice assistants by 2024. At the moment, people are using it to ask general questions, to find locations, to shop online, and for entertainment-related searches.
How to Create Content for Voice Search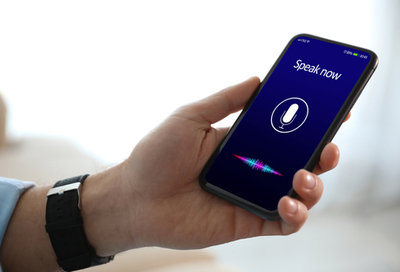 Since it is a mode of search and one that your consumers may be using, it is the job of the marketer to devise a well-planned strategy. That means your online content needs to have voice searches in mind. Just as with other types of marketing, it is important to consider where the buyer is in their journey.
The questions posed will depend on where they are in the sales cycle, and your content should be inclusive of this. That said, the majority of voice searches are for basic queries during the awareness stage, which is where your focus needs to be. Conduct an analysis of what types of information people are looking for, and be sure to provide relevant answers throughout the content you provide.
Speaking of content, it needs to be well-written, as always. Creating content for voice search doesn't mean you need to respond in the same way - text is used and read to the voice searcher. But note that voice search answers tend to be simplified and conversational. This is where creativity comes in. Speak with your audience in the same way you would in person.
Boost SEO by Optimising for Voice Search
There is no harm in ensuring your content is voice-search ready. In fact, it is a wise move and the truth is, it doesn't require a whole lot of extra work. Instead, it comes down to a few tweaks and additions to your SEO strategy. The first thing to know is that you cannot schema your way to voice searches.
According to a study conducted by Backlinko, in which 10,000 Google home results were analyzed, 40% of voice search results came from featured snippets. This means you need to ensure the content you create is structured in a way that your information could be the featured snippet.
When it comes to keywords, consider the fact that voice search caters to long-tail keywords. This means they are generally 5-9 word phrases. It also does not need to be an exact match as search engines are smarter today. Instead of usual keyword research to lead the way, it's better to utilize a question analyzer for voice search. This will ensure you're answering all the right questions.
Speaking of questions, it's no wonder your FAQ section comes into play. Be sure that your questions are phrased in the way that someone would ask out loud - remember, text searches are often more direct. Keep it conversational! Also note the most common types of questions - the "who, what, when, where, how, and why."
Next up is the importance of localization. Common voice searches request things "near me" or are location-based. For example, someone might say "What is the weather in Dubai like today?" That is the question they're asking and how they're asking it, and your response needs to be relevant and follow suit. Be sure to keep regional variations, local dialects, and spelling in mind too.
Your responses to questions need to be clear and concise. This is where the featured snippet comes into play - it answers a question directly in around 29 words. Not only does that succinctly answer a question, but it's also easily shareable.
As we mentioned, the above simply needs to feed into your SEO strategy. Here are some other tips to be voice-search ready:
Be sure that your website is secured with HHTPS and your metadata is up to date
Voice search results tend to be taken from the top 3 results on Google, so aim to land there in SERPs
Your site speed is crucial - snippets chosen for voice search often come from faster loading sites Domain casting is vital for voice search results, so ensure you have a strong domain with high-quality link authority and a Google My Business profile
Are You Prepared for Voice Search?
There you have it - the low down on why voice search matters. By tailoring your content and SEO strategy with this in mind, you'll be able to cater to the increasing number of voice searches being conducted online.
Need help with your SEO strategy? Nexa has developed award-winning campaigns for our clients. Speak with us to find out what we can do for you.