When you think of "digital marketing" you may instantly think of marketing a website or promoting a brand on social media and this sounds simple enough however, digital marketing has evolved rapidly, and today, is one of the biggest lead generation and sales tools available for businesses today.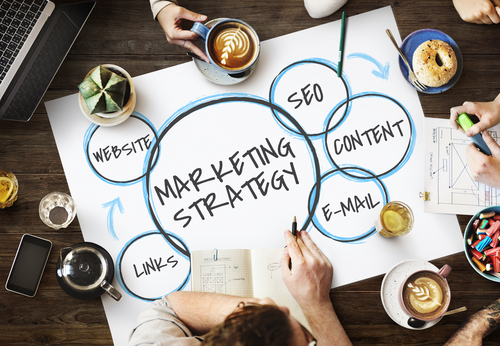 There are a variety of ways to use digital marketing to get your brand to your target market, acquire leads and convert those leads into loyal customers and this can quickly become overwhelming when deciding where to place your budget. From search engine optimisation and paid advertising to social media marketing and email campaigns, digital marketing has many variables and it all comes down to what you want to achieve through your campaign.
So, where do you begin?
The Six Pillars of Digital Marketing
As stated above, there is more than one way to market your brand online but you do not have to be overwhelmed in the decision making process, you can divide all these options into different marketing categories and discover which tactics will work well to achieve your specific digital marketing objectives and grow your business.
Digital marketing can be categorised into 6 primary disciplines:
Content Marketing:

This refers to the creation, publication and distribution of helpful, informative and quality content that is strategically designed to educate, engage, and maintain, and convert your target market.




Native Advertising: This is the use of paid ads that match the aesthetic of the media format in which they appear. Native ads are often found in social media feeds, or as recommended content on a web page.


Pay Per Click (PPC): This is a paid marketing strategy that involves online ads and a fee will be paid every time a user clicks on the advert.


Search Engine Optimisation: Also known as SEO, this is the practice of optimising a website in order for it to be search engine friendly and recognised in search results.

Social Media: This refers to promoting a business via social media platforms such as Facebook, LinkedIn, Instagram or SnapChat.


Email Marketing: This is a marketing strategy that makes use of email as a way to nurture leads and stay in touch with existing customers.
Understanding each pillar and relating its validity in relation to your business will help you to create your digital marketing strategy. The 10 steps below will form the foundation of your strategy:
1 - Know your Audience

In the beginning of the digital marketing take over, marketers would collect quantitative and qualitative data about their target audience, and this included age, interests, occupation and location. However, this kind of targeting has been taken to new heights in the age of social media and we are now able to understand the "buyer persona" in more depth. Every marketing strategy needs to begin by knowing your buyers persona and how to reach them effectively.

The buyer person describes a businesses ideal customer, and is a user-centered approach to digital marketing. For example, a marketer will build a fictional character that represents a buyer type that would probably engage with a site, product or brand. Marketers will work with personas as well as market segmentation, where the persona is constructed to be representative of specific segments.

2 - Identify your Digital Marketing Goals

This is without a doubt, the most important stage of the digital marketing process because without understanding a businesses goal and objective, a strategy could easily fall flat and not get the results required. Ensure that the goals developed for the digital strategy are suitable for the business and they should always be measurable to ensure objectives are being reached.

3 - Content Creation and Blogging

High quality content is vital for any digital marketing campaign, and this means that every piece of content on your website needs to be helpful and inform your audience. Blogging is one of the most important content marketing strategies because it performs certain critical functions which include bringing more traffic to your site, reinforcing your brand presence, providing content for your social media platforms, positioning you are a thought leader in your industry above your competitors and helps you rank well in the search engine results which ultimately leads to more sales.

4 - Look at your Existing Digital Marketing Channels

Examine the digital channels and online assets that you are currently using such as your social media platforms, website, native advertising or blog etc. And then take a look at how effective they have been for your business and how you can optimise them for greater reach.

For example, if your social media platforms have great engagement, make use of it and improve your social media content to reach your objectives - essentially, amplify what is working for you!

5 - Automate your Process

You have probably heard about digital marketing automation and you have heard about it for a reason - it works and it works well. Technology is consistently getting better and today's leading digital marketing automation platforms such as HubSpot, can do amazing things for your strategy such as making it easy to automate your content, lead generation, email marketing campaigns and social media marketing.

Another bonus is that this kind of software can be integrated with your sales CRM, improving your sales process and increasing your bottom line.

6 - Optimise for Mobile Devices

There is a big chance you are reading this blog while on your phone, and it is vital that you create your digital marketing campaign for mobile as well as desktop use. You can optimise your website for mobile easily, ensuring the user has a good experience with your brand on all devices. Make sure to review your mobile responsive design, from your website to your email templates, as you do not want to alienate your target audience because they are using a different device.

7 - Ensure Customers are able to Reach your Business

The reason digital marketing is so effective is that it reaches your target audience on a more personalised level therefore, your strategy should always make it easy for leads and website visitors to get in contact with your business.

For example, creating a lead form on your page, having a chat pop up on your page and having your contact details readily available is vital (this is why strong call to actions are key), while responding quickly to clients via social media is also a necessity. We live in the age of instant gratification and your target audience will expect you to respond timeously to them.

8 - Make use of Technology

Your digital marketing efforts will be wasted if you are not making use of the appropriate technology. These technologies include automation software and analytical tools such as HubSpot, and this kind of platform will assist you at every stage of your marketing process, helping you see whether or not your campaign is reaching the intended goals.

Learn more about HubSpot for digital marketing lead generation, here

.
9 - Know your Competitor and Stand Out

You need to investigate what it is your competitors offer on their online platforms and differentiate yourself from them - establishing yourself as an industry leader. Reinforce what sets you apart in your content and come up with unique lead generation tactics and unique selling points that will grab the attention of your target audience. In order to do this you need to put in time and research, and ensure you incorporate this differentiator in all your content and marketing plans going forward.

10 - Track your Progress

Make sure to monitor your campaign from the beginning in order to see what is working and what can be amended, this can be done by assigning teams to report on your strategy. Make sure you are able to measure all your campaigns, whether SEO and PPC or Social Media marketing - all can be measured either through the platforms themselves, through Google, or through platforms such as HubSpot.
In Conclusion
Digital marketing is a process, and it comes down to understanding your objectives and tailoring your strategy around your objectives.
Founded in 2005, Nexa has helped hundreds of organisations from small startups to large multinational businesses providing high-quality digital marketing services.
From Website Design, Search Engine Optimisation, Social Media Management, Content Marketing or a fully integrated and creative digital marketing strategy, Nexa has both the track record and in-house ability to support your business. We create wonderful digital experiences that drive business and more importantly, provide a trackable return on investment (ROI) for our clients.
Our in-house team of Digital Marketing experts use cutting edge technologies and proven tactics to create a winning formula for businesses across the globe.
Contact Nexa today for all your digital marketing requirements.